Create Comforting Spaces With These Style Updates By Ferm Living From Slow Store
Looking to refresh your home? Take a considered approach with expert styling tips for the latest must-haves in homeware and design
SPONSORED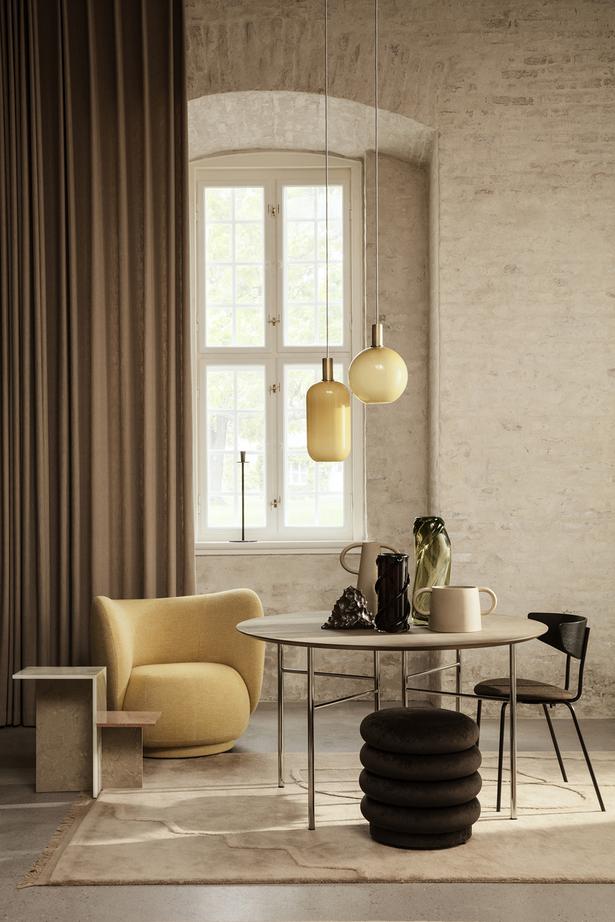 Monday Oct. 19, 2020
We've spent more time in our houses than ever in 2020, and for many, home has taken on new meaning. It's become an anchor in a rapidly changing world, a space to process, reassess and reset. This extra time for contemplation has prompted many New Zealanders to seek updates to their homes, in pursuit of a comfortable and authentic environment that's a joy to be in.
Martina Blanchard, owner and founder of Queenstown design and lifestyle concept store Slow Store, a nationwide distributor of Danish brand Ferm Living, looks to pieces that embody permanency, quality, craft and sustainable practices to satisfy that brief. She says creating balance and harmony in our homes is key when incorporating new pieces or design ideas, rather than rushing to embrace trends.
"I think we are all fed up with fleeting trends — the ever-present 'trend race' is exhausting," says Martina. Instead, look to acquire quality objects that are timeless, in reassuring classic design styles like mid-century modern, art deco, brutalist, eclectic or bohemian. These trends aren't new, "but rather invite us to look where we've come from", says Martina, "embracing the style of living that the late-century design styles represented, where home is central to our lives with a strong representation of authenticity, belonging, relaxation, interaction, positivity, hope but also beauty and art."
For considered style updates, try embracing some of the key 'moods' emerging at the moment. One is incorporating green living into a home. Filling a home with greenery not only equals clean air but it also brings life, energy and colour to an interior. Plus, looking after plants has benefits for our mental health. "Looking after living nature is something we should enjoy. Use it to switch off from other more mundane routines or the technology aspects of our daily lives," says Martina.
Prints are another way to usher nature indoors, whether through wallpaper or soft textiles like cushions. "Nature-inspired wallpaper is a very easy way to decorate your personal space and create a desired mood," says Martina. British artist Katie Scott's hand-drawn collection of artisan wallpaper in collaboration with Ferm Living is a prime example of a decorative and non-expensive design element that can have a big impact.
Tech-free spaces will be a key consideration in 2021 and beyond. Technology has been a constant companion for many people cocooning and retreating in their homes. It's important to switch off, and by creating a tech-free escape within the home it's possible to take time out from the daily noise of technology pollution. This is a space "to reflect or retreat", says Martina, free from television and computers. It can be as little or as large as you like, as long as it's considered. "Create a purposeful reading corner, a resting spot by a window, a feature gallery wall or a cafe table set up in your kitchen or dining spaces."
Another big mood that's coming through in home decor? The rise of curvy and brutalist furniture or objects. Organic shapes stand out beautifully in any setting and Ferm Living plays with material, texture and sculptural form to create design pieces that double as art. "We all need beauty in our lives and the aspect of art should not be reserved for public exhibits. If you're not ready to invest in a curvy sofa or brutalist coffee table, a small textured velvety pouf, sculptural candle holder or vase can have the same effect — often these objects become collector's items — a hobby in the making," says Martina.
In terms of textures and colour palettes, design pieces made from raw, natural, solid materials and organic shapes are coming to the fore, in tonal colour schemes and a rich, natural and earthy colour palette of brown, cream, sage, olive green and yellow. These are soothing, grounding shades that bring that coveted balance and harmony to a home.
"My advice is to follow your own trend," says Martina when it comes to home updates. "That is what makes you happy and present. Invest in pieces that you will be content with for a long time; classical design styles hold this value at their very core. Mix and match the new with the old — this is how you can create an authentic home that is unique to you."
Get the look with these must-have pieces from the Ferm Living range:
Green Living Plant Box Two-Tier
Elegant and timeless, the Plant Box features delicate thin legs in powder-coated metal that can be styled in myriad ways. The round version is designed to fit Ferm Living's small Wire Basket Top to turn it into a chic little table.
Styling tip: These Plant Boxes work equally well for plants as they do for toys and books. You can even use the Plant Box as a room divider, delineating smaller spaces and creating cosy corners in larger rooms. Plant Boxes available from Ferm Living.
Hourglass Pot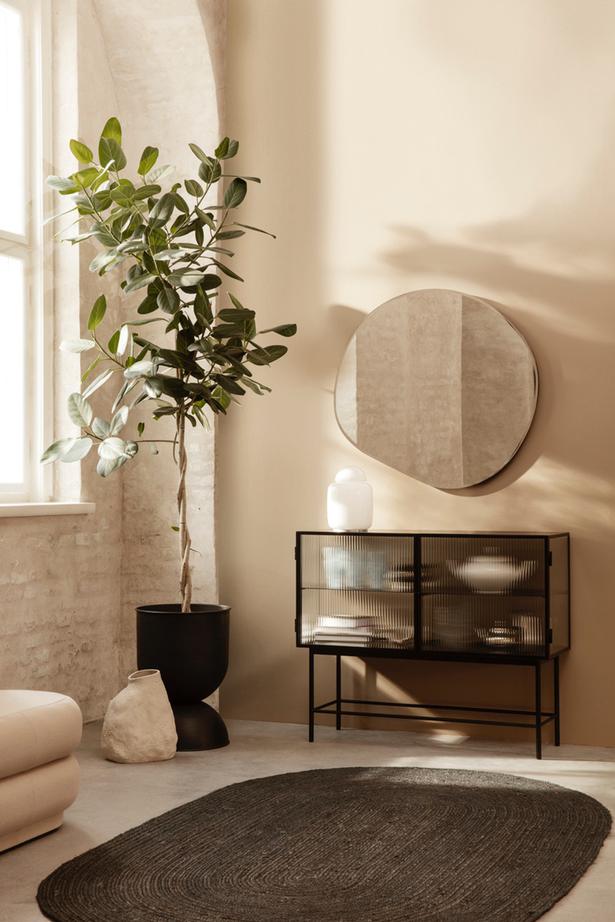 Green up your living space with the sculptural and multifunctional Hourglass Pot. Made of steel, Hourglass Pot planters can be styled in lots of ways using complementary inserts and toppers - and look great as a set of each size. A new colour for Ferm Living's AW20 collection is the Hourglass Pot in olive green.
Styling tip: Use the Hourglass Pot either way up to suit your plant's needs, whether it needs to spread its roots, or requires a shallow, elevated position. Hourglass Pot in black/dark grey and olive green, extra small $139, small $239, medium $420, large $559 by Ferm Living.
Rico Lounge Chair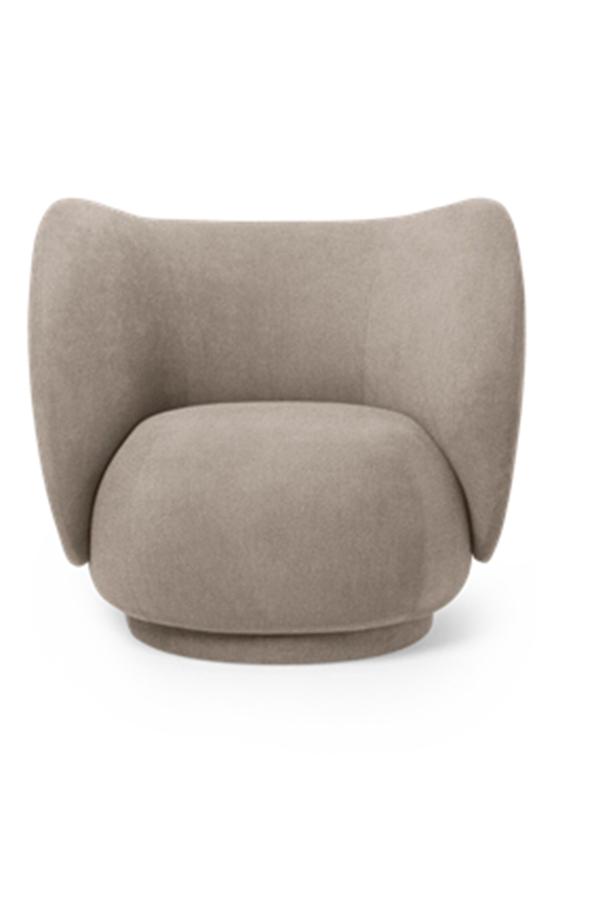 The perfect combination of curves and volume, modernity and comfort packaged in a sturdy cocooning shape, the Rico Lounge Chair is upholstered in robust bouclé fabric, which is woven in uneven yarn for a rich, loopy texture. "Relaxation is in order" with this chair, says Martina. New for AW20 is the Rico Lounge Chair in poppy red, yellow and blue. 
Styling tip: Mirror the curves of the Rico Lounge Chair with similar shapes, such as a round coffee table, a circular light shade or an orb-shaped ceramic. Rico Lounge Chair $4400 by Ferm Living.
Ferm Living's Pond Mirror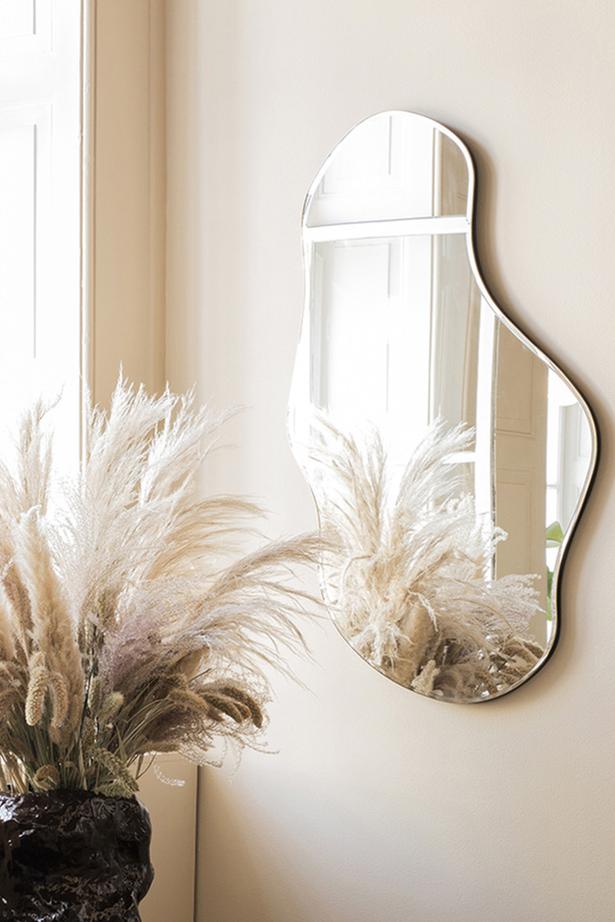 Inspired by the free-flowing movements of water, the Pond Mirror adds a striking organic shape to any space, turning something functional into an art form. With a simple brass plated frame, this unique and show-stopping design piece comes in four sizes.
Styling tip: The organic free-form shape of this mirror means it can be hung many ways to suit a space, turning a functional mirror into a decorative piece. Feature it your way. Pond Mirror, table size $159, small $340, large $685, XL $780.
Vulca Vase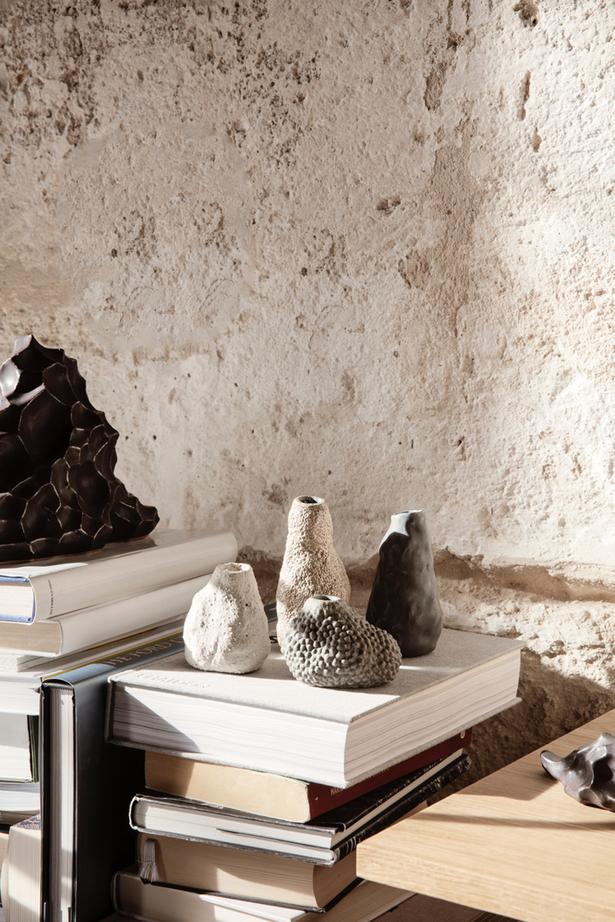 The Vulca Vase is a beautiful organic shape, perfect displayed on its own as objet d'art or for a statement flower arrangement. The Vulca Vase's fluid form and textured surface hints at volcanic bedrock, bringing an earthy energy to an interior. Made from stoneware, the vase features distinctive, tiny grains that make each piece unique.
Styling tip: Place the vase on a plinth or stand to give it a sense of ceremony. This is especially impactful with a dried flower or branch arrangement. Vulca Vase in off-white stone, medium $340, large $490.
Ripple Glass set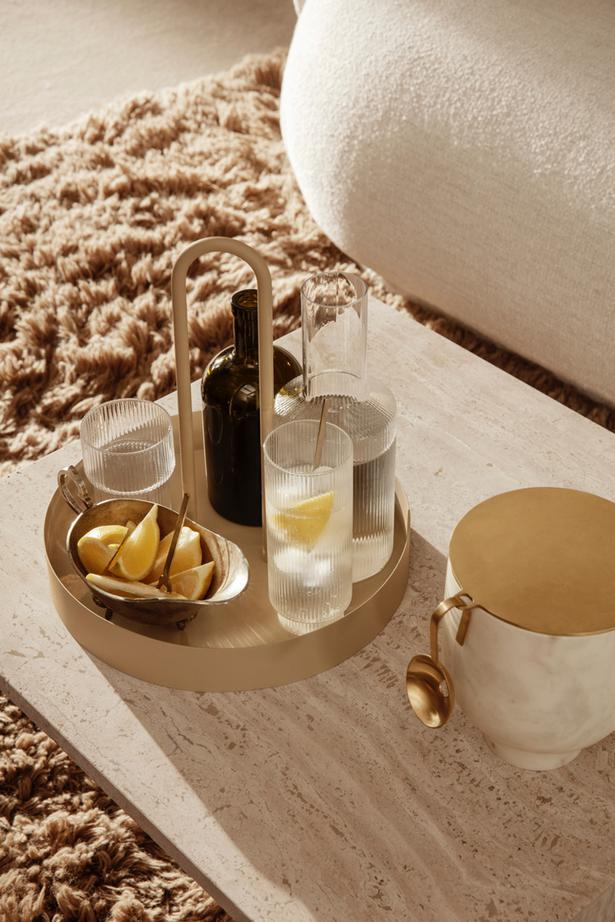 Ferm Living's Ripple collection is a nostalgic mouth-blown glassware collection to cherish forever. The ripple surface is multifunctional; it not only adds a strong and sophisticated look, but the geometric shapes function as a stackable design element.
Styling tip: Pair them with the matching carafe for a stylish drinks set for that cafe table set-up, or reading area. Ripple Glass, set of four $89.
Katie Scott x Ferm Living wallpaper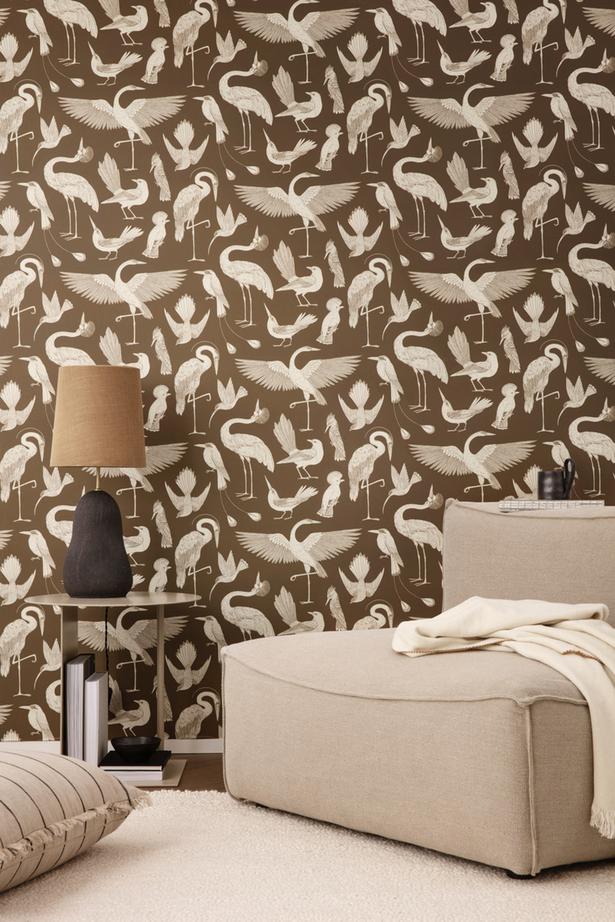 British artist Katie Scott's hand-drawn collection of three artisan wallpapers feature shells, trees, and animals - a beautifully emotive representation of the animal and botanical kingdom and a great way to bring nature indoors.
Style tip: Start small. Laundries, bathrooms and offices are great places to start wallpapering if committing to a large room feels like too much of a leap. Katie Scott Wallpaper 'Birds' $199.
For more design updates from the Ferm Living AW20 range at Slow Store visit Slowstore.co.nz, and follow Slow Store on Instagram @slow_queenstown for inspiration on how to style your home with the Ferm Living range.
Share this: