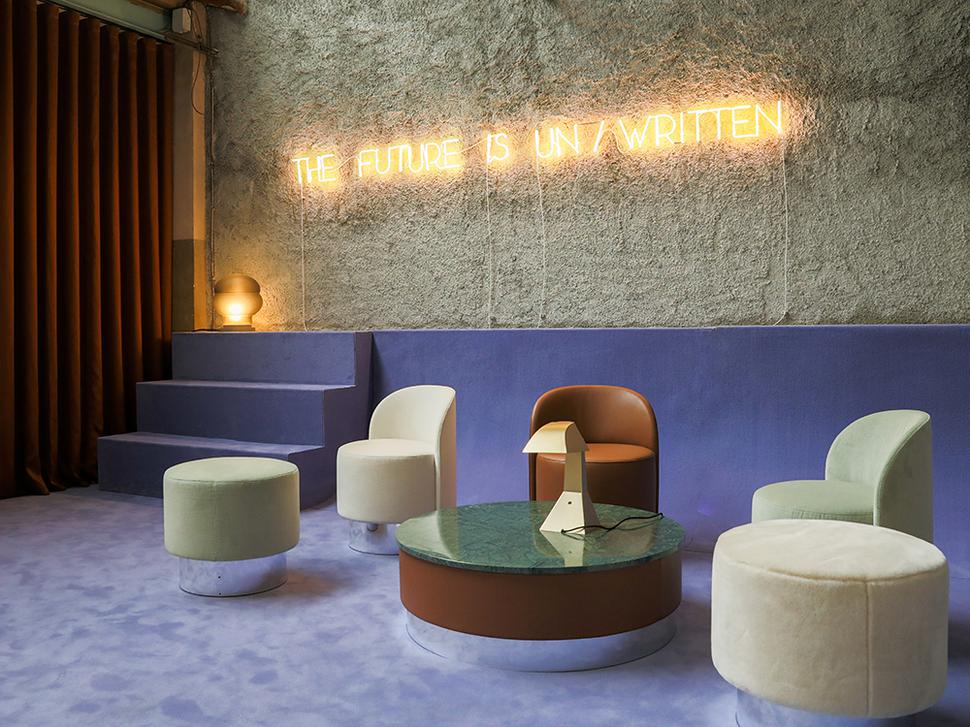 Designer Favourites: The Latest And Greatest Launches At The Milan Furniture Fair 2019
New Zealand-born, London-based industrial designer Tim Rundle highlights his top design picks of the fair
Wednesday April 24, 2019
Every year, the global design industry descends on the city of Milan, converting it into a kind of circus for all things creative. What was once a fairly straightforward furniture trade show has evolved into something that more closely resembles a festival; where tech giants, fashion houses and automotive brands are getting in on the act, hoping to capture imaginations with immersive experiences and high-concept spaces conceived by some of the world's greatest creative minds.
This year, I was there to present new lighting and furniture pieces for Resident (NZ) and SPØ1 (Aus), and to catch up on all that was happening in the industry.
MOST EXCITING BRAND PRESENTATIONS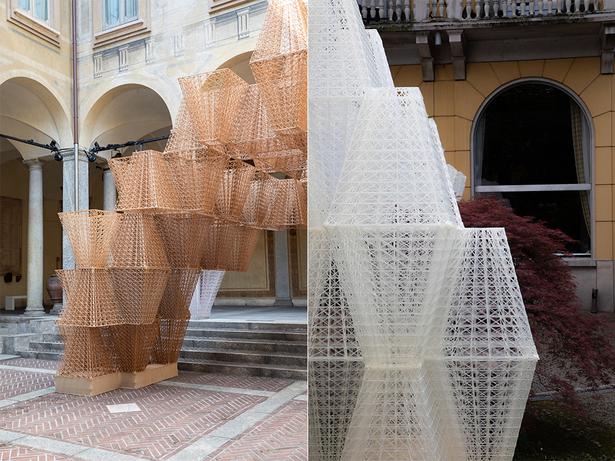 Often the most exciting brand presentations are those away from the showgrounds themselves, known collectively as the "Fuorisalone" (outside the fair). The ability to break free from tradeshow guidelines, and to make the most of Milan's baffling oversupply of grandiose palazzo courtyards, probably contributes to the popularity of what can be an antidote to the often constrained and sometimes claustrophobic stands of the fairgrounds.
READ: A New Asian-Influenced Art & Design Haven Opens In Parnell
One example of this was the collaboration between Swedish fashion brand COS and French architect Arthur Mamou-Mani. Titled Conifera, the installation was an arrangement of 3D-printed bio-plastic spaceframe modules, or bricks that extended from the courtyard into the garden of the 16th-century palazzo Isimbardi. It proposes a new vision for the way we design and build structures, and managed to do so with a perfect blend of technical innovation and beauty.
British designer Tom Dixon passed on the trade show this year and instead presented his vision for hospitality interiors and opened a permanent restaurant in the heart of Brera, Milan's fashion district. The Manzoni acts as part-showroom, part-restaurant in an exercise the designer has executed twice already in London.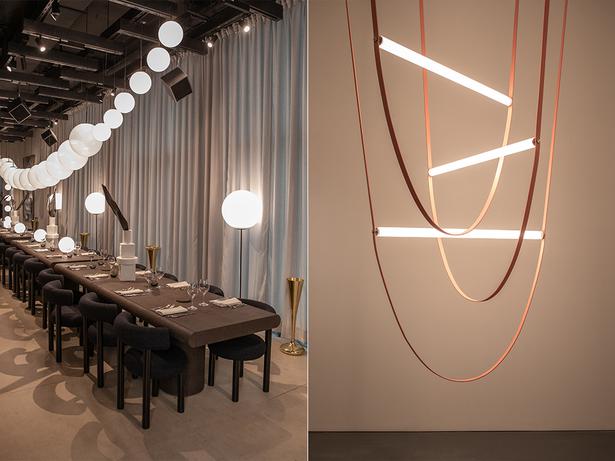 From left; Tom Dixon's Manzoni is part- restaurant, part-showroom and Formafantasma of Wire Line. Photo / Tim Rundle and supplied

Shanghai furniture brand Stellar Works also decided to show their new wares in the city centre, taking over a 1940s galleria and creating a series of smaller exhibitions spaces, exhibiting new pieces from Neri & Hu (CN), OEO Studio (DK) and Tom Fereday (Aus).
Milanese interior designers Dimore Studio, whose shows have become a must-see, presented a new fabric collection that had an almost abstract photographic quality, in a dilapidated space that nicely contrasted the high luxury feel of their collection.

Other highlights from around the city included spaces by interiors designers and stylists, such as Studio Pepe's Les Arcanistes and A Perfect Darkness by Elisa Ossino and Josephine Akvama Hoffmeyer.

READ: Iconic Design Destinations To Visit In Europe

NEW ZEALANDERS IN MILAN

Every year it feels like the Kiwi design scene's presence in Milan grows, with brands and independent designers making the 18,500km journey to the Italian design capital.

Resident made its second appearance at international lighting exhibition Euroluce after a successful debut in 2017. Along with adding new pieces to the Bloom collection we designed for them, Resident presented new lights by London-based Canadian designer Philippe Malouin and New Zealanders Cheshire Architects. Malouin's Cast Light is a modular suspension luminaire, made up of fibreglass sections that can be joined, not unlike a toy racetrack, to create units of various sizes.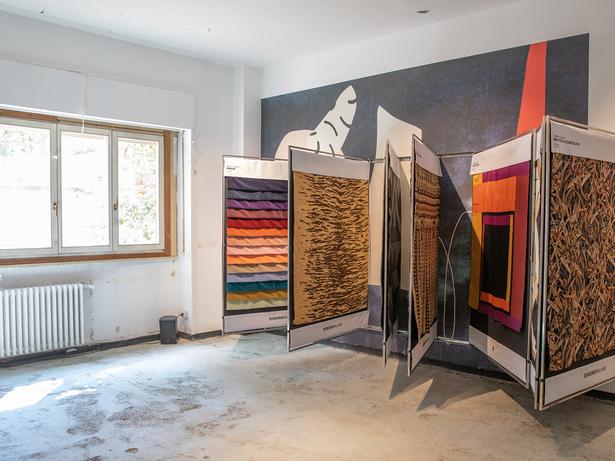 Dimore Studio. Photo / Tim Rundle

The heavy texture of the fibreglass lends a welcome contrast to the crisp minimalism elsewhere. The Fulcrum table light by Cheshire Architects mixed the weighty permanence of cast bronze with the ethereal lightness of Japanese paper in a lamp with a surprising dimming function. Probably the New Zealand brand that has been making the journey to Euroluce for the longest, David Trubridge, was there presenting four new pieces in a space of deep sea-blues, appropriate maybe for the lit effect created by his signature pattern structures that cast caustic-like patterns on their surroundings.

READ: Berlin Style: What Is It & Do You Really Want It?

The prolific, now Rotterdam-based designer Sabine Marcelis was also in Milan, with projects dotted around the city, most notable being her installation in the windows of prominent Milanese department store La Rinascente, utilising her instantly recognisable use of rich colour and luminous materiality. Auckland-based design studio Lyzadie made its first appearance in Milan at the Lambrate Design District, and despite a reduced collection thanks to a heart-breaking delay at customs, it presented
a collection of beautifully handmade White Cloud vases.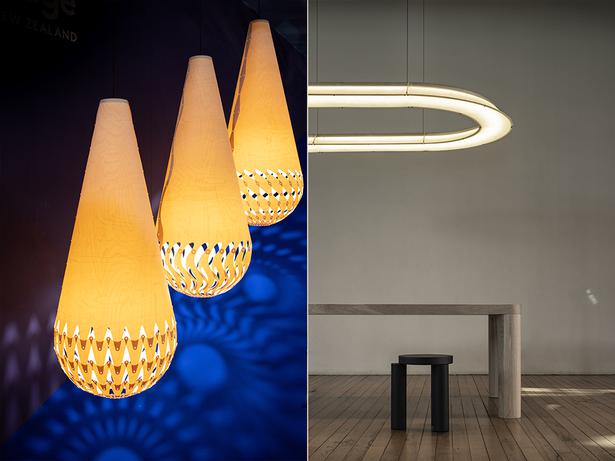 From left: David Trubridge lights; designs by Philippe Malouin of Cheshire Architects. Photo / Tim Rundle and supplied

BEST OF EUROLUCE

The new products presented by the iconic Italian lighting brand FLOS rarely fail to impress and this year was no different. Drawing on a roster of superstar designers, it presented its new collections in a vast stand, designed by Italian Architects Calvi Brambilla, alongside B&B Italia and Louis Poulsen, under the banner of Design Holding. The enormous stand was entered through an atrium filled with playful interactive projections, with cartoon-like scenes of their designers and their signature pieces.

READ: Where To Find: Auckland's Art Galleries To Browse

At FLOS, one standout had to be Wire Line, the new suspension light from Italian duo, Formafantasma. It consists of a fluted tubular light intersecting a belt-like strap hanging in an inverted arc. Suspended in an interlocking and overlapping cluster, it formed a striking, yet simple, modernist chandelier. This formed part of a recurring theme of luminaires hung from some sort of flat strap (rather than the usual round cable). This was also evident in the aptly named Belt by French brothers Ronan and Erwan Bouroullec.

Over at a smaller, but no less innovative and beautiful stand, Spanish lighting brand Vibia, working with Munich-based industrial designer Stefan Diez, had developed an ingenious lighting system, PLUSMINUS, based on a woven strap that conducts electricity. A range of different luminaires could be fitted to this strap — spherical orbs of various sizes and domed directional lamps.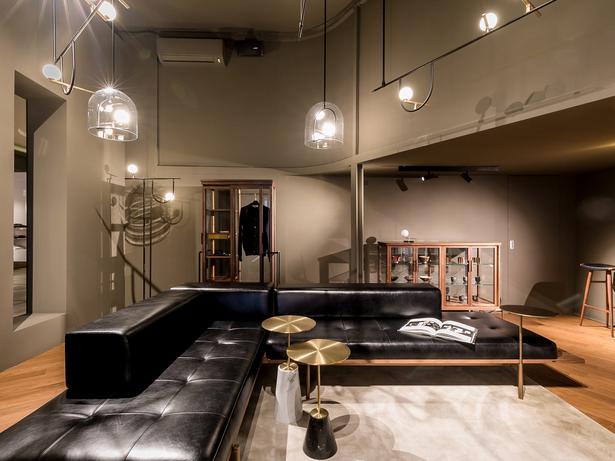 Neri & Hu for Stellar Works. Photo / Tim Rundle

Thanks to the conductive strap, the lights could be shifted along the strap by releasing a clamp and sliding them along to the desired position, all the while being able to draw electricity once clamped again. This also meant that as well as being suspended as a pendant light, the system could span between walls, or between floor and ceiling (in what this design nerd thinks is the best homage to Achille Castiglioni's Parentisi so far).

PICKS OF THE FAIR

There was a clear theme of sensible yet attractive stacking chairs happening at the fair. Magis released Plato by Jasper Morrison and Vela by Kuchickamitai, both in super-tough diecast aluminium. Receiving the most attention however, was a chair by Barber and Osgerby, the London-based duo behind the 2012 Olympic torch, for American producer Emeco. They created a near-indestructible, yet infinitely recyclable chair that stacked in a spiral and had a restrained aesthetic that called to mind the classic bentwood Thonet cafe chair.

GALLERY: How To Get The Desert Modern Look At Home

Danish furniture manufacture Frederica is probably most known for the J39 chair, by mid-century Danish master Borge Mogensen, which while being almost iconic in its unpretentiousness, is recognisable by its upright stance and paper-cord seat. This year Frederica presented a contemporary natural evolution of this in the form of an understatedly beautiful dining chair, created by Danish design doyenne Cecile Manz. With its simple form language of circular and square sections, its perfect stance and proportion is allowed to come to the fore.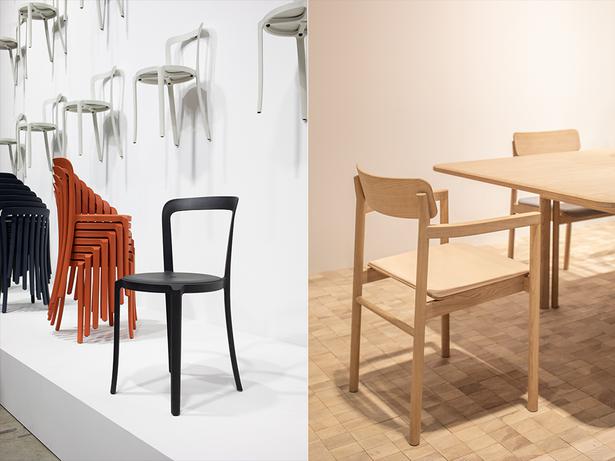 Italian furniture maker Mattiazzi, which is expert in combining production technology with generations of craft knowledge, exhibited new collections where three out of four were with British designers, in what felt like a statement of hope for future Anglo-European collaborations. Fronda, by Industrial Facility (Sam Hecht and Kim Colin, who were profiled in Viva last year when they came to Auckland for the annual SemiPermanent conference) delighted with its almost-brutal simplicity, its angular timber side profiles supporting a pressed-steel seat somewhat reminiscent of a tractor seat.
READ: Beyond Kondo: 10 Ways To Keep Order Post-Decluttering
Jasper Morrison's typically unobtrusive Zampa hid a clever flexible section in its simple seat pan, while Foster and Partners' Leva used the company's great skill in wood forming to create subtle, yet otherwise labour-intensive details.
Share this:
More At Home / Features & Profiles