Design: Hillside haven
A London couple find the nirvana they longed for on Waiheke Island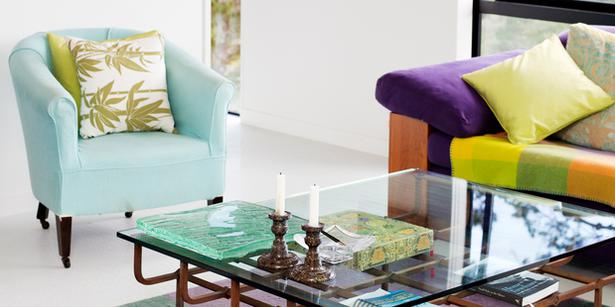 Friday March 15, 2013
Friends in London were gobsmacked when Susie Flegg and her partner, Christine James, announced their decision to relocate to Waiheke Island from that happening capital.
"They wondered what we would do in such a remote and isolated spot," laughs James.
The quiet life, this is not. The pair find the social scene so active it's difficult to take time out. So they've set parameters - a once-a-week personal yoga session on the deck of their Enclosure Bay home, for instance.
And preserving has become a passion - a slow-paced, rewarding activity that nurtures body and soul.
When they moved here seven years ago, selling their Primrose Hill apartment and their beloved St Ives cottage in Cornwall, they struggled to find somewhere that felt right. "I must have looked at 40 houses," says Flegg. What they eventually fell for was a section with wraparound views and a house plan with existing resource consent. "That meant we could get cracking straight away," explains James.
Designed by Box Living, an Auckland company that specialises in modular options for a fixed fee, the modernist-style home makes a striking statement on the hillside. Steel cross bracing and cubist forms provide the geometric grunt; splashes of colour offset the impact of the black exterior.
Flegg and James worked with the Box Living crew to alter the existing plan to fit their needs. They liked the simplicity of the prefabricated design but moved the kitchen to the heart of the home, and expanded its footprint.
Two bedroom "wings" linked by this culinary hub now sandwich a generous deck.
"It works well because when people come to stay, they have their own space," says Flegg.
The couple also added more shelving for keepsakes and asked for a shady hall along the rear of the house where they could hang art. "The light in New Zealand is so bright that you need to be careful; everything tends to go a bit blue."
Art is the master of the house. It basks in the limelight in the living zones and has a starring role in the bedrooms and even seeks applause in the garden.
Vying for attention with the view is a given. The master bedroom enjoys a panorama that is a feast of islands. Rangitoto is in the distance, Rakino closer in and, to its northeast, the Noises. "On a clear day, you can also look right up the coast to Goat Island," says Flegg.
Banks of louvres in the bedroom provide privacy and control the sun. Peek through the slats to see "Pohutukawa 6th State", an elegant, metallic depiction of the organic form by sculptor Peter Nicholls.
Indoors are paintings by New Zealanders, including an early Tom Burnett, but the many examples of Cornish art, such as those by Mark Surridge and his wife, Lisa Wright, hark back to the couple's time in Britain. "Luckily, Christine and I usually gravitate to the same things."
Although the house is architecturally spare, bright hues and eclectic pieces pump up the volume.
A purple sofa is already a little subdued by the harsh light but a vibrant Leon Morrocco still life holds its own. A sensuous abstract carving in oak, by sculptor Oliver Barratt, makes its presence known atop a plinth in a corner of the living room. "It was meant to be a small work but it just grew like topsy."
Although Flegg says she's "not arty", she spends many hours volunteering for the Waiheke art gallery. Collecting runs in her blood. Nowhere is this more evident than in the hall, which is choc-a-bloc with creative expression. A veritable school of glass fish from the 1950s lines the clerestory windowsills. The pair have accumulated no less than 130. "They're made of Murano glass," explains Flegg.
"Students swept up the off-casts that were left on the floor at the end of a day and fashioned them into these fish."
Though Flegg is fond of her scaly friends, she's also enormously proud of an impressive collection of World of Interiors magazines she keeps in the gallery. "I adore this magazine. It's put together on such beautiful paper and even now I can read and re-read about all the wonderful, interesting places."
Reflecting her former life working in the beauty business, a line-up of Chanel fragrance bottles glitters in the mirror of the guest bathroom. They range from petite to oversize dummies once used in a window display at Harrods.
Though many one-off pieces are treasures from the past, Flegg and James like to encourage and commission homegrown talent. A bookshelf in native timbers with decorative marquetry was made by islander Jason Butler. Grant Dunn of Roughly Refined Landscapes has used building offcuts to make garden steps and a washing line from old telegraph poles.
Living in the moment has become their greatest pleasure. James is keen on fishing and launches a tinny with a friend at least twice a week. The catch-of-the-day is filleted at a well-hidden station. "No scales in the house!" she smiles. Snapper or kahawai are then "cooked" in a built-in outdoor smoker. "Cold-smoking gives a much more delicate flavour and I like to use fruit-tree clippings in the smoker."
Moving to New Zealand, building the house and learning to live like a local has been a steep learning curve for James. She's thrown herself into it with admirable energy. One year she helped raise a couple of pigs then got to grips with butchering and cooking them. "I'm into nose-to-tail eating - ended up with all the bits no-one else wanted." Crispy pigs' tails on the barbecue and blood pudding were two of the "treats".
Less intimidating are the offerings James brings from the garden. She's practising the principles of permaculture, planting legumes, clover and comfrey to add nitrogen to the soil. At the moment, a mammoth crop of pumpkins crawls over the path at the top of the section but there have also been abundant chillies and tomatoes, destined to be bottled as sauce or paste. Sliding doors lead out to the deck with its pergola of coloured Perspex panels.
Though they sometimes miss the lifestyle in London and Cornwall and their proximity to Europe, it's not enough to have the duo packing. "Open-plan is the way we live," says James. "Here, we can just do it bigger and better - and with a view of the sea."
• You can see this Enclosure Bay home for yourself as it's on the Wonderful Waiheke Island House Tour on March 20, a fundraiser for Waiheke Community Art Gallery. For tickets and more information, phone: (09) 372 9907.
Share this: