14 Top Design Stores Around NZ
Check out these great design stores while on your holiday road trip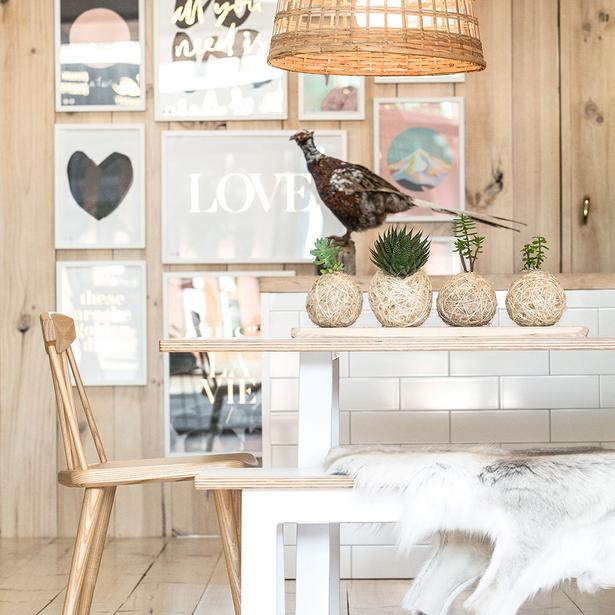 Wednesday Dec. 16, 2015
MT MAUNGANUI
Flux Boutique, 277 Maunganui Rd
Here you'll find a fantastic mix of vintage and industrial, glam and edgy homewares, which are reasonably priced too. Interior designer and stylist Emma Walsh does the fossicking and her partner Josh Speeden is the man behind all the restored furniture in store. He also imports and wholesales sunglasses, and collects and restores vintage leather shoes. Find cut glass and crystal, deer antlers, modern lighting, up-cycled furniture, pre-loved vintage clothing and contemporary art and design. Allpress espressso coffee for sale in-store.
Paper Plane, 99 Maunganui Rd
An eclectic mix of homewares and gifts — here you'll find colour, sparkle and cosy textures, in the form of rugs, cushions, prints, bags, furniture, stationery — even taxidermy. Designers Krista Plews and Timothy John set up shop to cultivate a destination both online and streetside, with a beautifully curated selection of products from here and around the world.
Adam Sinclair Furniture, Mt Maunganui
This Mount-based designer specialises in solid wood furniture, everything from modern mid-century Scandinavian-inspired pieces to custom vintage and rustic farmhouse designs, all with a less-is-more approach. Coffee tables, bathroom vanities, bedside tables, TV cabinets and more. Contact adamsinclairfurniture@gmail.com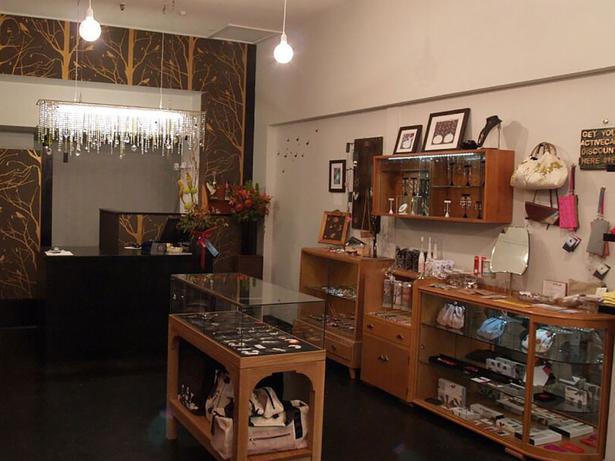 Madame Fancy Pants. Picture / Supplied.
WELLINGTON
Madame Fancy Pants, 217 Cuba St
This cute boutique owned by jewellery designer Claire Terry is a girl's best friend. Here you'll find jewellery, clothing, wallets, bags, baby gear, prints, stationery, and a fine selection of cards to go with gifts. Whether it's an unusual candle holder from Gwyneth Hulse Design, a dress by Salasai or a hilarious book by comic Jeffrey Brown, the store has a sense of whimsy that's hard not to love.
Precinct 35, 35 Ghuznee St
One of the best things about this modern design store? It has a cafe attached. So after enjoying a coffee at Milkcrate, check out this inspired selection of homewares, set in an impressive space marked by concrete floors, a stunning wooden feature wall and a sculptured ceiling. Drawing strong influences from Japan and further abroad, here you'll find everything from towels to vases, ethnic-print blankets and bathroom accessories. Owner Prak Sritharan has an eye for quality pieces from brands including Fog Linen, Salad Days, Taus Ceramics, and
Goldsworthy.
Izzy and Jean, State Highway 1, Otaki.
Owner Claire Ongley keeps her eyes peeled for out-of-the-ordinary items from New Zealand and around the world, be they handcrafted, old-world, traditional or cleverly designed. Find homewares, gifts, plus Avarcas sandals and espadrilles, handmade in Spain.
Vessel, 87 Victoria St
A must-visit for ceramics fans. Louis Kittleson's earthy vases, Brian Gartside's glazed bowls and Kathryn Smyth's everyday pieces are just a few of the wide selection on offer from New Zealand artists and small manufacturers. Or you can pick up a quirky gift featuring a design by Scottish artist David Shrigley. Browse kitchenware, candles, blankets and design objects from around the world, including Seletti and Marimekko.
Let Liv, 3-11 Hunter St
It's almost impossible not to find something at this stylish design store, which started life online in 2012. Clean, Scandinavian design reigns for Natalie Sorenson's homewares and accessories. Meaning 'easy life' (her grandparents are Danish), it stocks brands from New Zealand and around the world, including local plates from Houston Ceramics, bed linen from Penney and Bennett, clothing by Kowtow, lamps from Leitmotiv and furniture by Company and Things. An eclectic and beautifully presented collection.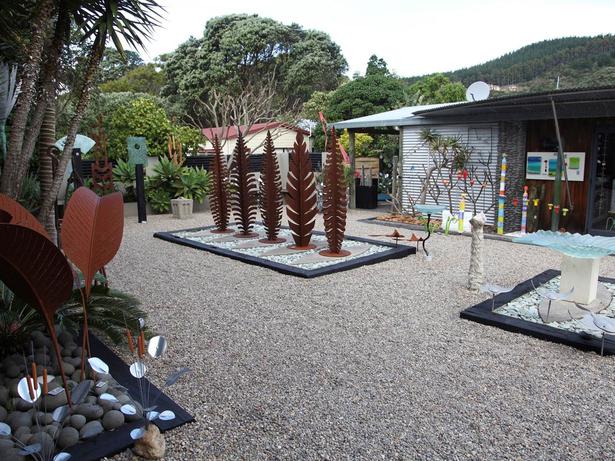 Moko Artspace. Picture / Supplied.
COROMANDEL
Moko Artspace, 24 Pye Place, Hot Water Beach
Not only are visitors to Hot Water Beach spoilt for natural beauty, they're spoilt for gorgeous trinkets and art pieces from New Zealand. Look for the impressive garden sculptures — pottery nikau palms, for instance — before browsing the ceramics, glass, prints, art, paintings, lighting, ornaments and jewellery.
Bread and Butter Gallery, 26 Albert St, Whitianga
More than 70 artists are represented at this gallery in the Whitianga township. Find contemporary fine art and handmade gifts, plus jewellery, pottery, woodwork, felting, ceramics, carved pounamu, whalebone, glass work and sculptures. All locally made or New Zealand-made original art pieces.

QUEENSTOWN
Vesta Design, Williams Cottage, 19 Marine Parade
Wander along the lake and you'll get to this quaint little cottage, home to a variety of gifts, arts and crafts, many of which are small enough to handily stow in your hand luggage for the flight home. Peeking in each room is like exploring an eccentric artist's house, with surprises around each corner. A quiet, inspiring respite from the hubbub of Queenstown.
In the Pink, 31 Camp St
Not only does this contemporary design store sell everything from Citta umbrellas to New Zealand art frames, jewellery, sheepskin booties, party accessories and Saben handbags and wallets, you can also pick up a bouquet of fresh flowers. Cluttered but in the prettiest way possible.
Kapa Design Gallery, Queenstown Airport
Find a wide assortment of practical gift ideas for all ages. Candles, clocks, cushions and cookware, bags, bracelets and beauty products and a great selection of cards. Kids are also well catered for, with sweet soft toys and books for the flight home. Plus prints from artists including Crispin Korschen and Dick Frizzell.
Milan Design, 5 Earl St
Looking for luxury? You'll find it at this showroom, featuring top-end Italian brands from Versace, Cavalli, Bugatti, Barazza and Kico Living, to deck out your kitchen, living and bathroom.
Share this:
More At Home / Features & Profiles