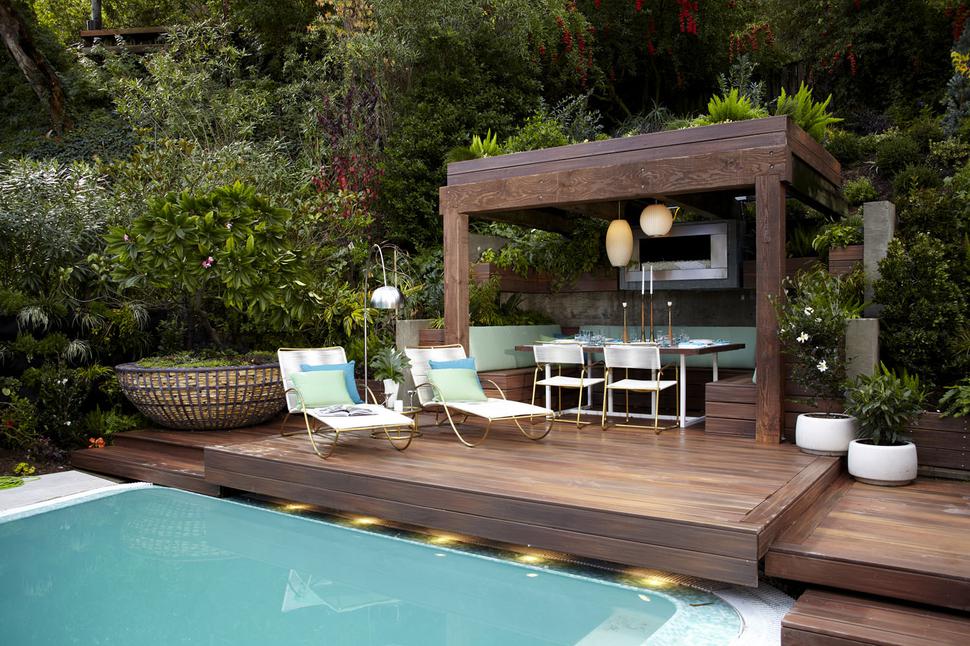 Designer Jamie Durie's Inspirational Outdoors
Leading Australian Designer Jamie Durie is the poster boy for outdoor living
Thursday Sept. 1, 2016
Australian Jamie Durie is like the Jamie Oliver of landscape design. He doesn't just peddle plants. His vision is far greater. He believes in creating a more immediate relationship with the outdoors in our homes and, as a result, better opportunities to connect with our fellow beings.
Like his namesake of the food world, Jamie has worked with commoners and kings. His TV career began 16 years ago with reality show Backyard Blitz in which he and a team transformed the gardens of worthy recipients overnight. At the other end of the scale, as host of The Outdoor Room with Jamie Durie, which screens on American cable channel HGTV, he has an international client list of A-listers. He is friends with Oprah and has designed a garden for Charlize Theron.
And like the Naked Chef, he is a master of the catchphrase. In contrast to Jamie the foodie's barrow-boyesque "pukka tukka" and "lovely jubbly", his style slogans are more artful. The connection between indoors and out, he likes to call "transterior"; giving people options within an outdoor setting is "destination design" and intimate conversation zones are "people pockets".
In 2012, Jamie received the Medal of the Order of Australia for his support of a range of charitable and environmental organisations. He has design studios in Sydney and Los Angeles.
When Fisher & Paykel brought Jamie to New Zealand in mid-August to reveal the secrets of the outdoor kitchen to professional members of the National Kitchen and Bathroom Association, Viva caught up with him.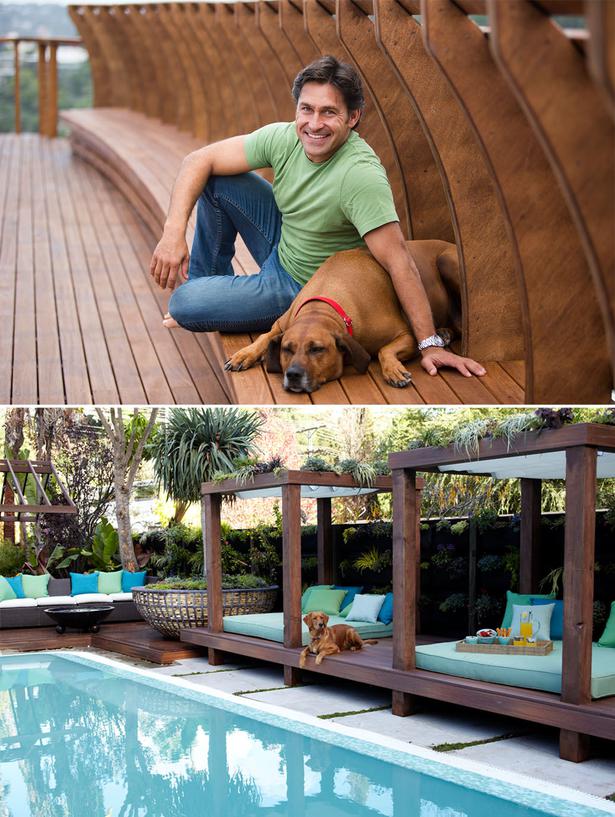 Jamie Durie in his Los Angeles home. Picture / Supplied

What exactly is an outdoor room?
Our philosophy is to "pull the indoors out" so it is an extension of the home. An outdoor room needs a roof but at least two open sides so you don't lose that connection to the landscape. It's really about recreating the most-used space in the house [ie kitchen/dining/living] on the outside, but changing out the materials so they stand up to the elements. Ideally, you'd work with an architect on the design from the outset; an effective way to create a backbone for this "room" is to have a blade wall coming off the house. That way the indoors and outdoors have a conversation in terms of the materials and the room will be close to the (indoor) kitchen. A change of level is another way to define an outdoor room and the 70s sunken lounge look is on trend right now. Then you use plants as walls to screen the zone and offer privacy.

How has the outdoor room evolved over the past decade?
They've become far more sophisticated and contain every creature comfort. Also, the kitchens are more likely to be fully kitted-out. In the US, it's often a case of "the bigger, the better". They not only have somewhere to cook — with a mix of places to grill, fry or use a wok — but industrial tapware, spice racks, heat extractors and deep tubs to wash up in. Materials are more exquisite. I've used copper and zinc for splashbacks and recently created an outdoor kitchen with a pixelated aluminium frontage which has plant shapes imprinted in it.

With all the architectural expression going on, what role do plants have to play?
I call our design style "lux-scaping": it integrates materials that would normally be seen inside but still has a visual connection to nature. So plants are vital. They are still the best thing to counter prevailing winds. Also, I will incorporate planters of various sizes into a kitchen benchtop so you can have a herb garden at your fingertips or even plant a miniature tree in it. Planting is, in some ways, the easy part. It is what you decorate with.

Where do you start when designing an outdoor room?
With spatial awareness: the architecture has to invite people into the space. You never want to lose a sense of intimacy. That is why I like to create L-shapes with a variety of seating arrangements within the garden. I call them "people pockets". It's a configuration that encourages people to sit down and start a conversation rather than being posted in one spot at a long rectangular table.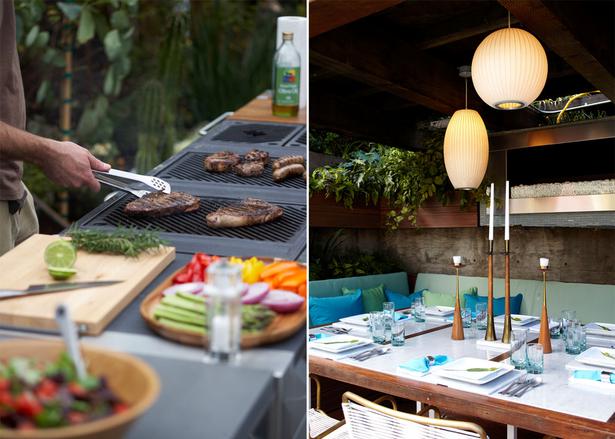 Jamie Durie's outdoor kitchen and dining area. Picture / Supplied

You have said that the furniture design side of your business is your greatest passion.
Yes. I'm a qualified horticulturist but I only spend around 10 per cent of my time on that now. With garden design, you get to touch only one family's life, whereas furniture gives me the opportunity to connect with so many more — it's more gratifying in that way. Also I'm something of a perfectionist, and with furniture it doesn't matter if the hedges are not watered or clipped properly.

All our furniture is transterior — it can be used indoors or out; we custom-create the materials to suit the environment. Furniture has direct contact with the human form, so we make pieces that cradle the body. For example, Tubular dining chairs, which I designed for Italian company Riva 1920, have a back that is like a continuation of the human spine. They lend support but also flex for comfort. I love to explore new ways with materials. Marine-grade stainless steel is of a quality that works outdoors but I find its aesthetic a bit cold, so I'll put a champagne gold finish on it and combine it with a wooden element. Our camp cots are upholstered with Sunbrella fabric, but it's quilted for extra luxury. Also, since table tops are in direct contact with the human body, I prefer temperate finishes that aren't cold to the touch.

Tell us about the outdoor kitchen in your home in Los Angeles.
I have UV-resistant composite stone benchtops, drop-in sinks and wooden chopping boards built into the bench. Apart from the wok burner, grills and cooking plates, there's an open fireplace with a 42-inch paella dish that I love cooking in. It's great for a lot of people and a dish that you can keep adding to as you go along. It's my version of surf and turf, finished off with lots of fresh coriander plucked straight from the garden. The garden has a series of terraces I have planted with herbs and vegetables. There are many places to gather, including the bar by the cook zone, so I can talk to friends while I'm making dinner, and a fire pit. The covered dining pavilion is open on three sides and has a rooftop deck. It's heated by an Escea gas fire. Even in LA, it gets pretty chilly at night.

What are your impressions of New Zealand landscape design?
I think it is one of the most progressive countries in the world. I've had many Kiwi staff in my Sydney and LA offices. Also, you've given us one of my favourite plants. I love the puka. To me, it's like a cool-climate fiddle leaf fig: glossy leaves, a robust, masculine trunk and a really sculptural habit.

Share this:
More At Home / Features & Profiles