East Imperial's Tony Burt's Parnell home
This turn-of-the century villa is given a modernist twist — perfect for a G&T on the deck, writes Claire McCall.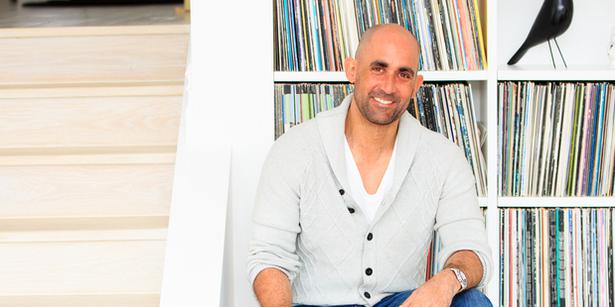 Tuesday Sept. 23, 2014
When life gives you lemons, make a gin and tonic. That's the philosophical musing on the framed graphic that adds a shot of citrus to the white-on-white kitchen in Tony Burt's Parnell home. It's an apt expression for a man who is a purveyor of superior-quality tonic water.
Burt, his wife Agge, and their 6-year-old son Jacob live in a renovated villa which, although it turns a decorative facade to the street, is an exploration in minimalism. With blonded American oak floors, typographical art, and a garden that has a definite geometry, the interior aesthetic has Scandinavian undertones. It comes as little surprise to learn that Agge is Swedish. "One thing we completely agree on is design and space," says Burt.
The couple returned to New Zealand six years ago from London where they lived in a one-bedroom flat just off the Marylebone High St. So the location of this property, close to town, yet with a pub within walking distance, struck the right balance between city chic and family friendly. "I like the British idea of having a corner 'local' where every Sunday you take the kids along for a roast dinner."
The villa was retro-fitted with a 50s kitchen and bathroom, along with an outdoor area that was nothing if not low-maintenance. "Someone felt it best to concrete over the back lawn."
Built in 1908, next door to the first Parnell police station, the turn-of-the-century home had several plus factors. The wide hallway meant there was room to breathe, and beautiful kauri floorboards showed the patina of years. The couple had ideas aplenty and, what's more, they happily concurred. So with the help of a draughtsman they began. The challenge was to create a home with generous proportions without breaking out of its original footprint.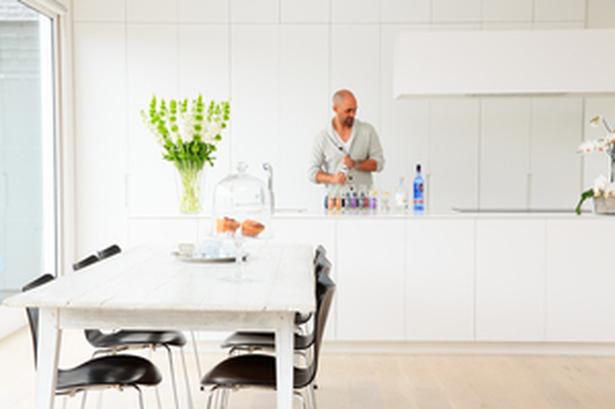 "We couldn't fill any more of the site." For starters, they let the bedrooms and hallway be, but tucked a master bedroom and en suite into the roof cavity to allow a view of Rangitoto and the harbour. Then they mapped out a new stepped-down living, dining and kitchen zone within the area that was once a dingy laundry and basement. With its 4.5m stud, the volume is cathedral-like and when the sun shines in, the white walls sparkle as if to herald a second coming.
For the kitchen, splendid in white, they called on Burt's brother-in-law, kitchen designer Morgan Cronin. "He knew exactly what we wanted." Cronin translated their vision into a clean-lined space with ample cabinetry to the roof. A cube that houses an extractor fan cantilevers from the side wall to hover over the pristine bench like a piece of sculpture. "If we could have bought a white induction cooktop, we would have," says Burt.
Yet the decor is not so pared back as to be true to the primary idea of minimalism. The English architect John Pawson, who launched a thousand empty rooms in the late 80s, would be aghast at the "excess" here. Simplicity may be celebrated, but that doesn't preclude home comforts. Modular, boxy sofas in grey and chartreuse add colour and floor-to-ceiling shelving backs the living room.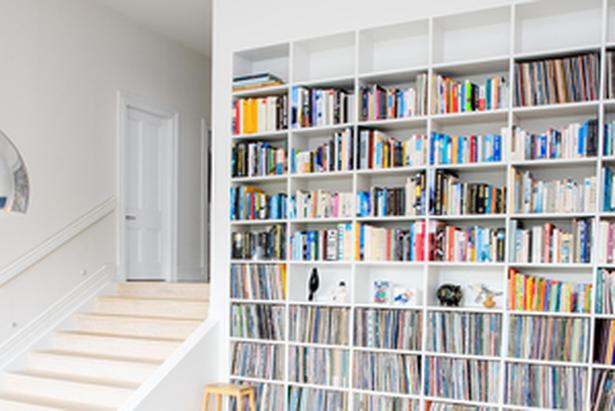 Apart from books that could keep a voracious reader sated for years, the shelves contain a mere sample of Burt's collection of vinyl. "I used to be in the music industry so I probably have 30,000 or so records," he admits. Where the rest are hiding, he doesn't say. But it becomes evident that this striving for minimal perfection is backed by a realism - and ample storage.
Framed posters are another Burt penchant, a teenage craze he never grew out of. They include a King KongChristmas poster from 1976 - the great ape astride the World Trade towers - a couple by street artist Shepard Fairey, who became famous for his Obama Hopevisual, and several that depict the fine elegance of Scandinavian graphics.
Although any downtime is spent listening to music or reading, the couple enjoy entertaining. "Agge loves Swedish culture," explains Burt. And she brings her sensibilities to the culinary department. Little Jacob is fluent in Swedish and enjoys hanging out with cousins who are probably not quite as used to eating pickled herring, lox, slabs of ham and potatoes and "everything with a dill sauce".
With glass sliders that open up the entire width of the home to the outdoors where flat-topped olive trees fringe a square of lawn, the home embraces a crowd. If Nordic fare is on the menu, Burt sometimes leaves Agge to hold fort in the kitchen while he retreats to the sundowner deck, to chew the fat with mates.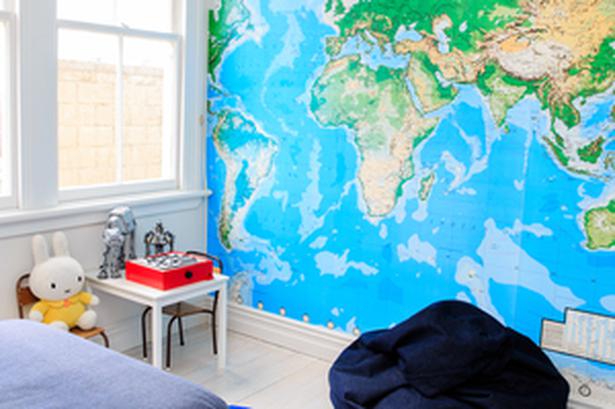 It was on just such an occasion that the idea for his latest business venture was born. When sharing a gin with friend Kevin Law-Smith, the two got chatting about the heritage of tonic water. "Kevin's great-grandfather used to make his own and his father brought the recipe to New Zealand with him from Kenya."
Made from the powdered bark of the cinchona plant, quinine is the main ingredient in tonic water. The beverage was favoured by the British during colonial times for its anti-malarial properties. "It had such a bitter taste that they used to drink it with gin to make it more palatable," explains Burt.
These days, tonic water is often laden with sugar and citric acid, a substance that not only preserves it, but increases the bubbles. However, when Burt tasted the aromatic flavours of his friend's homespun recipe developed in 1903, there was no going back. With the gin industry on the rise, he saw an opportunity for tonic that would not mask the botanical notes in the artisan-crafted spirits. "There are some fantastic gins coming out of the States," he says.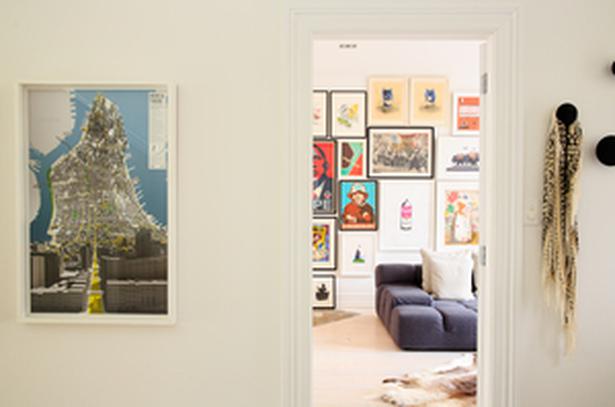 A former advertising executive at M&C Saatchi, he put on his marketing hat and East Imperial was launched. "Our tonic water is not a soft drink; it has a lot less sugar and superfine bubbles."
The company sources the quinine and cane sugar from Indonesia. "Up until World War II, the quinine trade was run out of Java." They make their tonic, and a slightly sweeter version they've named Burma Water, in New Zealand and present it in elegant bottles, the perfect mixer size for one drink.
In just 12 months, East Imperial has colonised 11 countries. It's a high-end brand that is already stylishly sipped in iconic establishments including Raffles Hotel (home of the Singapore Sling) and The Savoy in London. British polo is a supporter. And the beautiful beverage was appreciated at New Zealand fashion week.
So the future of this authentic aromatic looks bright and global. International achievements aside, Burt gets the most enjoyment from his product when he's relaxing on the deck with a couple of likeminded friends, sampling the tonics with gems from his gin collection.
He's keen to educate the New Zealand public on what makes a superior tonic water and, in this spirit, shares his favourite recipe. A tip from Burt: If you like, do garnish with a twirl of lime zest but never squeeze the juice of lemon or lime into the glass, since that will kill the bubbles.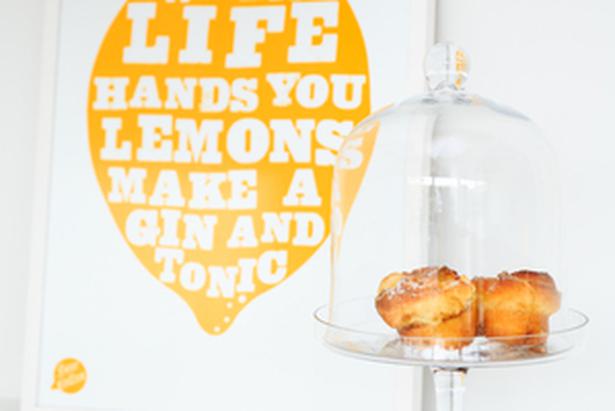 GIN AND TONIC
• 30ml of the best gin you can afford
• 1 bottle East Imperial Superior Tonic Water
• Celery sticks or slivers of red or green capsicum to garnish
Method: Pour gin into a tall glass and add ice all the way to the top. Top with tonic and garnish with the vegetable of your choice.
Share this: