Edible Garden Tips with Tamsin Wilson
Discover The Secret Garden, delivering exquisite edible blooms and garnishes to premium restaurants across the country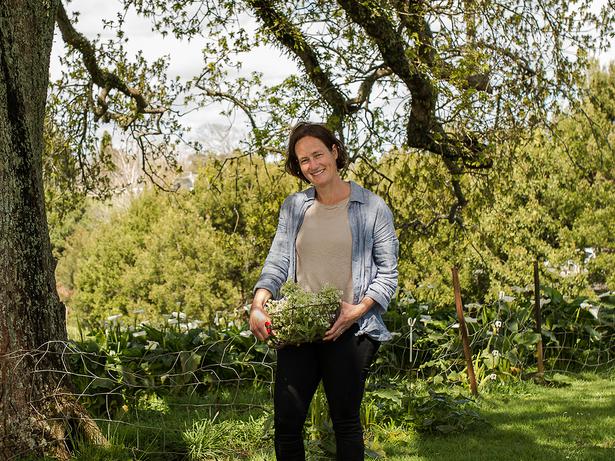 Saturday Sept. 30, 2017
A railway line runs through a flower garden in Patumahoe. Rows of edible blooms, tucked under protective coverings to shelter them from the endless spring rains, run alongside trains and they don't seem to mind.
Begonias burst in full colour, hot pink dianthus explode like stars and deep purple violas create vivid carpets of colour.
This is The Secret Garden, home and headquarters to British-born horticulturist and businesswoman Tamsin Wilson, who grows 60 varieties of plants over this 1.6 hectare property an hour south of Auckland.
READ: 5 Places to Pick Berries
Her business delivers an equal mix of edible flowers and edible leaf garnishes to premium restaurants across the country — the likes of Clooney, Huka Lodge and The Sugar Club — and others in Hong Kong.
On the retail side, Tamsin has an exclusive contract to supply Auckland's high-end food market, Farro.
On this splendid morning, the plant-filled property is bustling with flower pickers and packers. Araucana hens and muscovy ducks roam freely on the daisy covered lawn, a couple of staunch cats mooch on the porch of the turn of the century villa, and lambs are lingering — a little too closely for Tamsin's liking — around the wild borage.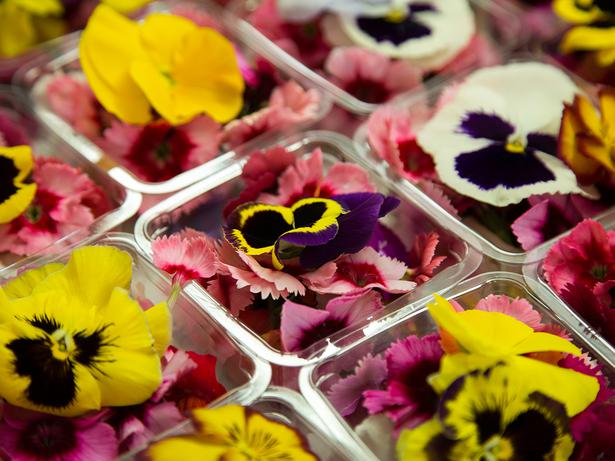 "Get out of there," she scolds, chasing them out of sight.
She's showing chef Ed Verner, from Parnell restaurant Pasture, around the garden. He and his assistant chef are tasting and brainstorming ways to use some of the more unusual plants in their menu.
"I'm drawn to interesting tastes, rather than looks," he says munching on some bitter sheep sorrel, which suits the restaurant's focus on foraging. Let me know when you have some thyme and verbena flowers," asks Ed.
Tamsin explains it's a short season for these flowers; they only have a six-week window in summer, but she's able to cater for smaller specific orders given notice.
READ: Where to Find Kombucha on Tap Around Auckland
"One of my biggest challenges," says Tamsin from one of her garnish greenhouses, "has been keeping up with demand and also satisfying small specialty orders."
She started out growing her flowers and garnishes in pots in her vege garden.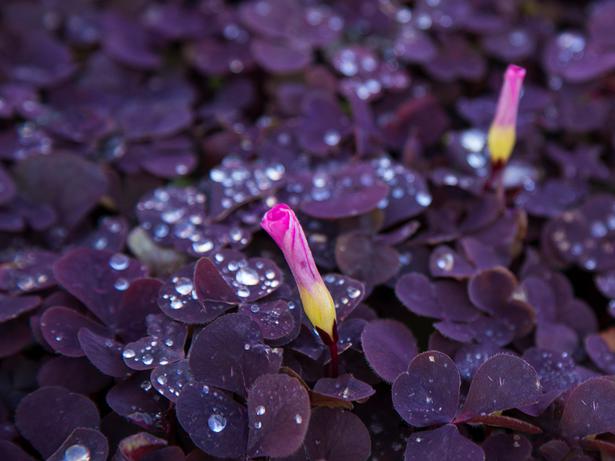 "Those were hard to manage," she admits, so she expanded by creating small flower beds covered by poly tunnels, then larger beds, and now she has rows and rows of 70m-long beds.
Growth has been solid for The Secret Garden — not so secret any more, with chefs and foodies clambering for deliveries of her picture-perfect boxes of flowers and greens.
She set up the business with a friend in 2012 after yearning for a horticultural project that encompassed her love of food and cooking. "The school garden club wasn't quite enough," admits the bachelor of science graduate, who studied agriculture at Bangor University in Wales.
Her friend pulled out soon after.
"It was pretty full on at the start. I've been very lucky to have such a supportive husband. He makes the kids' lunches (Lena is 10 and Callum 9) and takes them off to school, I couldn't have done it without him."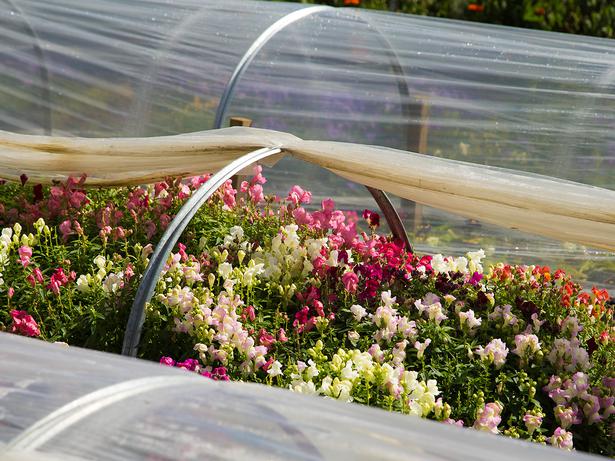 Tamsin met her husband, Pete Wilson, in Laos while she was working for an agricultural development agency and he was working in the forestry sector. They moved back to New Zealand in 2003.
Though the early days were long and challenging — with much experimentation in both selecting successful plant varieties and forming a workable business model — these days, life is a little less hectic with her 11 staff, 10 pickers and her gardener, Paula, who focuses on seed sowing.
This leaves Tamsin free to experiment with new seeds and growing more unusual vegetables, such as the myoga ginger plants she grown to order for Masu and Cocoro restaurants in Auckland.
She shows me a seed packet for Victorian sea kale, a traditional Victorian vegetable — which tastes like a cross between kale and seaweed, and is a member of the brassica family, native to Britain. It fell out of fashion, as it's so labour-intensive to harvest.
READ: Easy Tips for Garden Novices
"You can blanch the shoots or fry the leaves in olive oil until they're crispy."
Other speciality crops include super-sweet strawberry popping corn and baby radishes.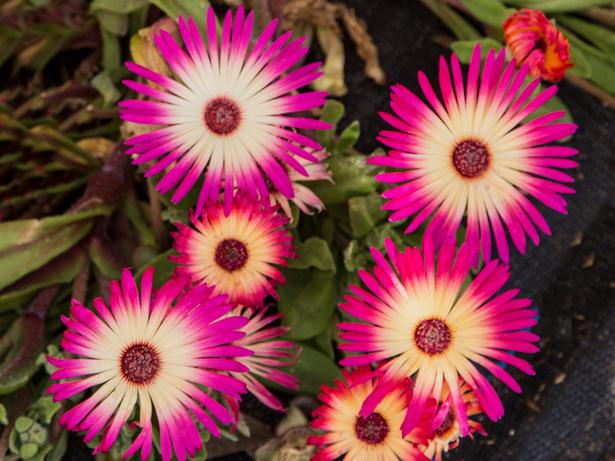 One of the more unusual growing areas of the farm is a temperature-controlled, fan-aerated container aglow with UV lights.
Tamsin ushers me into the dark, temperate space packed full of neon-looking plants. It's here she grows her more sensitive varieties, without the need to worry about about pests or weather.
I sample a delicate oyster leaf that tastes extraordinarily like oyster, and is coveted by Huka Lodge executive chef Paul Froggatt. Other-worldly looking edibles include blue cossack kale, blood vein sorrel and red shiso — popular in their Asian food garnish boxes.
Back in the garden, Ed's wife, Laura, exclaims, "I just found a duck egg on the grass!"
"Astonishingly, they've just started to lay after 10 years," says Tamsin.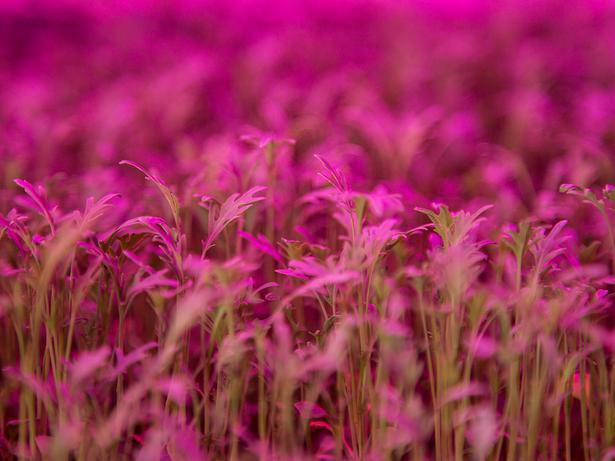 TOP PICKS FROM THE EDIBLE GARDEN
Sheep sorrel is tangy and sharp, perfect in any summer salad, but go easy as it's powerful.
Mustard leaves are hot and spicy and a nice garnish with steak.
Radish flowers taste just like radish, and would make a pretty addition to any summer salad.
RECIPE: Edible Flower Lollipops
Wasabi leaves, a less-potent version of wasabi, are great with raw tuna.
Chocolate mint is just like an after dinner mint, without the sugar. Delicious thrown in with Greek yoghurt and honey.
Society garlic flowers have a sweet onion and garlic flavour that works well on steak or an omelette.
Begonia flowers are crunchy with an acidic flavour. They are the perfect zingy partner to a salad with parmigiano reggiano.
Share this:
More At Home / Features & Profiles