Entertaining Tips from Mimi Gilmour
When restaurateur Mimi Gilmour got engaged to Stephen Buckley while holidaying in Mexico, they decided to get married as soon as possible. But first came her glamorous hen's do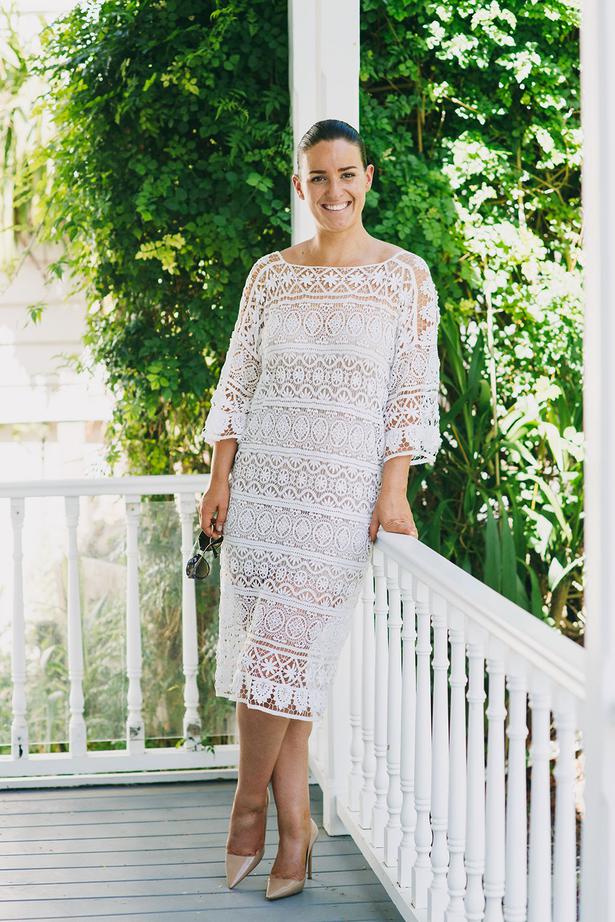 Wednesday Feb. 24, 2016
"My hen's do was hilarious and fabulous. Stephen and I had just moved into a new house in Ponsonby, which has this magical, tranquil back garden and courtyard. Clifton [Piper, TVNZ stylist] was my man of honour. He organised my favourite kind of event, a long lunch.
Well, he did his best to do most of the organising. Considering I'm a bit of a control freak, I did give him a helping hand. We jumped in my Jaguar XE in the morning and did a last-minute round-up of beverages, picking up the rosé from a friend and the bottled water from the fridge at work. My sister also helped, we had someone take care of all the flowers, and my girlfriend Leisha Jones [of Honeytrap Catering] did all the food, so it was stress-free from my perspective.
I got ready in the morning and set the table with Clifton. We had champagne and rosé ready, the flowers all set out on long tables. Kate, who is one of my best friends, had donated all the beautiful candles. Then everybody arrived around 1pm and we had champagne and I introduced everyone. I had different groups of friends and my family there, and Stephen's family, 30 women and gay boys.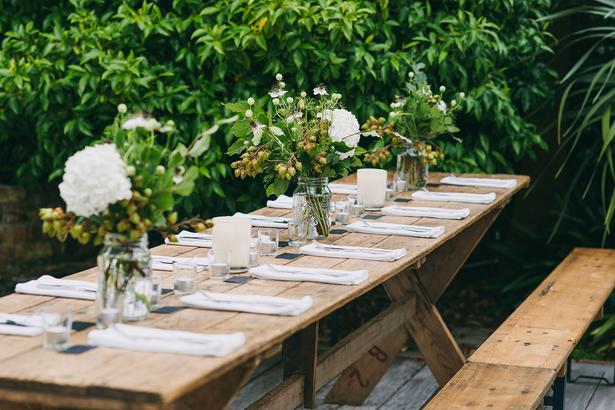 We had platters to start with, then a sit-down lunch, and Clifton did a little speech. Leisha's my soul sister when it comes to cooking. We're both avid cooks and enthusiasts, we always give each other cookbooks and talk about food. She knew that I love everything about Middle Eastern and Mexican flavours. I'd recently given her Ottolenghi's new book, and she'd been quite inspired.
She came up with these lamb tortillas with pomegranate seeds, prawn tacos, a roasted cauliflower salad, roasted salmon with zucchini, it was all so delicious. Then we had ginger cake with Christmas icecream, which everyone was going on and on about.
I did warn everyone I'm not into too much 'hensy' business. I wanted a classy hens. No stripper. Stephen's mother and grandmother were there, and his family are more conservative than mine on a good day. So a topless waiter was as far as we went. I got a tinsel halo and we had this hilarious tinsel curtain that I'd bought from Look Sharp, so there was quite a lot of posing going on, photo shoots.
They made me do the embarrassing game where they'd asked Stephen a lot of questions, and I had to know the answer. 'Where do you think you'll be living in five years?' that sort of thing. I knew he would have said we'd be living in the country and have four children. (I've told him, I'll do two.)
READ: Finding the Perfect Burger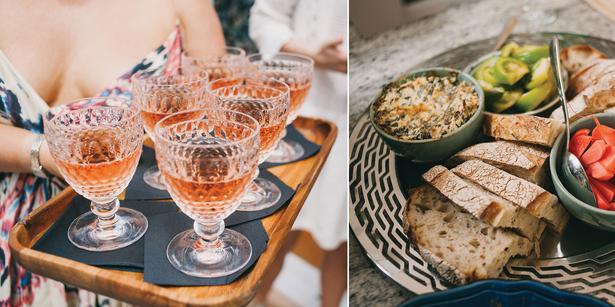 There were silly questions, like Stephen's nicknames for me. He calls me ridiculous things: 'Porkchop' and 'Lloyd', I don't know where they come from. 'Chubs' is his favourite, as in chubby. He means it affectionately. I lost a whole lot of weight for the wedding, but he told me he likes to have something to hang on to. The topless waiter told me I did really well; and he's been to a lot of hen's parties, so I must know Stephen quite well.
At some stage, I had a wardrobe change. I started with a Miss Crabb dress and some tan Prada heels, which are really standing-still kind of shoes — I ended up spending a large amount of time dancing barefoot. Then I put on a pale pink Zambesi dress, which was all tasselled — fun for dancing. Then I got changed into another one, a ridiculous metallic silver Sass & Bide dress. We took polaroid pictures and put the photos in an album. We all had summer hats on, and were drinking rosé and dancing until 1am.
Music-wise we moved on from a bit of indie soul at lunchtime, to Top 40, then all the classics.
I think it was the Negronis that were the death of me. We'd already gone through a case of champagne and two cases of rosé when we had cocktail-making lessons. My friend Vinci runs Seafarers, Ostro and Las Vegas, and one of his bartenders tried to teach us, but I'm not sure many of us could pay attention for longer than five seconds. I was not great on Sunday at all.
I hadn't been drinking really for the last three months as part of my exercise regime. Then it was full-on hammer time, a bit more than my body could cope with. Eventually Stephen came home and he's a DJ, so he started DJing. We got a noise control complaint about 11.30 or 12. We'd been going for almost 12 hours. It was hilarious — a lot of fun and a great bunch of people. Everyone had a really good time."
MIMI'S ENTERTAINING TIPS 
• It's always important to have a good mix of people. At the end of the day it all comes down to who you hang out with.
• Stay hydrated. We had Antipodes everywhere to encourage water consumption.
• If cooking, just use seasonal produce. In summer it's all about tomatoes. Keep it simple: burgers, barbecue and some salads. Delicious.
• Fresh flowers are a great way to spruce up a table, with candles at night time. Don't overthink the decorations. I like scented candles from Ecoya, or you can mix it up, with millions of tea lights on hand.

Try some of Leisha's recipes from the menu:
• Lemony Pasta Salad with Rocket
• Mini Prawn Tacos with Chipotle Cream
• Chicken Salad with Barley and Walnuts
Share this:
More At Home / Features & Profiles