Inside the Parisian Home of Rosita Missoni
New book, Hidden Paris, showcases the French pied-a-terre of fashion house matriarch Rosita Missoni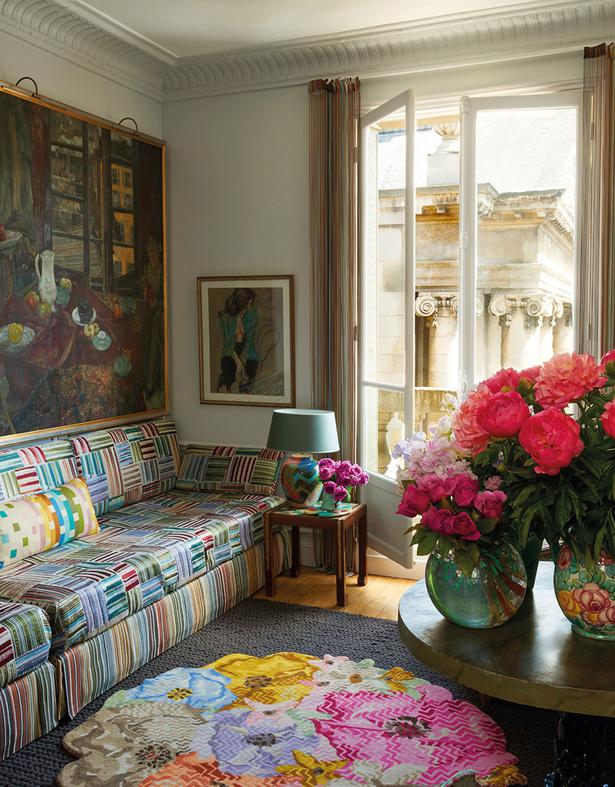 Sunday June 4, 2017
We are in Saint-Germain-des-Pres quartier of arts, letters, indeed the quintessence of cultural life. This is the golden triangle of design, where Paris takes on Italian airs and it is here, naturally, that Rosita Missoni sets out her stand. Once her Paris home was situated above the Missoni boutique but now, faithful to her adopted quartier, her current pied-a-terre is at the corner of Rue du Bac.
The apartment is blessed with classic moulding and panelling, and Rosita wanted to emphasise the classic Parisian feeling by painting the walls and panelling white, the better to show off the colour and patterns around her. The 1920s and 1930s are periods that greatly appeal to her, and paintings and furniture of that time have been carefully placed throughout the apartment.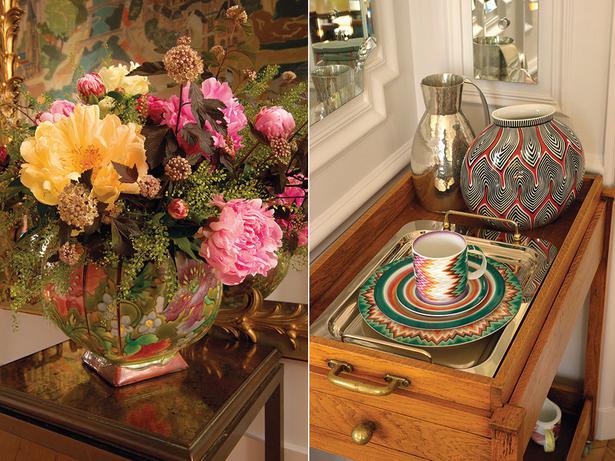 The home is lush and beautiful, filled with pattern and texture as well as, of course, rich, exuberant flowers filling every possible space. These are almost like paintings, picking up the colours and patterns of the upholstery and the rugs and carpets.
A screen painted in the 1940s and portraying alluring contemporary beauties is one of the many finds from flea markets and antique shops. There are echoes of an earlier era, too, with gilded mirrors and lacquered carved chairs from the 18th and 19th centuries.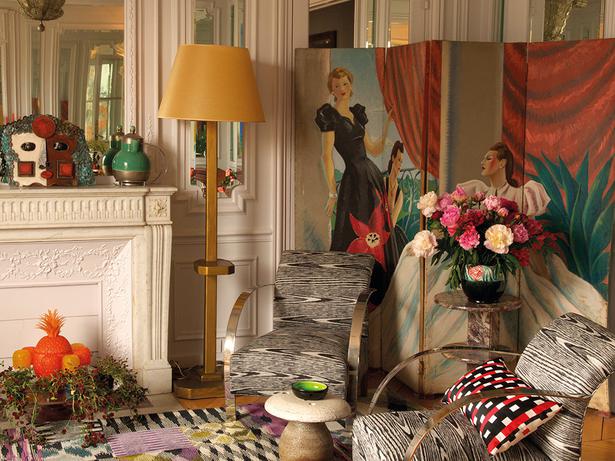 Almost as colourful as the flowers are the rugs, sitting on simple herringbone parquet and so bright that it seems hard to raise your eyes from the floor. Many are floral in inspiration and all by Maison Missoni, of course, as are the fabrics used on the upholstery: curved 1950s chairs covered in a zebra-like black-and-white design and a sofa in the salon upholstered in mad, bright striped checks of colour that seem to lift the whole room.
Missoni, as a company, says Rosita, has continued to be successful because it has remained faithful to its roots for the 60 years it has been in existence. It has changed with the times, of course, but it is telling to think that the small company that first saw the light of day in a cellar fitted out with four knitting machines was the start of a fashion legend.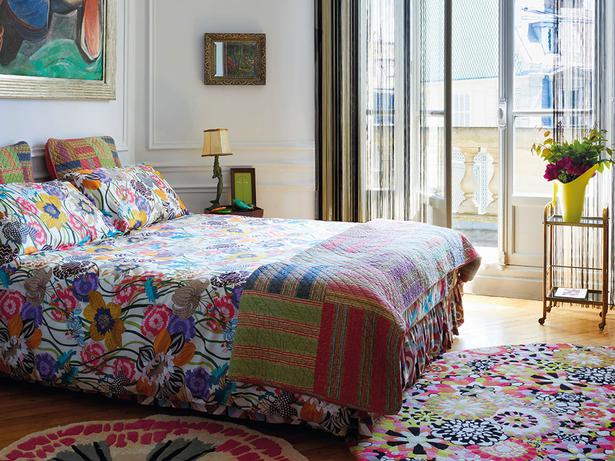 Ottavio Missoni, at that time an acknowledged athlete, already had experience in the sportswear field, while Rosita's family specialised in making embroidered bed linen and housecoats.
So, at the start, it was she who cut the patterns and Ottavio — "a brilliant colourist" — who made up the samples in vibrant shades and designs that have illuminated all their collections ever since, and whose spirit can still be seen in the exuberance and colour of this flower garden of an apartment.

— Hidden Paris by Caroline Clifton Mogg, published by Quarto, RRP $70.
Share this: