Favourite Things: Actress Darien Takle
Darien Takle's favourites are bright, beautiful and inspiring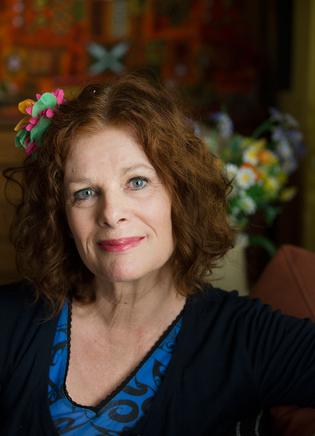 The pleasure and pain of grandchildren are celebrated in Roger Hall's classic production, the appropriately named You Can Always Hand Them Back. Actress Darien Takle stars alongside Peter Hayden as empty-nesters in the latest production of the play, from the Auckland Theatre Company opening at Sky City Theatre tomorrow night. The play marks 40 years of Roger's career as a playwright and as the "founding father" of New Zealand theatre.
The comedy was written with English singer-songwriter and pianist Peter Skellern. Darien, who plays grandma Kath, is a musical theatre veteran, and will also be familiar from her roles in Heavenly Creatures and the series Xena: Warrior Princess. She opens up her Mt Eden home to share some of her favourite treasures, from special artworks to a family sheep.
• You Can Always Hand Them Back, March 31-April 16, Sky City Theatre. For more information and to book, visit atc.co.nz

MY FAVOURITE THINGS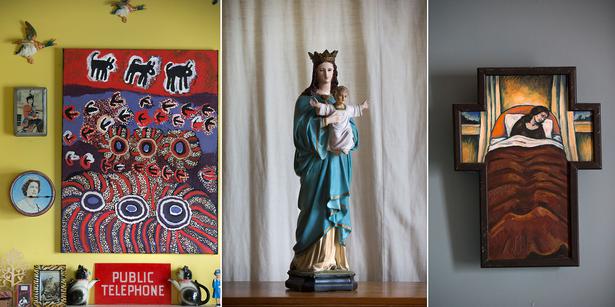 Aboriginal painting; The Madonnas; Nigel Brown painting in a cross. Pictures / Nick Reed.
1. Aboriginal painting
My favourite paintings are by Australian Aboriginal artists. This painting gives me great joy, and was painted by a very old Aboriginal artist.
2. The Madonnas
I have a bit of a thing about crosses, Buddha statues and nuns, so I'm inclined to collect them. I also have two Madonnas. The Madonna and child, pictured, I spotted in the window of an amazing collectible art and antique shop in Bulls on my way to Wellington; the other is a beautiful serene Madonna discovered in The Cat and Fiddle in Kingsland where I adopted Gary the Sheep.
3. Nigel Brown painting in a cross
I graduated from Elam School of Fine Arts, and despite being an actress ever since have always had a passion for art. I still paint and sculpt when I have time. The artist Nigel Brown was at Elam with me, and probably, like all of us at Elam, was influenced by Colin McCahon, who was our painting tutor. I loved this painting when I saw it many years ago — I was still a student and paid it off by cleaning the Odeon Theatre. I love the cross-shaped frame and McCahon hills in the bedding. I have been known to take this painting on holidays
with me.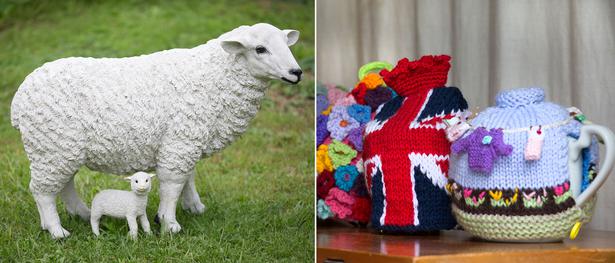 4. Gavin the sheep
I saw Gavin in the window of The Cat and Fiddle in Kingsland and knew I had to have him. My cousins were with me and fell in love with him too — they grew up on a farm, and they insisted I adopt Gavin. When he finally came home he was very popular with flatmates and friends; they would move him around the backyard, so it was always a surprise where Gavin would end up. He has become part of the family now.
5. Tea cosies
It has become a tradition that every time I travel to Noosa (usually to learn lines ), I go to the Sunday market on the Tewantin Wharf; catching the ferry down the Noosa River to the market. The first year I did this, I discovered two lovely women sitting in their stall knitting tea cosies and I bought a couple of them. This was several years ago but each time I make the trip to Noosa I buy another two or three tea cosies. I have made friends with the knitters and they always remember me. I have given quite a few tea cosies away as I'm running out of teapots.
Share this:
More At Home / The Latest