Favourite Things: Antoin'e Ogilvie
Antoin'e Ogilvie has his eyes firmly set on an international fashion career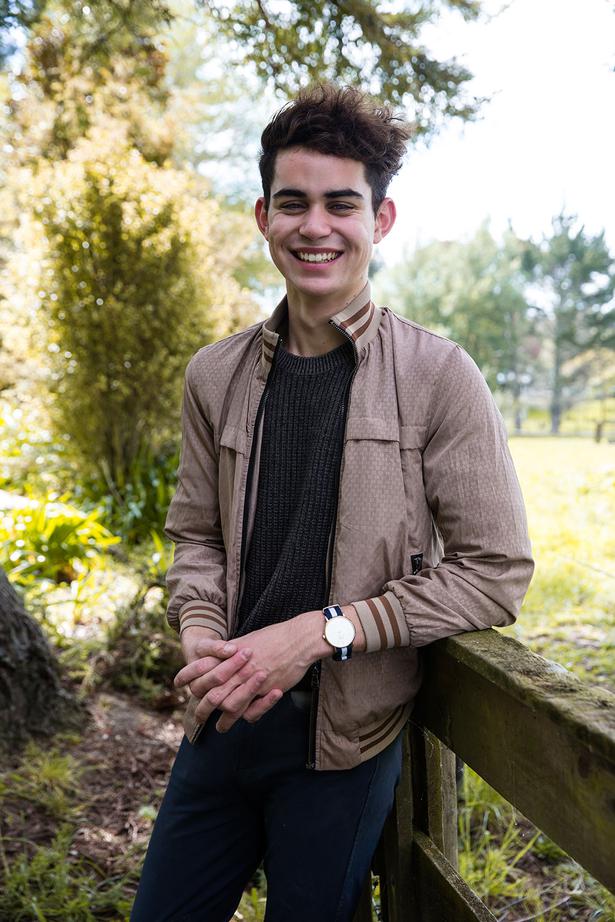 Thursday Oct. 29, 2015
It's just as well Antoin'e Ogilvie ditched his plan to go to law school and decided on a future of mood boards, samples and collections.
The 18-year-old this year took out the top prize at YMCA Auckland's Walk the Line runway show competition, which features outfits created entirely by teenage designers. His winning look included a pair of high-waisted charcoal culottes, a white crop top with ostrich feathers poking out of the collar with a peek-a-boo tube bra underneath.
Antoin'e is refining his skills at NZ Fashion Tech in anticipation of the launch of his own label, which he describes as calculated and cold, yet subtly powerful.
"I want to expand my knowledge and get more experience in pattern making, which I feel would be super beneficial for my brand," says Antoin'e. "The second year of my course delves right into pattern making so there's no doubt I'll clock up some miles."
Once he has the experience he needs, Antoin'e hopes to relocate to New York to launch his label on an international scale. "I'd be more plugged into the industry from a global perspective, and I'm half American so obtaining a US passport would be pretty easy for me."

MY FAVOURITE THINGS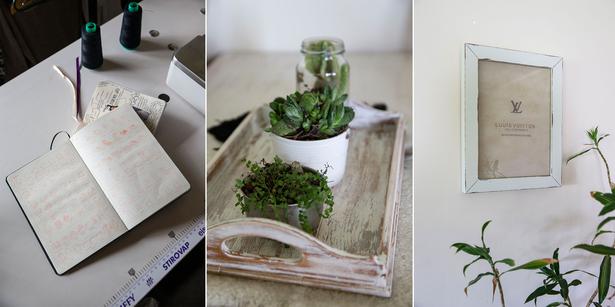 Fashionary; Miniature plantation; Framed paper. Pictures / Guy Coombes.
1. Fashionary
I feel like everyone has a giant book in their homes that they worship, whether it's a Bible, a Sudoku book or even a bridal couture magazine. Mine is my Fashionary. In the first 20 pages, it lists globally significant brands, trade fairs, dress types, collar types, pant types, catwalk schedules, care label meanings — everything you need to know. The rest of the book is filled with dotted figures which serve as a guide to sketch your designs around. This impulse purchase was definitely justifiable.
2. Miniature plantation
After sewing cuttings of different-coloured faux fur together to make a little table mat, which my whitewashed upcycled breakfast tray was presented on, I found the perfect place to put my succulents (plus a baby fern that I found in our pine forest). I spent quite a bit of time arranging this ensemble and it's really aesthetically pleasing. I'm also inspired by the idea that plants in the workspace are conducive to higher productivity.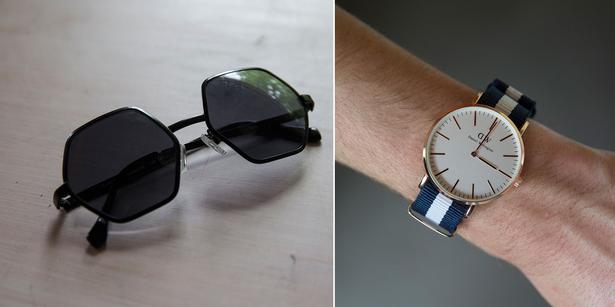 3. Framed paper
In a distressed whitewashed frame on my studio wall is a square of tissue paper from a vintage Louis Vuitton purchase presumably dating decades back. I found it during our move to Silverdale and decided to frame it as I had nothing to frame at the time! What started off as a thoughtless act has added personality to the studio and serves as a beacon of inspiration while I'm working.
4. Le Specs sunglasses
I love wearing my black hexagon sunnies because they're so different — nobody has them. I have worn these glasses almost every day since they were gifted to me from my stepbrother last year and they are the perfect distraction from a bad hair day or a rough Monday morning.
5. Daniel Wellington watch
I recently purchased this beautiful navy-and-white-strapped, gold-faced watch from Daniel Wellington. My style is quite unique and unorthodox so its grounding and refreshing to have a traditional and classic time piece.
Share this: