Favourite Things: Artist and Designer Leanne Culy
Napier-based artist and designer Leanne Culy shares a few of her favourite things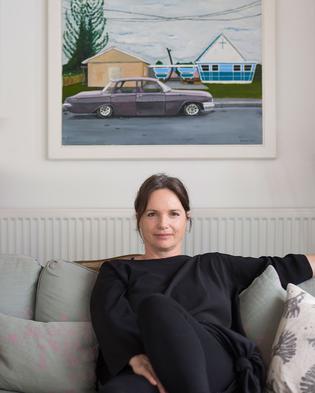 Leanne Culy has lived in Hawke's Bay for 12 years, now in Balquhidder house, an 1861 heritage-listed villa nestled in the Napier hills. She and her photographer husband Brian moved around a bit when their children were small,and lived previously in Wairarapa and Kerikeri.
"Our work space is our home and it's constantly inspiring, changing and full of life," Leanne explains. "We use the space to shoot in; our office is a large lounge, full of interesting art and things we've collected over the years."
Homebase Collections is the brainchild of Leanne. Primarily a homeware store, it allows her work as an artist, stylist and designer to come together. She sells a beautiful mix of art, fabric, lighting and furniture. There's a distinctly personal feel to the pieces — which could be because it's a family affair, with photographic prints by her husband and daughter in the mix too.
MY FAVOURITE THINGS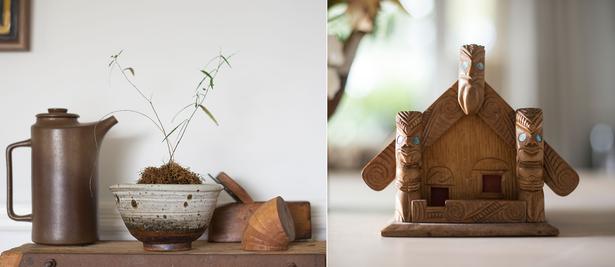 Birth mother's pottery; Wooden wharenui. Pictures / Brian Culy.
1. Birth mother's pottery
This piece of pottery was made in the 1960s by my birth mother, who I never met. Inside I've placed a bundle of moss and planted a native New Zealand vine, tataramoa. It has the most beautiful earthy glaze and is one of my most cherished belongings.
2. Wooden wharenui
This was given to me by my father for my 21st birthday. It was bought in Hastings and we don't know much more about it than that, but we've never seen another one like it, which makes us think it's a one-off. The roof opens up like a lid and you can keep things inside; it's so beautifully made.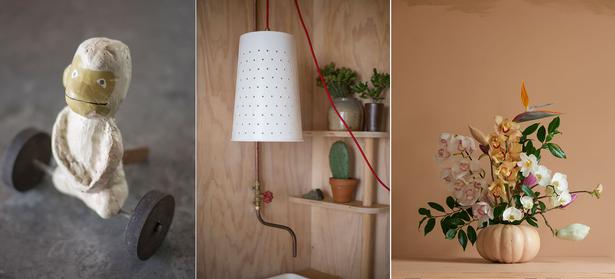 3. Ben Pearce monkey sculpture
We bought this when we first arrived in Napier. We didn't know Ben at this stage but were drawn to its humour and the perfect imperfections of his work. Also, we have always had a bit of a thing for monkeys in our family (don't ask us why!) so we had an immediate connection with it.
4. Pin hole light-shade
This is a design I have been perfecting for quite a long time now. I first designed it for renovated shearer's quarters we were moving on to a bit of land in Wairarapa, called Pounui Homestead. I love using old things and adapting them into something new. This is a florist's bucket and originally they were punched and left in exposed tin, it's only more recently that we have been powder coating them and trying different colours. I have them in my house now and they have been following me around for 15 years or so. It's a design I'm most proud of and it seems to stand the test of time.
5. Billie Culy Effloresce print
This is a favourite work by my daughter — we are both obsessed with pumpkins. I love the colour scheme she has chosen and the amazing collection of flowers, all at their optimum stage of flowering.
Share this: