Favourite Things: Social Practice Artist Tiffany Singh
Social practice artist Tiffany Singh shares her favourite things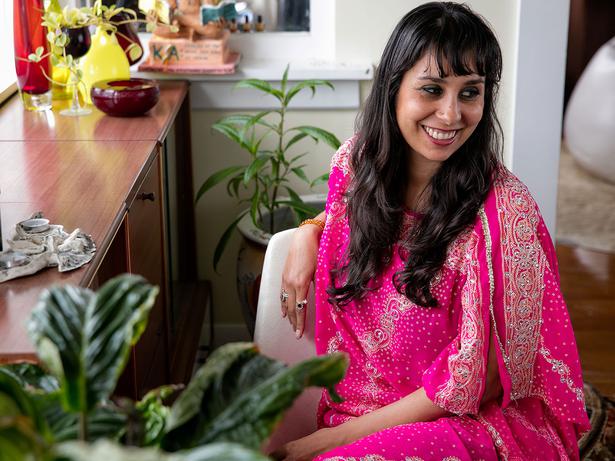 Monday Oct. 10, 2016
Tiffany Singh describes her home as a "minimalist's nightmare". Filled with treasures, the space reflects her dynamic social art practice and affinity with Eastern philosophies. Tiffany grew up in Northcote, and went on to study a Bachelor of Fine Arts at Elam. After working in the volunteer sector in northern India, where she integrated arts and education, Tiffany returned home in 2008 and continues to create works that encourage wellbeing on both a personal and communal level.
"A stronger social conscience paired with action," Tiffany says of her hopes for the future. "I am unsure about the Government's objectives and priorities and I would like people to feel they can make a difference by being more involved, making a stand and having a voice."
As part of Auckland Artweek, Tiffany has teamed up with the Tautai Trust, St-Matthew-in-the-City, the City Mission, ArtDego and the Temaki Food Truck on ART4FOOD, a project focused on addressing food security. The initiative will see Tiffany's iconic wax castings made available at St-Matthew-in-the-City next Wednesday from 5-9pm, in exchange for a 450g tin of salmon to be donated to the City Mission. For more, visit stmatthews.org.nz
MY FAVOURITE THINGS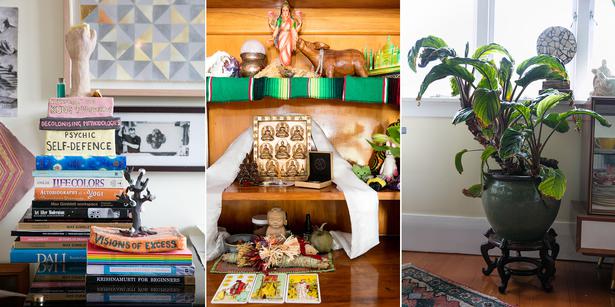 Tessa Laird sculptures; Sequoias altar; Solaris the bat plant. Pictures / Babiche Martens.
1. Tessa Laird sculptures
These sculptures were made by my dear friend Tessa Laird. We have collaborated on a couple of projects and when she moved to Melbourne recently, she gave me a selection of her ceramic works that speak to the Eastern philosophical ideals we both hold dear. The style of them always makes me smile.
2. Sequoias altar
This pan-religious altar is a collection of sacred objects for my daughter collected from the places I love the most, like India and Nepal, with objects made and given to bless her and keep her safe. There is frankincense and myrrh, holy dirt, sage and chilli from El Santuario de Chimayo in New Mexico, which I collected when I was on an artist's residency and pregnant with her. As well as her Light Flower essence, a beeswax apple from me with her rose quartz, there are her gods and goddesses and her Sequoia Tree bracelet, custom-made by Zora Bell Boyd.
But most precious of all is her blessing thread from the Dalai Lama that she received when she was blessed and given her Buddhist name from Geshe Wangchen. This sits over the Medicine Buddha Tsa Tsa, created by my dear friend Ella Brewer.
3. Solaris the bat plant
Solaris is a south Asian plant, she is very cool and unusual in that she has black flowers. My husband and I bought her when she had one small stem about seven years ago, and have nourished and cared for her like she is a member of the family. We now have Baby Laris from her offshoots and she is coming along well. We have a lot of plants in the house, they bring life, and our happy plants and happy fish are signifiers to me that we have a healthy environment in our home.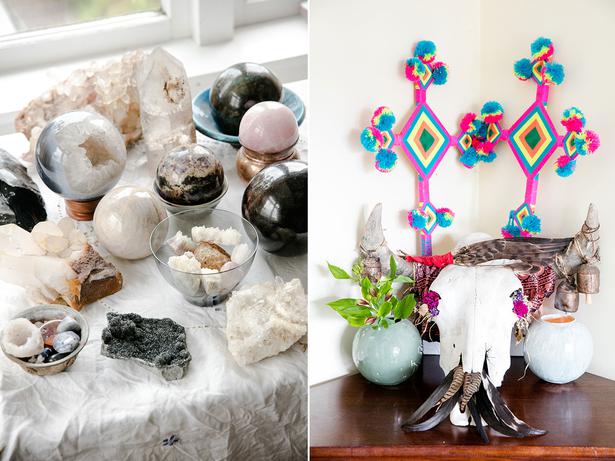 4. Crystal collection
These are beautiful natural objects that have metaphysical qualities and healing energies. I have collected crystal balls of rose quartz, amethyst, moonstone, labradorite and garnet and have large pieces of clear quartz and smokey quartz, which I carried in my backpack when I lived in India.
5. Skully the bison skull
Skully has been my protector for a few years. I found him in Los Angeles in 2013. He was at El Pueblo de Los Angeles down a little alleyway downstairs with the Ojo de Dios he is still with. He is now in our entrance way, keeping guard over the house with the ceramics that were a collaboration between myself and Richard Orjis.
Share this:
More At Home / Features & Profiles