Favourite Things: Finn Andrews of The Veils
Finn Andrews of The Veils has links to New Zealand and England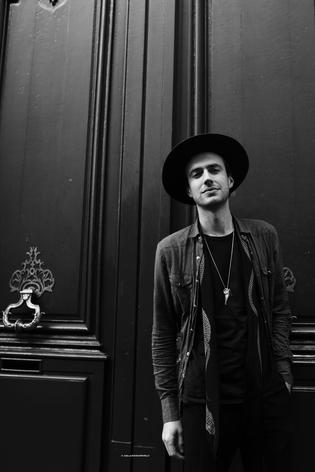 Finn Andrews is the lead singer and songwriter of indie band The Veils. Born in London, he grew up in Grey Lynn and Devonport. High school, however, wasn't quite enough; he left at 17 and moved back to London to focus on making music.
This decision led to the release of the band's debut album The Runaway Found in 2004. "Mercifully, that worked out," Finn says of his move to the UK.
The artist hasn't left New Zealand behind completely, with favourite things that speak to memories between both countries. A bougainvillea flower from his mother's vine sits in a time capsule atop his piano. A winged necklace made for Finn by his father when he first moved to New Zealand, never leaves his neck.
"I'd someday like to live in the house on that enormous boulder on Bethells Beach — the tide comes in and you live on an island for half the day."
Funnily enough, it was on Bethells Beach that the video for Axolotl, the first track off The Veils' latest album Total Depravity, was filmed. The band's fifth album is available now and will see the group head on a tour through Europe and the US come October.
When he's asked about what's next, Finn's priorities are straight to the point. "A future of writing music and making stories, that sounds pretty good to me."
Not to mention an upcoming appearance in David Lynch's new instalment of cult series Twin Peaks next year. 
MY FAVOURITE THINGS
Winged necklace; Piano; Bougainvillea time capsule. Pictures / Supplied
1. Winged necklace
My dad made these for me when I moved to New Zealand with my mother — they were a parting gift I suppose, and I've worn them ever since. They cut me up a fair bit on stage, and I've nearly lost them several times, but they keep coming back. I guess they're here to stay.
2. My piano
Well, life wouldn't amount to much for me without this. She fills the room and nearly fell through the floor once, but what can you do. It's pretty maddening knowing that you wouldn't be able to save the object you love most if your house caught fire, though perhaps I'd find a way, or maybe she'd just fall through the floor again.
3. Bougainvillea time capsule
I cut this from the bougainvillea vine outside my mother's house the day I left New Zealand and moved back to London to start the band. It's still in remarkably good shape in a little air-tight jar, the colours haven't entirely left it yet.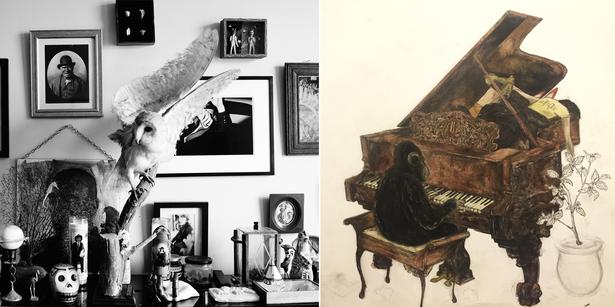 The Owl; Drawing by Liam Gerrard. Pictures / Supplied
4. The Owl
I don't remember where The Owl came from, but it's become somewhat of a mascot for The Veils. It's featured on our album sleeves and been in the background of numerous music videos. It's always good to know The Owl is there watching over us.
5. Drawing by Liam Gerrard
Liam Gerrard was our keyboard player during the Nux Vomica years, and he's an incredible artist and illustrator. I asked him once if he could draw the three of us dead in the back of a grand piano being played by an ape, and he did it in like half an hour. It makes me laugh every time.
Share this:
More At Home / Features & Profiles