Favourite Things: Furniture Store Owner Karen Robertson
Furniture store owner Karen Robertson is a lover of design in many forms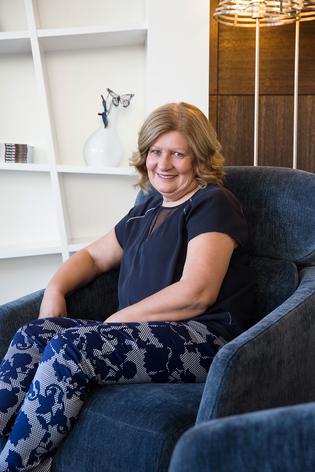 Karen Robertson is the co-founder and co-owner of Domo Luxury Furniture Concepts. Her love affair with design began at a young age; Karen's grandmother ran a dressmaking school in Wairarapa. Growing up in this environment planted the seed for a lifelong appreciation of design, quality and craftsmanship. "I love the idea that fashion meets furniture — our showroom and the pieces we choose always reflect that."
It's only fitting, therefore, the books in her Coco Chanel collection are among her most treasured objects. Karen also has a love for local designer Juliette Hogan, whose jumpsuits are on high rotation in her wardrobe.
Travelling is at the heart of her business — Karen regularly takes trips to Europe to find inspiration and bring back the latest in furniture design. There, she visits her key partners, most of which are family businesses, some dating right back to 1860. Maintaining regular, direct contact means Karen can ensure the strongest pieces make it back to our shores, and in turn, to her client's homes.
No trip is complete without a visit to Le Cabinet de Porcelain, on Paris' Left Bank. Karen can't resist picking up a piece of porcelain art to add to her carefully crafted collection of flowers, fruit and vegetables.
Her last trip coincided with Milan Design Week, which brings together 2400 exhibitors throughout the city to celebrate design. "It's full of inspiration, it's very much like showcasing furniture on a catwalk. The designer shopping precinct is a fascinating one, it's always exciting to see how the designer matches fashion to furniture."

MY FAVOURITE THINGS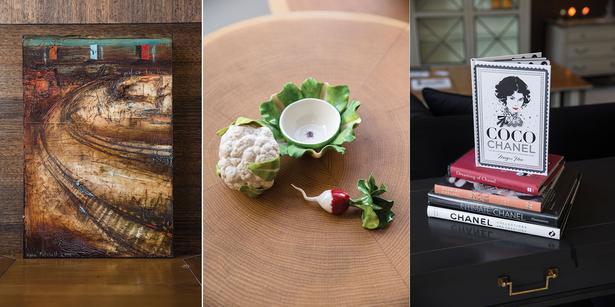 Three Doors of Life painting by Jane Mitchell; Porcelain collection; Coco Chanel book collection. Pictures / Guy Coombes.
1. Three Doors of Life painting by Jane Mitchell
This was given to me by my husband when I was unwell. It represents not knowing where you will end up. The choice of doors represent the paths you would follow.
2. Porcelain collection
Every time I head to Paris on business I have to visit Le Cabinet de Porcelain, located on the Left Bank, in the heart of the Paris antique dealers' district: it's a real treat, I'm always anticipating the unexpected. They exhibit works of two porcelain artists, Didier Gardillou and Samuel Mazy — the master and his pupil — who have revived the antique craft of the porcelain florist. This art appeared in the course of the 1740s at the manufactory of Vincennes, which in time would move and become the royal manufactory of Sevres. Le Cabinet de Porcelaine exhibits flowers that do not wither. In small terracotta pots or old-fashioned jardinières, their thin, metallic stems stand up, bow graciously or rise assertively in the case of tulips. It is difficult for me to leave Paris without visiting this amazing artisan showroom and taking home either a flower, radish or a plate of strawberries.
3. Coco Chanel book collection
She was a very talented and creative fashion designer who changed the world of fashion and inspires me in my everyday life. My favourite quote from Coco Chanel is: "Fashion is architecture: it is a matter of proportions."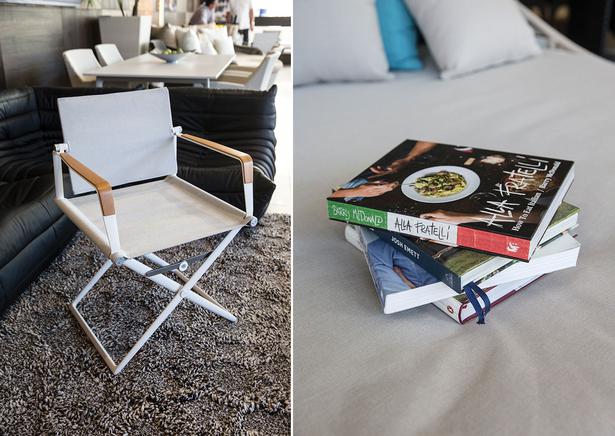 4. Dedon SeaX armchair
Created by French designer Jean-Marie Massaud. It's functional, sophisticated, stylish and perfect for hosting guests. I love this quote from Bobby Dekeyser, founder of Dedon: "It is only a contented person who can find the right chair."
5. Recipe book collection
My collection of recipe books exceeds 2000. I love cooking and I have at least one favourite recipe from each book.
Share this: