Favourite Things: Jasmine Edgar of Sill Life
Wardrobe stylist Jasmine Edgar has turned her hobby for collecting indoor plants into a business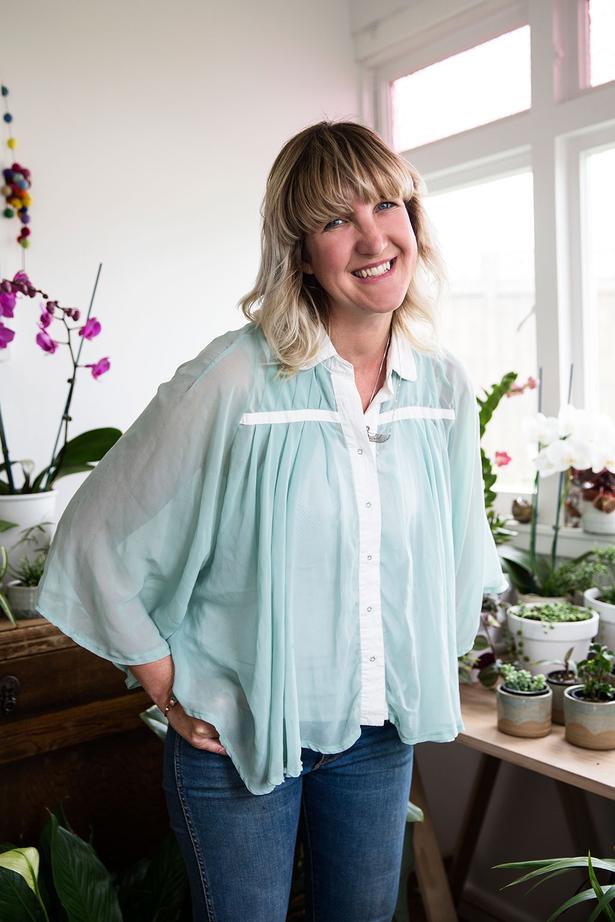 Thursday Oct. 22, 2015
Jasmine Edgar has a clear mission: to slowly "green" the inside of homes and offices, one indoor plant at a time. The wardrobe stylist and her graphic designer partner Ian Ferguson always wanted to do something creative together, and a love for indoor plants made for a convenient venture: Sill Life. The business sells unique succulents, ferns, cascading and leafy plants, as well as the pots and hangers to go with them.
"I just love plants. The obsession built and Ian was a little worried about the plant to house ratio so he suggested making it a business," says Jasmine. The pair believe bringing the outdoors inside makes a house brighter. "The feel and mood they create in a space is addictive, watching them change and grow, and the air purification factor is an added bonus."
Jasmine grew up in an original farm house in Howick, surrounded by a beautiful garden, chickens and bees. "It was an idyllic childhood, but I craved a bit more action and moved into the city as soon as I turned 17."
After living in Melbourne for a few years and travelling, she now lives in Grey Lynn with Ian and her two sons — Dustin, 7, and Ace, 6. While she's managed to make her inner-city home a green haven, Jasmine says her ideal house would be a multi-levelled estate overlooking the sea.
"With a huge workshop and green house, maybe a winter garden set up with a skate board track running through it."

MY FAVOURITE THINGS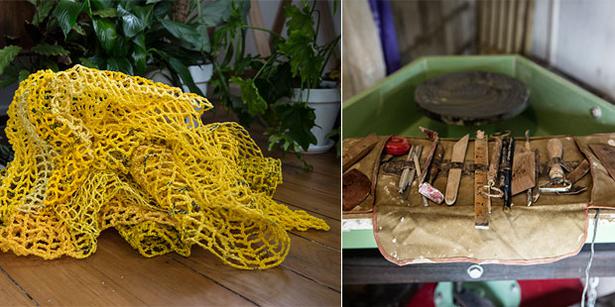 Artwork by Anna Browne; Pottery wheel and tools. Pictures / Guy Coombes.
1. Artwork by Anna Browne
My great friend Anna Browne is an incredibly talented artist and crafter. This was from a sculptural exhibition she had where she crocheted works entirely out of recycled plastic bags. The amount of work in them was massive! I just love the colour and texture, it makes me so happy to look at.
2. Pottery wheel and tools
My leach wheel was lovingly restored by my ceramics tutor Renton Murray — he painstakingly brings them back to life. I feel very lucky to own one. I also just received some new pottery tools from Colin Carrity in the starts, which are all hand carved out of recycled timber. They feel beautiful to use and the variations of wood he uses look amazing too.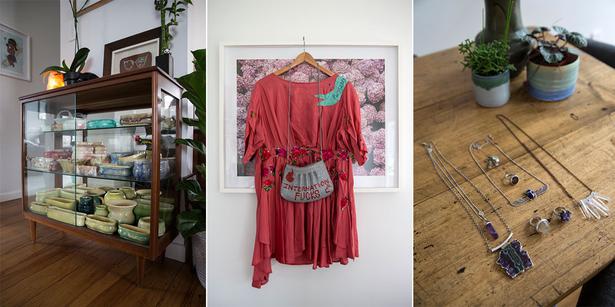 3. Collection of my Great-great-great-Aunt Briar Gardner's pottery
She staked her claim as the first celebrated woman potter in New Zealand and I have collected and been given pieces since my early teens. I love her glazes — her eccentric nature seems to flow though them and I'm sure some of her genes have been passed down to me… hence my love of pottery.
4. Miss Crabb x Dead Martin dress and bag
Back when I was working at Pavement magazine and Kristine Crabb was setting up Rip Shit and Bust on K Rd, I fell in love with Dead Martin's beautiful mix of customised clothing. The perfect mix of beautiful fabrics, skulls and flowers! Kristine had a huge impact on me back then and I've always loved what she does and who she discovers.
5. Crystal jewellery
Crystals have so much power and as I am a major sentimentalist, I love that they were made by friends here in NZ and collected from travels abroad. Each piece has its own story.
Share this: