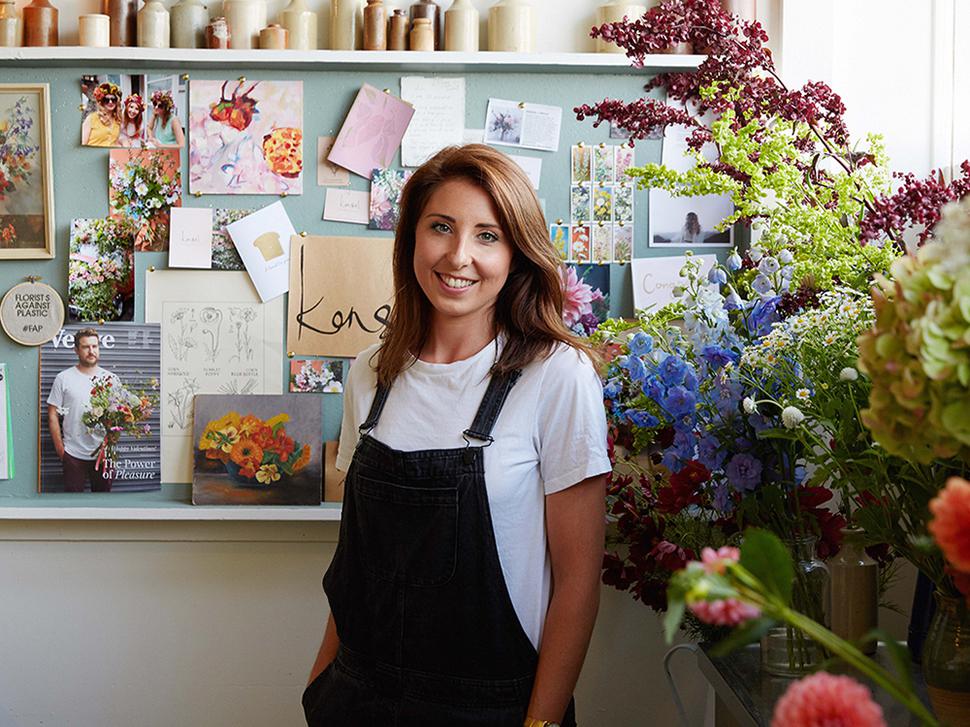 Favourite Things: Kensal Florist Liv Wakem
The Auckland florist shares her treasured objects and top wedding floral tips
Monday April 15, 2019
From sprucing Nigella Lawson's house flowers over brownies to out-of-this-world arrangements for giants of the fashion industry, and even the Queen, Liv Wakem has had the clients and budgets florists dream of.
The now Auckland-based florist made her name at London's acclaimed flower shop Scarlet and Violet which she ran for five years, after moving to London from Christchurch with an idea for a new career in 2012.
Liv admits to not quite knowing the esteem of Scarlet and Violet when she first started at the store. She had been working cash jobs all over the city after learning the floristry basics at a two-week course at a flower school in Knightsbridge.
READ: Meet Rosie Holt, The Florist Behind Rose Tinted Flowers
"I started out working at a flower stall in Piccadilly for five quid an hour in the winter. It was intense and freezing but also a 'pinch me' moment being there," she says.
"The day I walked into Scarlet and Violet they had just done Kate Moss' wedding. I spent the first year and a half cleaning vases and stripping flowers for eight hours a day but by the end, I was running the shop. I got to do amazing people's flowers. The people you only see on telly and in magazines."
A favourite was the Jo Malone Blossom Ball at the brand's West London townhouse offices, with no expense spared to launch Poppy Delevingne as their next "it girl".
"We used thousands upon thousands of blossoms and it was so beautiful. I can't tell you how many times we drove back to the New Covent Garden Market to pick up another van load of flowers. The installation was only up for about five hours and then we stripped it all out," she says.
READ: Favourite Things: Blush Flowers Owner Kelly Karam
Back in Auckland, Liv opened her own flower shop in a warehouse space in Kingsland in February last year. Called Kensal, the one-woman business brings a bit of London back home — it's the London area Scarlet and Violet is situated — and new challenges.
"At Scarlet and Violet it was 12 hours on your feet every day, and I never thought I'd work that hard again, but this is different. You do everything from going to the flower auction, making the arrangements, delivery and accounts. I've had very special friends who got me up and running, making any excuse to send a bunch of flowers."
READ: New Trend: Hand-Painted Wedding Bouquets
Liv has kept to Scarlet and Violet's signature style of wild and natural arrangements and has been busy with weddings. Her recommendation? Opting for lighter-coloured florals.
"Everyone loves the burgundy blush vibe which I think is a little bit done now. It would be nice to push people towards lovely apricot peachy tones to freshen it up a bit. Less moody, and light. It's great everyone's cottoning on to the natural style and letting florists do their thing."
MY FAVOURITE THINGS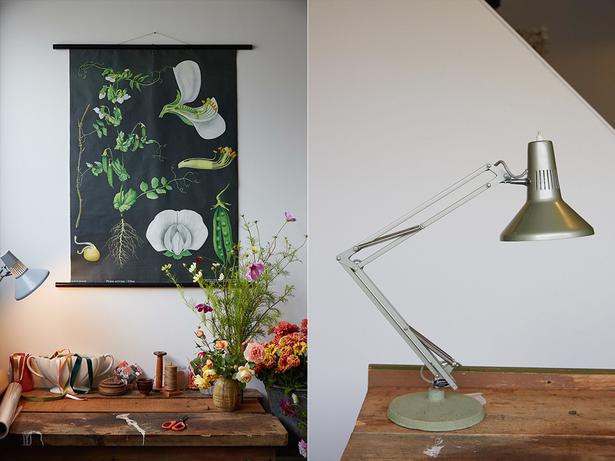 1. Vintage Poster 
I was given this amazing German botanical school poster as a gift when I left Scarlet and Violet. It's a Jung Koch Quentell chart from the 1950s. It's extra special as my Grandad used to grow sweet peas in his Dunedin garden and they're hands down one of my favourite flowers.
2. Anglepoise Lamp 
I have a habit of collecting things. They're usually little op-shop finds like royal mugs or stoneware bottles, but I do have a soft spot for big old Anglepoise lamps. I've got five so far (I should probably stop there) but my favourite is this khaki one at home.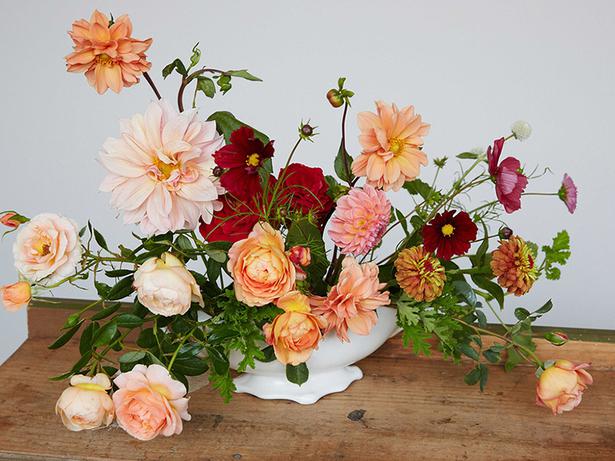 Mantel vase. Photo / Rebecca Zephyr Thomas

3. Mantel Vase 
For the past five years I haven't lived anywhere without a fireplace. I love character houses and it's one of my priorities. There is something so charming about an old fireplace, whether it works or not, especially if it's adorned with a mantel vase filled with flower leftovers. This mantel is my favourite.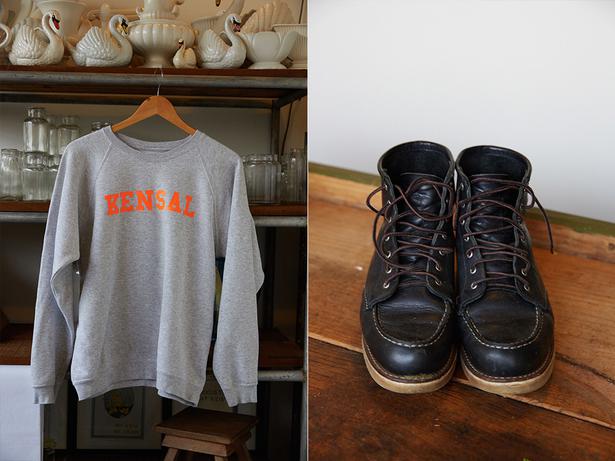 (From left) Kensal jumper; red wings boots. Photos / Rebecca Zephyr Thomas

5. Kensal Jumper 
I got this jumper as a Christmas present three or four years ago. They were sold in a trendy little shop up the road from our flat in Kensal Rise, northwest London. I live in it. It's fluffy and cosy and very handy that it's now the name of my business.

5. Red Wings 
Florist's shoes take a daily beating, but these boots can handle anything. Mine are so broken in and comfy, I can stand in them all day. They were a big purchase but I'm a firm believer in buying quality and these boots will last me a lifetime.
Share this: