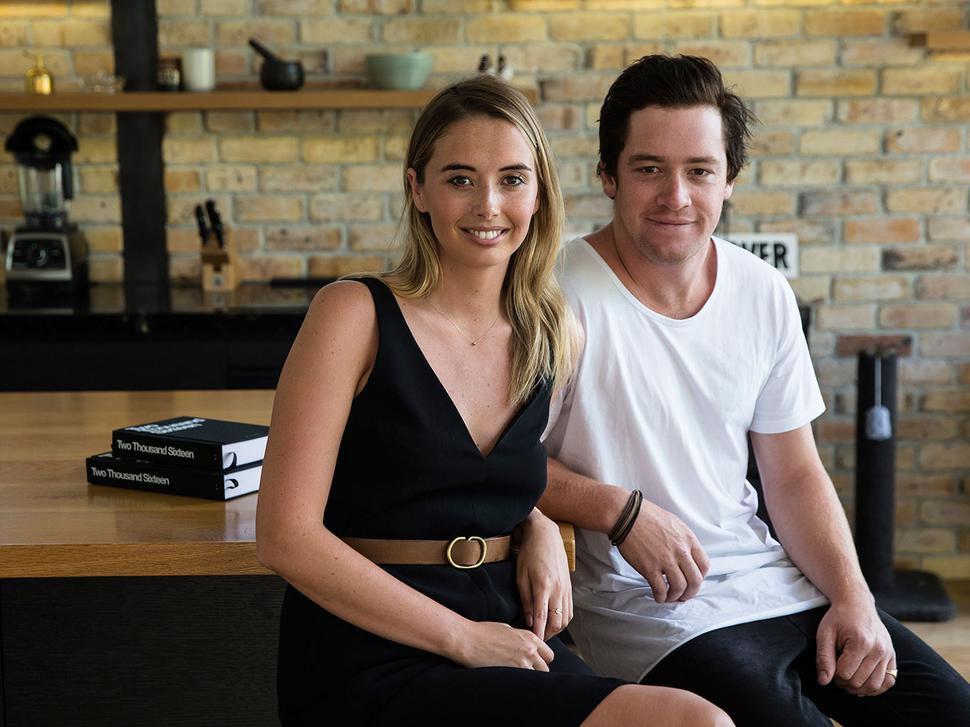 Favourite Things: Lydia Riddiford and Alex Harper of On Friday Design
Creative friends Lydia Riddiford and Alex Harper are the duo behind the stylish new On Friday diaries
Tuesday Feb. 9, 2016
A love for the famous sans-serif typeface Helvetica, monochrome, and classic design was what set design company On Friday Design in motion to create their first product: a sleek, sophisticated diary.
Childhood friends Lydia Riddiford, who studied spatial design, and Alex Harper, who studied graphic design, grew up in the Hawkes Bay together and are now based in Auckland. Following a discussion towards the end of last year, they decided it was time to team up and get creating. "It all happened quite quickly, a passing idea, that just came to be," says Lydia.
"My whole life I've been obsessed with art, interiors, fashion and everything else involved with design. Without trying, I constantly notice good and bad design," says Alex, who juggles a marketing job alongside On Friday Design.
Fed up with diaries featuring "pointless" pages at the beginning, the pair chose to keep their diary design simple — including only the necessities, including a planner at the start of each month, a full page a day, and note pages at the back. So far they have released two daily planners — a large, bible-like coffee table diary, made to be left on a desk, and an on-the-go, handbag size-A5 diary — with plans to expand their stationery offering in the future.

MY FAVOURITE THINGS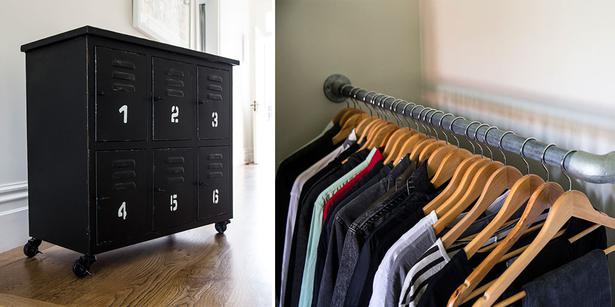 School locker; Industrial clothes rack. Pictures / Guy Coombes.
1. School locker
Alex: I love when old classic pieces are refurbished into a contemporary style, and this old school locker cabinet is a perfect example. I had a school locker like this when I was a kid and this one has been refurbished into a cabinet, which is so versatile and can look great anywhere in the house.
2. Industrial clothes rack
Alex: Similar to my issue of not being able to find a diary that fulfilled my love of design, I also struggled to find a clothes rack that I was satisfied with. I went on Trade Me and found some galvanised pipe for $1, then went to the local plumbing shop and picked up some fittings and put this clothes rack together. It's extremely solid and has an industrial look that creates a cool contrast in a bedroom with clothes hanging from it.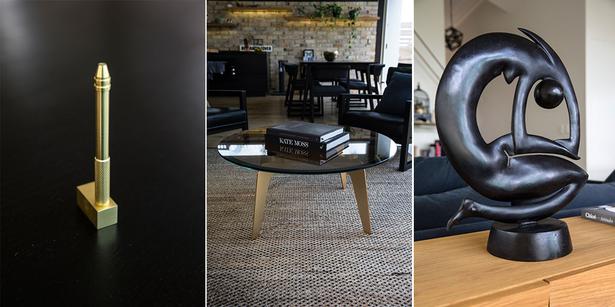 3. Tom Dixon gold pen
Lydia: My brother kindly gave this to me for Christmas to put on my desk at work and accompany my On Friday diary. I love the cog design, it's so simple with just the right amount of detail — it's just as beautiful as an ornament as it is to write with. A thoughtful gift, given the launch of the diaries and the use it will get.
4. Minotti coffee table
Lydia: After moving into a new house last year, I spent some time buying new furniture and really making the place my own. Being passionate about design and interiors, as you can imagine, this was a lengthy process and it took me a while to find the right thing I was looking for. A round glass coffee table was one of these things. I found this Minotti treasure on sale and immediately fell in love. The dark glass paired with the brass legs was a perfect match for the sunny space and the reflection it gets is just right. Definitely an eye catcher.
5. Paul Dibble curled figure sculpture
Lydia: I was generously gifted this by my mother on my 21st birthday. Why I find it so special is that it was my first piece of artwork that I really loved, and to me the rounded figure symbolises a wholesome woman. A nice touch.
Share this: