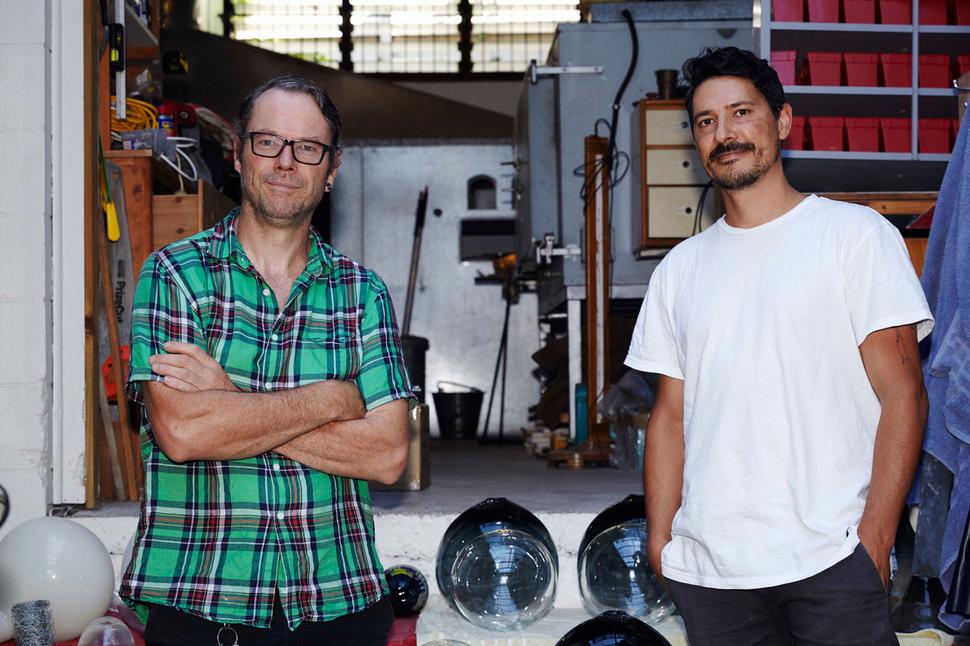 Favourite Things: Monmouth Glass Studio
At Monmouth Glass Studio, the heat is intense and the craft takes years to master
Sunday March 4, 2018
Even when Auckland gets unbearably sticky a certain pair of Grey Lynn residents will choose to be near a searing hot 1100C furnace.
That duo is glass blowers Stephen Bradbourne and Isaac Katzoff. At their studio, Monmouth Glass, modern glassware is crafted using traditional techniques; every piece is hand-shaped, and all are unique."We wanted Monmouth to be about glass that people need and would use every day," says Isaac.
Since opening Monmouth Glass in 2013, demand has run hot. Their lustrous light pendants hang in the elegant dining rooms of Ortolana, Orphans Kitchen and the French Cafe, while Monmouth carafes are found in cafes and stylish households country-wide. Meadowlark has collaborated on a series of jewellery bowls, and rose-tinted perfume bottles were made for Curio Noir.
READ: Favourite Things: Artists Ophelia Mikkelson & Ryder Jones
The workshop, in contrast, is a little less polished.
"It's a bit dirty, well-used and functional," says Isaac, who is surrounded by metal, tools and blazing ovens. You can smell burnt wood, newspaper and beeswax and hear the roar of the kiln in the background. It's here they dip long steel rods into the molten mixture and begin the delicate process of blowing and shaping a work of art."We basically turn a puddle of liquid into a finished piece. It's incredibly satisfying," says Isaac.
But as a workable material, glass only has a very short window to craft it. "It will cool from molten to solid rapidly so you only have a few seconds," says Stephen. "Glass can have a life of its own if you don't know what you're doing. Things can and do go wrong at every stage."
As for the danger, he says: "It can burn and cut you at any time if you're not careful."Once detached from the rod, the piece is placed in an annealing oven — a vault that looks like a deep freezer — where it slowly cools to room temperature overnight. "When the glass is hot the colours aren't accurate, and you never really touch it while it's being made," explains Isaac. It's not until the next morning the creation can be picked up and admired.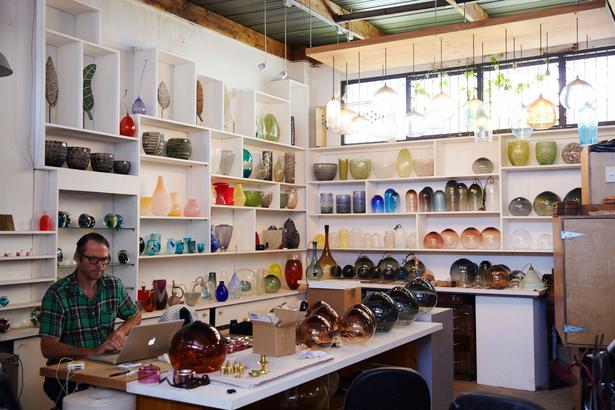 Monmouth's creations in their studio. Picture / Rebecca Zephyr Thomas

One of the world's oldest arts, glass blowing has changed little since the Romans first began working with the material. At Monmouth, the most modern addition is wet newspaper used to cup the red-hot silica: the only barrier protecting exposed flesh — alarmingly, gloves seem largely absent in the studio.

Carrying on the traditions of this 1000-year-old practice is what motivates both Isaac and Stephen. Between them, they have more than 40 years' glass blowing experience, and the artists remain fascinated by the infinite possibilities of the medium.

Isaac first became hooked in 2001 after seeing the intricate process during a semester of glasswork at Southern Illinois University in the States. "And I loved the fire, of course," he says. He has since studied the history of New Zealand's studio glass blowing at Auckland University.

As an already dedicated vessel-maker, Stephen, a ceramics major of Carrington Polytechnic (now Unitec), leapt at the chance to test out hot glass. He says it's been a "total addiction ever since". Both men regularly exhibit widely in solo and group shows."When we started Monmouth we thought it was important to set aside time for our own projects. We've found we remain inspired to forge ahead with the brand," says Stephen.

It has taken years to learn even basic glassblowing skills and techniques, they say.To become a master blower, however, will take a lifetime."We think there will always be something more to learn about glass."

READ: Simple Tips to Spring Clean Your Home

OUR FAVOURITE THINGS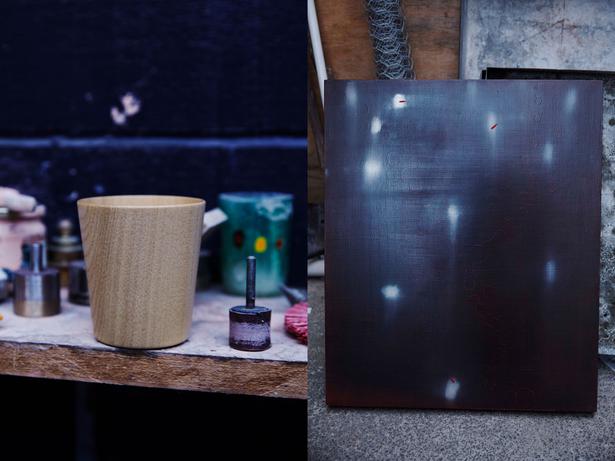 1. Wooden beer cups
Stephen: These finely turned wooden beer cups by Japanese artist Hidetoshi Takahashi were a Christmas gift from my partner. They are beautifully finished, 100 per cent functional, and have a lovely softness on the lip when used. Definitely my latest favourite thing to drink from.
2. A painting by Cruz Jimenez
Isaac: Cruz has been a good friend of mine pretty much since I moved here. He's an amazing painter with an indescribable ability to capture emotion and feeling with colour and texture. I love his work.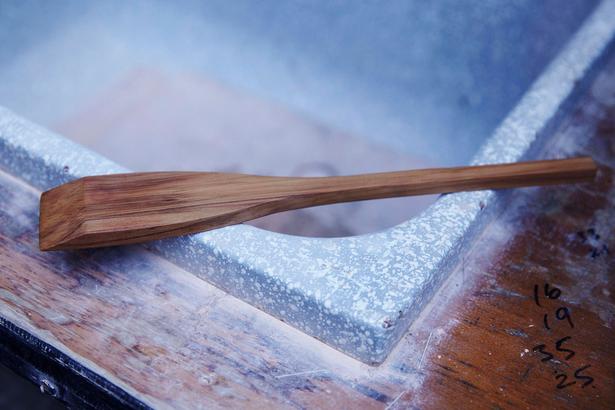 3. 'Flip' wooden spatula
Stephen: This utensil was hand carved by local artisan Courtney Petley. Courtney is self-trained and uses 100 per cent recycled native timber to create pieces that are as functional as they are beautiful.
Isaac: This just speaks to my interest in functional, handmade objects and Petley does it really well. We need more of these kinds of things in our lives.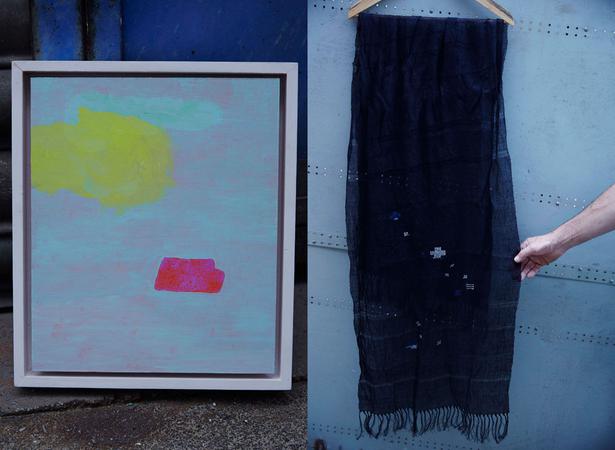 4. A painting by Fu-On Chung
Isaac: I love the colour and feel of this painting. I've known Fu since he was a student at AUT and I've watched his style evolve over the years.
5. Linen shawl
Stephen: This hand-woven linen shawl is made by Christopher Duncan of Tur studio. Christopher is at the forefront of New Zealand contemporary weaving and creates amazing woven garments that are works of art. I'm looking forward to wearing this piece as a scarf through those cooler winter months.
Share this: