Favourite Things: Ace Firers Artists Emily Siddell & Mark Goody
Pottery artists Ace Firers tells us why quirky one-off design is the only way to go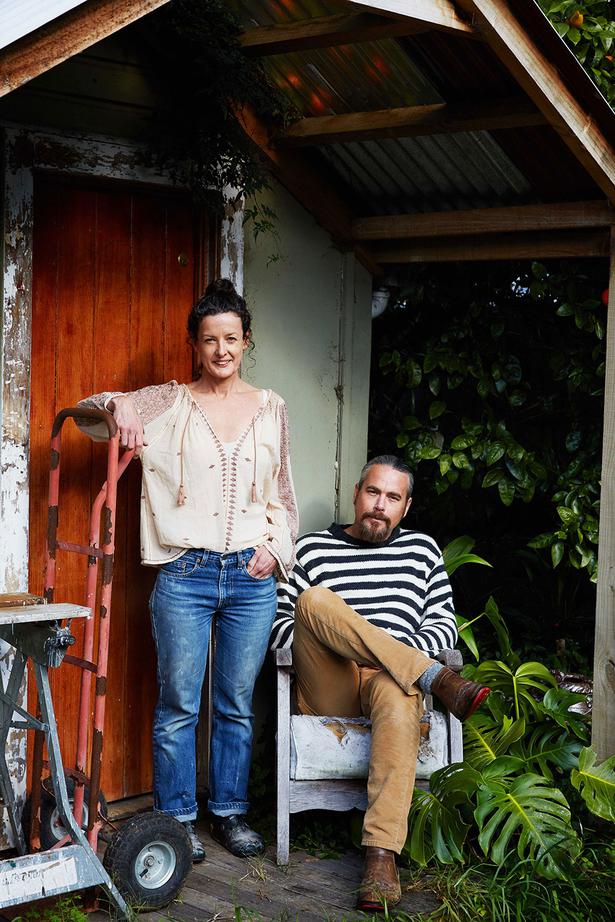 Saturday Sept. 29, 2018
Emily Siddell and Mark Goody make pottery together — and they just can't stop going on about it.
"We talk a lot, all about the pots. Other people just glaze over," says Emily. "Potting by yourself can get so tedious," says Mark. "It's full-on creative work and you need a partner to reassure yourself you're on the right track . . . or to go 'Nah, mate'."
READ: Why Ceramics Are The Next Hot Ticket
The artists, who both come from different creative backgrounds, found they shared a passion after meeting at a firing class run by Auckland Studio Potters three years ago.
Out of Emily's home studio in Sandringham, they now collaborate on a range of rustic ceramics for the home. Each cup, bowl and planter is made from a mix of commercial and earth-dug clay, the latter gathered from a variety of locations, including Mark's place in Tītīrangi, Emily's bach in Coromandel and from the excavation of New Lynn's train lines a few years back.
Their name, Ace Firers, came about as a joke. "When we started we built a little kiln and it wasn't going that well. We'd joke and say we're so 'ace' because we really weren't," says Emily.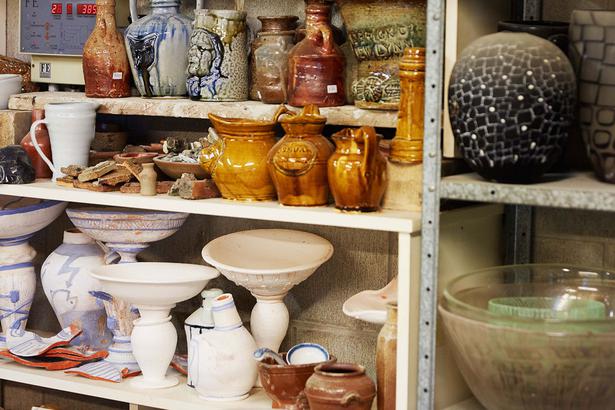 "We had to keep our chins up because we were failing miserably," says Mark. "But we're getting too old to take things too seriously." Emily says, however, they may have grown into the irony. "The last firing we did was good so maybe we are going to end up being ace firers."
Mark's affection for pottery came from years of collecting. "I'm a pottery nerd. It's taken over my house. My wife and kids are very patient." Emily found the niche after being dragged to painting exhibitions by her parents when she was growing up. "I got so bored with paintings, so any time I saw something three-dimensional I got excited. Pots were something different."
The pair's handiwork has been exhibited at local galleries and is stocked in Ponsonby's Everyday Needs and on online ceramic shop Kaolin Store.
READ: How to Pick the Perfect Pots For Your Houseplants
The Cross Street Market has also proven a successful place to sell their wares. The popular monthly market has celebrated over a year of supporting an eclectic bunch of local makers. "Our city has lost a lot of antique and second-hand shops. The Cross Street Market is a revival of that. It's been a real asset to Auckland," says Mark. Adds Emily: "It's so easy to buy online these days. It's wonderful to have this community."
Both artists are happy about the resurgence in people buying pottery in recent years. "People are recognising that eating out of a nice bowl makes for a hell of a lot nicer experience than out of something soulless, cheap and white," says Mark. They would still like pottery to have more appreciation in the art world. "To get it noticed as not a twee craft. It's a real art form and much more complicated than people think," he says.
OUR FAVOURITE THINGS
1. Sony Speaker
Mark: This Sony cordless stereo runs off your phone within 10m. I play it loud when we're working and at the kiln site.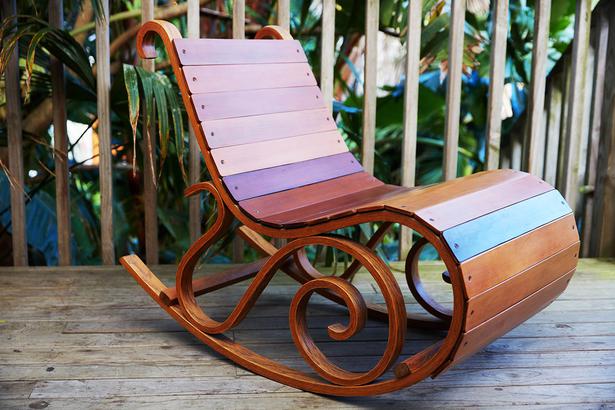 Chair By Katy Wallace. Photo / Rebecca Zephyr Thomas

2. Chair By Katy Wallace
Emily: This chair is from designer Katy Wallace's Transmogrifier Series, and is made out of an old rocking chair which has been reconfigured with added Venetian blind slats. It's so nice to sit on once you're in it. I love the idea of reusing old stuff and Katy does that in a very slick, non-hippie, way.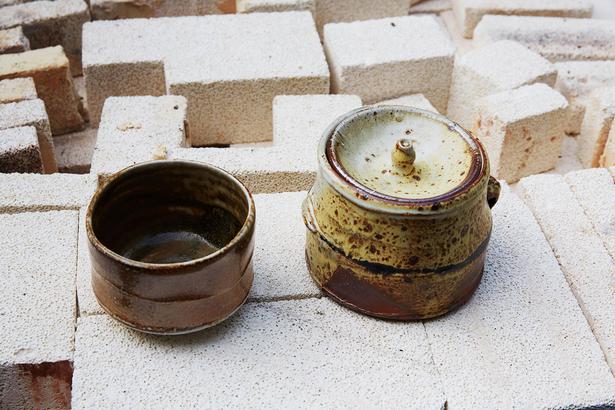 Duncan Shearer Pottery. Photo / Rebecca Zephyr Thomas

3. Duncan Shearer Pottery
Shared: Duncan and his wife Sherae are two of our favourite local pottery makers. Based in Paeroa, they use a wood kiln to make such beautiful and useful pieces. In a nutshell, they are very good at what they do. These are such beautiful things from which to drink your tea or coffee, or eat muesli.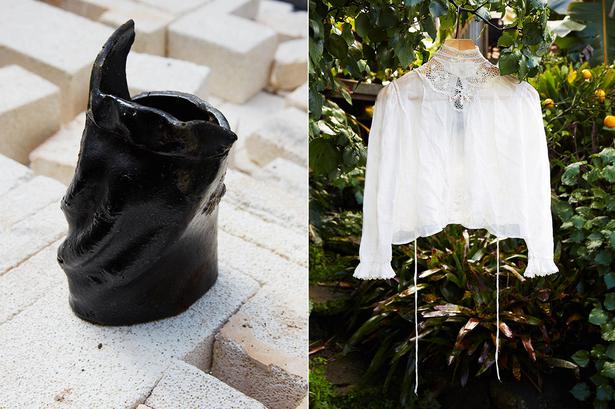 Peter Hawskeby Piece; Edwardian Blouse. Photos / Rebecca Zephyr Thomas

4. Peter Hawskeby Piece
Mark: Peter gave this as a thank you after I fired some of his pieces. He's a very generous man and that's part of the reason I like it. It's interesting work like this that I've grown to love.

5. Edwardian Blouse
Emily: This is from Alison Reid, the creator of the Cross Street Market. She's got such amazing things. It's beautiful to wear even if I always feel like it's about to fall apart. I love textile and am really inspired by all the incredibly fine details.
Share this: