Favourite Things: The duo behind Markantonia
A talented couple is reinvigorating local spaces with flowers and custom-made furniture.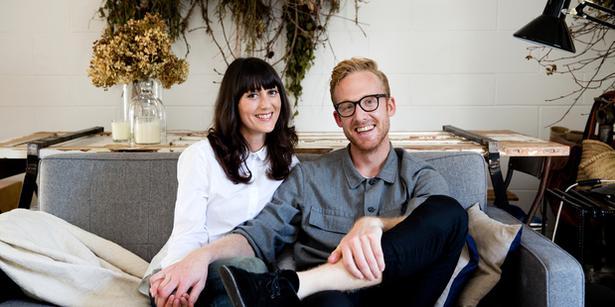 Friday Jan. 9, 2015
Markantonia is the merging of 32-year-old Mark Seeney and 29-year-old Antonia de Vere's first names and creative talents. He designs furniture and retail fit-outs; she makes fresh and dried flower arrangements. The couple met while studying design at Unitec, after which de Vere studied floristry and Seeney architecture.
Working separately to begin with, they realised their projects often crossed over, and formed their joint business last year. "We both work together on most of our projects," de Vere explains. "Having two sets of ideas and two sets of hands can be quite useful, and having that different perspective is so beneficial to us both."
Their furniture (clothing racks, tables, chairs, etc) and floral works can be seen at a number of stores and cafes including Fabric, Espresso Workshop and Crane Brothers. They also create pieces for events, most recently the Rogue Society Gin set-up at Semi Permanent, and for clients' homes and weddings.
Currently they are working on a gym fit-out, and planning their next big event - their own wedding in June, where de Vere is letting her creativity and perfectionism run wild. Weddings are one of their specialties, they offer custom scented candles to complement the floral arrangements.
They work from a studio in their "simple" Kingsland home - a renovated 70s cinderblock unit, which they love for its minimal aesthetic (white walls and pine floors) and the shared garden where de Vere plants whatever she fancies. "We especially love the exposed brick, it's the perfect backdrop for all of our furniture, flowers and favourite things," she says.
• See markantonia.com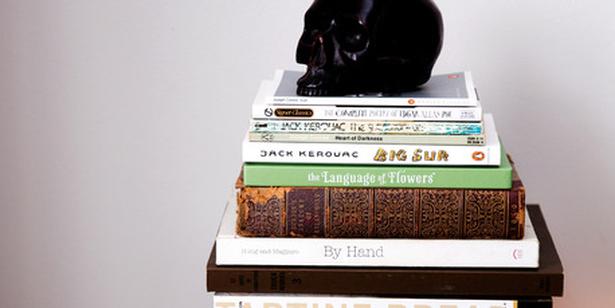 1. Book collection
We gave up our television recently so now we read ... a lot! Our books are a constant source of inspiration to both of us. They range from floral arranging to home and interior design to Egyptology to baking (Mark loves to bake his own bread and his hero is Chad From Tartine), to classic fiction, to vintage magazines and antique non-fiction. Antonia's favourites are a couple of 19th-century editions of The Anatomy of Melancholy and a Culpeper's British Herbal Complete - just in case you wanted to know what "flea-wort" could do for your ailments.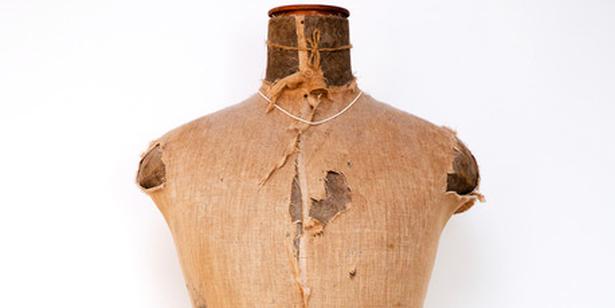 2. Antique mannequin
To cut a long story short, this was a gift to Antonia from her father's best friend. It was his mother's; she was a French seamstress in Cairo in the 1920s. The family moved to Cyprus, then Christchurch. The mannequin was salvaged for Antonia; otherwise the raggedy old mannequin would have been lost at the tip. But it now sits proudly in our living room!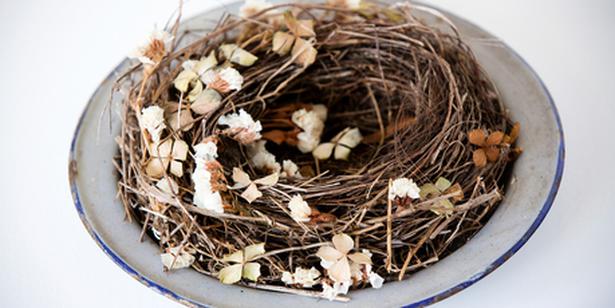 3. Dried flowers in bird's nest
Found on the side of the road, thankfully, long vacated, Antonia carried it all the way home. When the cats smelled it they tried to tear it apart, so I put it in a glass bell jar to protect it from those monsters, later threading in my dried flowers, just because. We love it because it is part of nature, a craft of nature - could be bird architecture!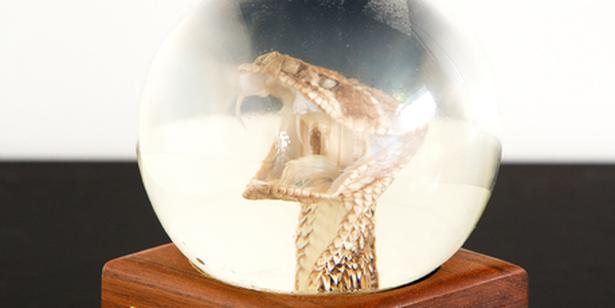 4. Western rattlesnake
This snake in a globe creates quite a reaction! Most either love or hate this fascinating object. The snake is a state of eternal "attack!"; it's quite scary to some. The snake sits on our coffee table under a glass bell jar; it creates quite a conversation when people notice there is a snake in our living room.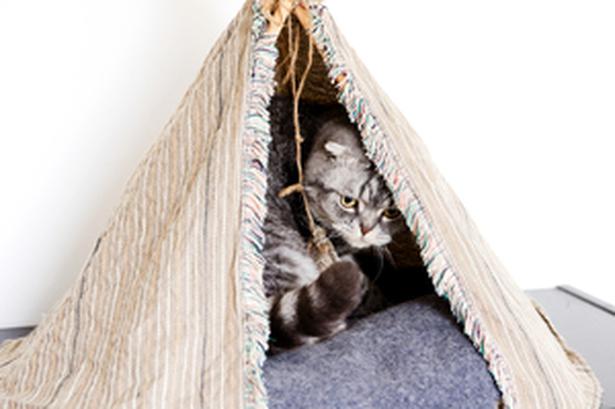 5. Home-made tepee
William and Louis, our funny little cats, are both Scottish folds. Louis is the quiet handsome type and the brains while William is not really the muscle, just large and a little clumsy but so pretty. They love sleeping in the tepee Antonia made for them, well, in winter anyway. We do tend to laugh at them in it; usually there is a tail sticking out or a wee face peering out. It's quite silly but still we love it.
Share this:
More At Home / Features & Profiles