Favourite Things: Yeshe Dawa, The Midnight Baker
Yeshe Dawa of The Midnight Baker has a love of baking and supporting fellow creatives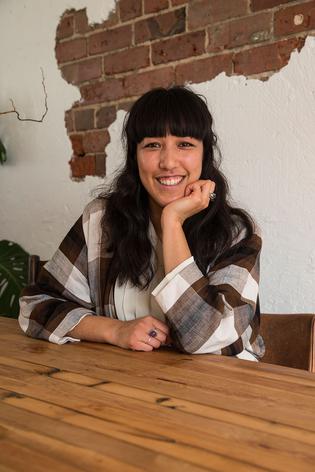 Yeshe Dawa's ideal home would be filled with treasured items made by her talented creative friends; minimal but still warm and cosy. An aesthetic you can't help but sense in her new cafe dedicated to toast on Mt Eden's Dominion Rd, which is a permanent residence for her artisan bread business The Midnight Baker.
"With the cafe, I've created a space which feels like home to me, as I spend more time there than at home," she explains. "There are a lot of natural elements such as our recycled wood tables, fresh flowers and linen cushions. I'm starting a mini jungle of hanging and potted plants too."
Yeshe studied classical and ancient studies at the University of Otago; where a special interest in Alexander the Great resulted in a dissertation on his numismatic portraiture. In 2010 she made the move from Dunedin to Auckland, taking up a job in sales and communications for fashion designer Cybele; eventually moving into similar roles at M.A.C Cosmetics and Meadowlark, as well as freelance work as a stylist.
Initially started as a side project two years ago out of a personal need for gluten- and dairy-free bread, Yeshe devoted herself to The Midnight Baker full time earlier this year.
The name itself originated from late nights spent in the kitchen baking, and it's safe to say there are many more of these to come.
MY FAVOURITE THINGS
Underground Sundae necklace; Kane Strang record; Josh Deans and Stephen Brookbanks table. Pictures / Guy Coombes.
1. Underground Sundae safety pin heart necklace
I rarely take this necklace off. It reminds me of home, of my friend Annemieke Ystma who hand made it, and it reminds me to take care of myself. Annemieke takes found objects, reimagines and remodels them and then casts them in different metals. This necklace was also the starting point of a conversation and then friendship with one of my now really good friends, who also owns one.
2. Kane Strang record
I love Kane Strang's music. I don't own a record player but I bought this on vinyl knowing it would sound just that wee bit better. It's nice to have something tangible, too, instead of files on a computer.
3. Josh Deans and Stephen Brookbanks table
I've always wanted a long communal dining table. We don't have space for one in my flat so I knew it would feature in my cafe. Josh Deans came on board and designed the whole thing for me. He stripped back old planks of rimu to make the tabletop itself and brought on Stephen Brookbanks to make the steel frame. We then powdercoated the frame blue at the same time as the coffee machine and other table bases with the idea of having subtle continuity throughout the cafe. I like the idea of being together alone. With people, in their presence, beside them, without necessarily having to talk and interact with them but it being possible if you both choose.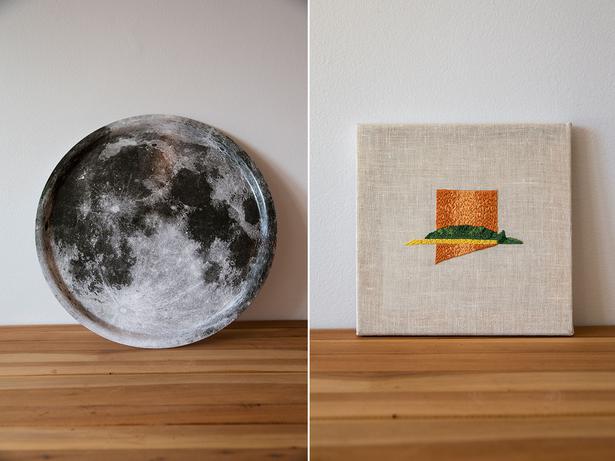 4. Moon tray
My brother and sister-in-law gave this to me for Christmas last year. They're always so good with gifts and in return they receive the same present each time: shipments of Freedom Loaves. It's special because it's from family but also because my last name means 'moon' in Tibetan and I feel quite connected to the night sky and evening in general.
5. Jessamyn Gemming embroidery
Jessamyn's a good friend of mine. I love her eye for shapes, textures, colour and the way they interrelate. Recently, she had been making some collages that I commented on and out of nowhere for my birthday she surprised me with this beautiful, hand-embroidered piece (a rendition of one of her collages). I love the texture of the linen and the different coloured thread. Jessamyn and I are texture geeks.
Share this:
More At Home / Features & Profiles