Meet the Clever Designer Behind Queenstown's Newest Hotel
Nic Graham is responsible for the look and feel of QT Queenstown, a five-star boutique property opening at the end of the year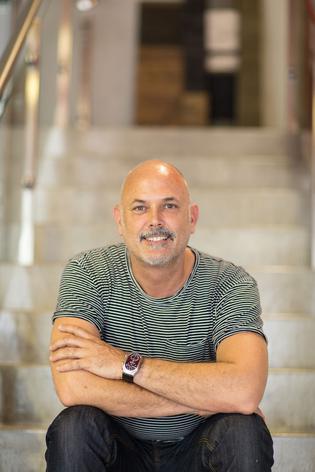 What are some of your favourite features of the Australian QT hotels and resorts you've designed?
QT Sydney was a benchmark project due to its heritage component (the State Theatre and Gowings Building); there are myriad issues when dealing with a heritage property. One of my favourite features is the artwork Past Forward by Michael Johansson, a commissioned piece made of found objects that sits on the wall of the lobby. I had an early vision to have something along the lines of the statement piece you see today. Once the concept/narrative was decided, it was a matter of working with the right artist.
QT Melbourne was also a benchmark project as it was QT's first custom-built property, transforming an old cinema into a boutique hotel. I had an old concrete shell to work with and had to build contemporary layers indoors. Like all QTs, inspiration came from the hotel's location. QT Melbourne sits at the Paris end of nearby Collins St, and this influence is extended through to its food and beverage offerings. These include The Cake Shop — a French patisserie in the lobby — and the "French Quarter' cocktail list served in the on-site Pascale Bar and Grill. Like QT Sydney, my favourite feature of QT Melbourne is Reader's Digest by Claire Healy and Sean Cordeiro, an art installation made of 6000 books.
How different was the QT Queenstown project for you and what inspired your designs here?
I had never been to Queenstown before so I visited before I started designing. Even the drive from the airport to the hotel site, with views of snow-covered mountains, daffodils and the bright blue lake, was breath-taking. I spent time in the city, exploring the local markets, getting a feel for the place.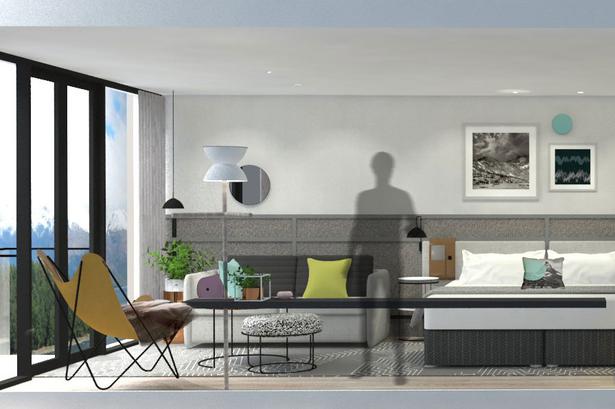 I knew that the restaurant and bar space, now Bazaar Interactive Marketplace and Reds Bar, would sit on Level 6 and would have beautiful views of the lake and mountains, so I realised we couldn't make too many mistakes.
QT Queenstown followed the DNA of QT's resort properties, and the design and interior was adjusted to encompass the surrounding environment and the location. For example, for Bazaar the design elements such as exposure surfaces, the herringbone pattern on the floor and leather straps, referenced outdoor sports gear, ski gear, T-bars and Queenstown's gondola.
The resorts are usually coastal, beach savvy, and relaxed with open spaces, and this is reflected in the graphics, colour palette and accessories.
A crossover across all QT properties is the harmony between old and new, vintage and contemporary. I source collectables from antique and second-hand shops, and put them in storage until the right property to match them comes along. I appreciate the elements in-room, as this is where the attention to detail and framework of boutique hotel design comes through — in the knick-knacks, wall graphics, cushions, artwork. QT properties have a generous accessory budget for items such as cushions and artworks. I like to create a sense of "this is home but a home many of us don't experience".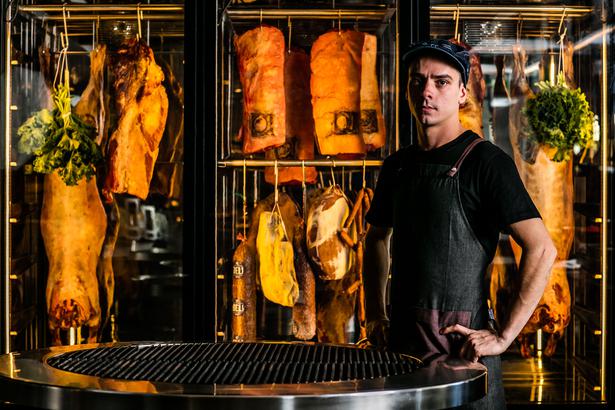 Queenstown's Bazaar Interactive Marketplace. Picture / Supplied
Did you face any extra challenges with the Queenstown environment?
Despite its big reputation as a winter destination, Queenstown is a year-round tourist town, so I designed it to reflect that. QT Queenstown breaks a couple of moulds from the other QTs. Firstly, it has a smaller lobby. The public spaces are understated compared to other QTs so that the focus is placed on the amazing views. Secondly, I used copper as a signature metal. The bathroom features white marble basins and copper furnishings. In order to balance the copper, the QT Queenstown colour palette is lavender, soft blues and grey to balance the furnishings.
You've worked on many fabulous projects around the world — which ones stand out for you?
My first major break was working on the The W in Hong Kong. Since then, I've worked on numerous Ws, and am currently designing Australia's first custom-built W hotel.

Where is your favourite place to stay at around the world and why?
I had the most wonderful experience at The Conservatorium in Amsterdam which was once a conservatory of music. I loved its glass ceiling, massive open conservatory, and sitting in the toasty atrium while it's freezing outside.  
• Bazaar Interactive Marketplace and Reds Bar is open at 30 Brunswick St, Queenstown. The QT Queenstown website will be live from September 8 and taking bookings for stays from December 1 2017. Visit Qthotelsandresorts.com
Share this: