Friends of Viva: At Home With Auckland's Coolest Creatives
In our Friends of Viva series in association with Fisher & Paykel, we talk to inspiring creatives about their busy routines - and the clever products that can help enhance their day-to-day lives
SPONSORED
Tuesday Oct. 8, 2019
Jonny Scott and Pia Naera-Scott: A baby on the way meant this creative couple moved their renovation into high gear
Whether its fashion or photography, Pia Naera-Scott and Jonny Scott are used to doing everything together — but when it came to renovating their first home, a heavily pregnant Pia had to take a back seat.
"I couldn't even help with painting," she says. "Jonny did everything by himself." Having founded the fashion label Pia Boutique in 2009, the couple also collaborated on Jonny's wedding photography. Jonny managed the label and photographed Pia's designs, and Pia would act as Jonny's assistant at weekends.
"It was just nuts," says Pia, who now focuses on designing. Her upcoming summer collection features her trademark floaty, feminine style, in peach tones and bright prints, beachy florals and occasion wear. It's an extension of the bold, girly aesthetic she created during her final year studying graphic design at university, when she experimented by making printed dresses.
Bedridden soon after for six months following surgery for rheumatoid arthritis, she was so bored she created Pia Boutique online. Next came her impressive showcase at the Miromoda show at Fashion Week, 2012, stores in Parnell and Newmarket, and now her sole bricks and mortar store on Ponsonby Road, where it's hard not to get a little romantic thumbing through her clothes.
Jonny, meanwhile, has his hands full with Jonny Scott Photography, specialising in dreamy, ethereal shots, whether they're in Auckland or far-flung locations. When the couple went to Europe in June, he shot nuptials in France, Mallorca and Los Angeles. And now there's Maia, 9 months, life is even more hectic for the couple, who share stay-at-home duties with their daughter.
"I've had to sacrifice sleep quite a lot," laughs Pia, who often finds herself working nights and nap-times. Despite the relentlessness of the last few years – and a year-long hiatus after Pia's father died – the couple are finally feeling settled. But it wasn't easy getting on the property ladder. They had missed out on several properties and were starting to think they'd never buy in Auckland when they met a broker who wrote them a detailed budget to stick to.
Time wasn't exactly on their side however, with Pia having taken up maternity leave. So when they found a two-bedroom pre-fab home in Manukau's Goodwood Heights, they pounced on it, along with several other house-hunters. When the leading buyer pulled out, the place was theirs.
"It had been rented for 30 years and had had no work done to it," says Pia. "It was liveable but by no means nice. The kitchen was tiny, all yellow with brown trims and the carpet was cream. The outside was white with a green roof and red trims. It looked really old."
For about two months, Jonny worked on the "DIY marae" as it affectionately became known, buying tools and up-skilling to knock down walls, open up the kitchen and dining space. Gone is the yellow, and in its place, a streamlined white room offset by stainless steel appliances, long drawers and marble-look bench tops. Plenty of bench space was a prerequisite in order to accommodate the couple's much-loved pressure cooker and air fryer.
Jonny and Pia regularly entertain, with friends coming over about once a week. Pia loves baking bread in the oven — "it's so easy but no one believes me!" — and is well-known for her chocolate pavlovas, while Jonny loves whipping up Japanese curries. Lately, Pia has been picturing friends and their kids running around the large, fully-fenced lawn in barbecue season. Or walking through the Auckland Botanic Garden with Maia, something they've taken to doing on sunny weekends.
Maia has progressed from purées to being able to eat almost the same meals as her parents, but because Pia largely lets her feed herself, it usually leads to "very messy" outfits. That means changing the baby after almost every feed, and putting on a load of Maia's washing, on average, every second day. Pia says for that reason she loves her Fisher & Paykel FabricSmart washer and dryer, which is fast and quiet, ideal as it's positioned nearby Maia's room.
During this year's wet winter, the condenser dryer has been getting a lot of use. The laundry also doubles as the office, and is the place you'll most likely find Pia when Maia has nodded off to sleep. Likewise, it's where Jonny has his desks and screens set up, and one day soon he hopes to transform it into a studio space.
"The house does feel like it's finished which is cool," says Pia. "It's very contained which is great for Maia — I don't have to worry about her crawling up stairs. We finally feel at home which is amazing because we never thought we'd be able to do it. It's exciting."
THE PERFECT MATCH FISHER & PAYKEL OFFER UP THEIR PRODUCT PICKS TO COMPLEMENT PIA AND JONNY'S BUSY LIFESTYLE.
1. BUILT-IN OVEN Boasting a generous capacity, self-cleaning function and eleven oven functions, including Pastry Bake and Roast, this built-in oven is great for a busy household. This model offers moisture control and even heat distribution, thanks to ActiveVent and AeroTech technology — ideal for whipping up those famous chocolate Pavlovas or baking bread in the oven.

2. INDUCTION COOKTOP Fisher & Paykel's Touch&Slide 60cm induction cooktop is safe for little people, with four cooking zones that can be bridged to form two Smart Zones, great for simmering curries or catering to unexpected dinner guests.

3. FRONT LOADER WASHING MACHINE Putting superior fabric care and wash performance front and centre, this front loader washing machine offers super-fast cycle times — making easy work of doing multiple loads per week or per day. The 'Add A Garment' function allows you to add items mid-cycle, which is super handy when you discover that extra sock or top after the cycle has started.
4. HEAT PUMP CONDENSING DRYER Fisher & Paykel's 8kg condensing dryer uses efficient heat pump technology to dry clothes at lower temperatures for better clothes care. Plus, it's 7-star energy rating is great for wet winters when extra drying loads are at their peak.

5. FRENCH DOOR FRIDGE Stylish and spacious, this French Door fridge freezer offers plenty of room to house dinner party plates and baby food alike, plus the stainless steel finish adds a touch of class to any kitchen. Featuring built-in ice and water and bottle chill options, this fridge is an entertainer's dream
Carolyn Haslett: Inner-city living reminds this top photographer and hair and makeup artist of life in Paris
Carolyn Haslett is always chasing natural light. So it comes as no surprise that the photographer's two-bedroom inner-city apartment is bright, airy and flooded with sunlight.
What's harder to envisage is that when she first came across the heritage home, on the top floor of Parliament Street's Courtville building, it was dark and dingy, the walls covered in hessian sacking and "horrendous" wallpaper. She eventually bought the rental and set about transforming it "bit by bit" over 22 years.
Although it has a footprint of just 97 square meters, Carolyn has created the illusion of more space by painting the interior and the dark kauri floors white, and keeping it clutter-free. Living here suits her busy life as one of the country's most sought-after photographers and hair and makeup artists, working for fashion and lifestyle magazines and websites, as well as commercial clients and individuals.
When she's not out and about in the city working, she often shoots at home, preventing the need to lug all her equipment. Next to the kitchen is a sunroom that makes for the ideal portrait studio, meaning clients don't even need to leave the CBD.
"It's super easy living here in terms of people visiting for work or me just being able to get around the city easily," says Carolyn. "[My partner] John and I just have the one car or we Uber everywhere."
Carolyn's rare combination of skills not only make her a one-stop shop, but she seldom has a quiet patch. This week her eclectic schedule includes doing hair and makeup for a billboard shoot, a magazine cover, portraits for two business women for which she'll also do hair and makeup, and a family shoot.
Working in Paris as a makeup artist when she first started out meant that when it came time to return to New Zealand, apartment living made sense; she was accustomed to being within walking distance of the city's attractions, and having the sense of security an apartment block provides.
As one of Auckland's first residential apartment buildings, Courtville certainly has a Parisian sensibility, with its Victorian picture rails and attractive leadlight bay windows in the living and bedrooms. In the summer, these are thrown open to let the breeze through. The second bedroom, once her work space but now home to John's items, has a lovely balcony with potted plants, a romantic spot to curl up with a book.
Although entertaining can challenging given its size, that hasn't stopped Carolyn from hosting parties. The couple happily do without a dining table, which gives the living room – the original master bedroom – even more space.
"I used to host Christmas parties for my colleagues for years. There'd be about 10 of us in here, and we'd just clear the room and I set up a very long table, very festive. These days if I have people round it's usually just for snacks. It's a great location for pre-dinner drinks."
The kitchen is typical of an apartment in that it's functional as opposed to spacious, and it still has the dishwasher she put in 19 years ago.
Elsewhere, Carolyn maximises the space by hanging her pots, pans and utensils on the walls. Despite not being particularly fond of her oven which she says is difficult to clean and maintain, she and John do a lot of cooking.
"In the winter we do a lot of hearty dishes, chicken cooked with leeks and onions, green beans with olives, stews with lentils, soups. I love cooking risottos.
Then in summer, salads." Downtime is easy here too, she says. Despite the occasional night-time disturbance from a car with its stereo booming, it's surprisingly quiet, even though it's just moments from the motorway.
The bathroom has a large, clawfoot bath which gets a lot of use. "I can completely lie down in it which is wonderful." However, she adds, the concrete and plaster building has a tendency to trap moisture.
Meanwhile, the apartment block has a communal laundry with commercial washing machines and dryers, meaning a trip to the basement in the original birdcage lift is in order when washing gets done. It's just another facet of apartment life she's become used to.
"I've often thought it would be lovely living in the country but I think I'd eventually get bored and find it too quiet. Here there's definitely a vibe 24/7, which I don't think I could live without."
THE PERFECT MATCH FISHER & PAYKEL OFFER UP THEIR PRODUCT PICKS TO ADD TO CAROLYN'S LOFT-STYLE LIVING.
1. COMPACT 9 FUNCTION OVEN With a hefty nine functions including Roast & Pastry bake, this oven packs in all of the functionality of a conventional oven in a more compact form. The nine functions are perfect for the quick week day convenience or the weekend gourmet.

2. 600MM, 4 ZONE INDUCTION COOKTOP Induction cooking technology offers precision temperature control, it's powerful enough to sear meats, but also can drop low enough and hold consistent temperature – perfect for slow cooking or elevating the need for a double boiler. The flat surface can also double as a working surface when not in use.

3. INTEGRATED SINGLE DISHDRAWER™ DISHWASHER Sitting underneath the compact oven, this seven place setting DishDrawerTM is perfect for a small space, the integrated model allows you to fit your own custom panel to the front. Friendly on your ears and the environment, the DishDrawerTM saves water by only using 6.9L per wash, and with its low decibel rating is great for open plan living.

4. 635MM WIDE SINGLE DOOR ICE & WATER REFRIGERATOR With a small footprint, this refrigerator is great for apartment living. It has an in-door water filter, ice maker, and has a special modes perfect for when you're hosting a dinner party – such as the ice "boost" function that enables the production of up to 30% more ice and bottle chill mode – that makes an audible alert when it's time to get your wine bottles out of the freezer.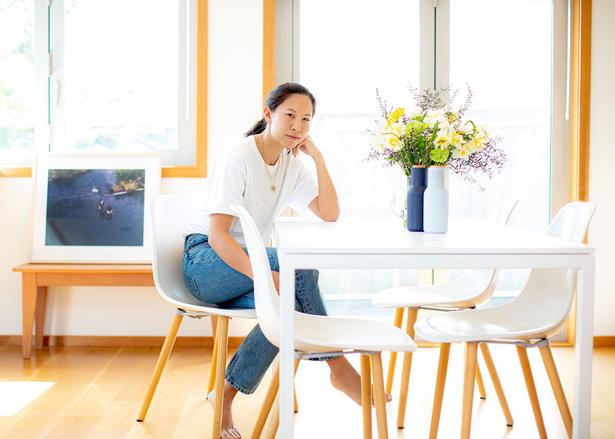 Babiche Martens: A house in the bush gives Viva's photographer and her family a respite from city life
From the deck of Babiche Martens' Oratia home, tui, kereru and rosellas flit between the kauri, nikau and cabbage trees.
But there's a more unusual sight to behold as you gaze out towards the Waitakere Ranges from the photographer's home: a wooden half-pipe skate ramp, built by her partner Nick. It's just one of many charming surprises you'll find in this home that prioritises play, relaxation and family time.
The couple bought the house in 2012 and now share it with their two children, Fox, 4 and Séraphine, 18 months.
"You get more value for your money out here," says Babiche. "It's only a 25 minute drive from town and you get so much more of a lifestyle."
The two-storey early 2000s home, with its "typical Westie rimu ceilings" is spread out over two storeys with four bedrooms and plenty of living space for the kids to run around. It also makes for an inspiring spot to edit on the one day she works from home for Viva.
As well as being Viva's photographer, Amsterdam born Babiche also works as a freelancer, so her days are never the same as she can find herself shooting everything from celebrity and business profiles to fashion spreads and new eateries.
Among her most memorable career moments: shooting backstage at Karen Walker's New York Fashion Show (and later sitting front-row) for Viva in 2014, photographing New Zealand Prime Ministers Jenny Shipley, Helen Clark and Jacinda Ardern for the special NZ Herald women's suffrage issue, and being named the Cathay Pacific Travel Photographer of the Year in 2013.
Babiche also shoots fashion and beauty for commercial clients, PR, websites and social media — and last week travelled to Rarotonga where she photographed new adults-only luxury resort Royale Takitamu. "Our home is a really cool, beautiful house to come back to. Life is pretty chaotic but living out here is so peaceful."
That's a plus for entertaining, as it means they can crank the outdoor sound system knowing the music will drift harmlessly across the valley. There's plenty of room to spread out on the large deck that overlooks native bush and out towards the Waitakere Ranges, the private bush setting providing the ideal backdrop to numerous soirées and potluck get-together over the years.
"We get it set up with outdoor furniture we love, and festoon lights that hang over the whole deck. We can't even see our neighbours so it's the perfect party pad."
One recent memorable event was a party for Babiche's birthday, when a large group of friends and their children dropped in for the afternoon and evening. Nick had prepared his slow-cooked beef brisket, which they paired with bao buns a friend had brought, plus a selection of pizzas, vegetarian salads and a vegan cake. Meanwhile Babiche made her favourite drinks: margaritas, espresso martinis and champagne cocktails. "It was such a simple spread but absolutely delicious."
Although weekdays are often a mad dash to get the children out the door to kindy or Babiche's mum's house in Epsom, Babiche uses the breakfast hour to stack the double-drawer dishwasher (which goes on three times a day) and put on the washing — she reckons the household would do up to 14 loads a week. Sadly, she says, it's mostly the children who get to enjoy the corner jacuzzi bath these days.
Weekends are often spent with family outings to the nearby Henderson Valley Farm where they can pet the animals, heading to the beach or into the city to Kelly Tarltons or the Auckland Museum. Nick has even converted their double garage into an arcade room, full of pinball and spacies machines from the 80s and 90s.
Next year they plan to "renovate out the Colonial vibe", including rebuilding a balcony off one of the bedrooms, and creating a more seamless flow from kitchen to the living and dining. Phase two will include doing up the two bathrooms and kitchen, adding a study and converting the downstairs bedroom into a guest room, accommodating anyone who makes a real night of it at one of their famous parties.
In the kitchen Babiche envisages a new breakfast bar where she can feed the children in the mornings, an island (without a sink, to avoid dishes from taking up space in the middle of the room), and a dark palette with black cabinetry.
The couple have a wall-mounted oven and a gas hob but Babiche has been eyeing up the new range of steaming ovens that offer a healthier alternative to baking and frying, and is considering installing an induction element. A WiFi-enabled washing machine that can be turned on via her phone is her latest desire.
THE PERFECT MATCH FISHER & PAYKEL OFFER UP THEIR PRODUCT PICKS TO COMPLEMENT BABICHE'S BUSY LIFESTYLE.
1. BLACK FREESTANDING COOKER This crowd pleaser boasts 11 cooking functions, including pizza and a rotisserie roast setting to ensure the perfect roast every time. The induction cooktop zones can be linked to form a larger cooking surface, perfect when entertaining friends and family.
2. COFFEE MAKER & COMBINATION STEAM OVEN Consider these cooking companions as your new kitchen must-haves to steam bao, fish or vegetables, microwave or grill, or even create barista-quality coffee all from the comfort of your own home. Placed in any configuration, these multi-function appliances provide the ultimate in cooking flexibility, ideal for passionate foodies.

3. BLACK DOUBLE DISHDRAWER DISHWASHER Any household will love how this clever appliance offers the flexibility to do true half loads, and the ability to load one drawer with your martini glasses set to delicate, whilst the other drawer is taking care of the pots on a heavy load.

4. BLACK FRENCH DOOR FRIDGE Come summer time, the wide and flexible shelves are ideal for large platters and pre-prepared dishes before enjoying with friends and family. The built-in ice and water dispenser makes this an ideal option for those who love to play host. Plus, the black finish matches the black stainless steel DishDrawerTM perfectly.

5. 12KG ACTIVEINTELLIGENCE WASHING MACHINE Busy families with plenty of laundry will love the large capacity of this front load washer. On those days when you're short on time, you can take advantage of its quick 30 minute wash cycle. Plus an auto-dosing detergent function automatically detects the soil level of the load, then dispenses the optimal amount of detergent for complete fabric care.
6. 8KG HEAT PUMP CONDENSING DRYER Utilising efficient heat pump technology, this dryer operates at lower temperatures to offer optimum care for clothes. Its 8-star energy rating means it's gentle on the planet, and features 18 different dry settings to suit any fabric type, including delicates and wool.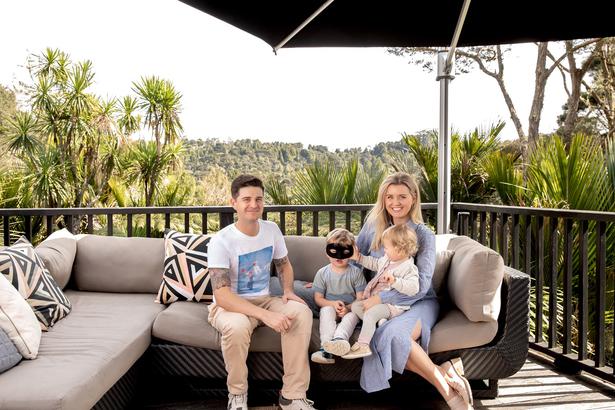 Katherine Lowe: Model booker and influential blogger Katherine Lowe tells us why kindness, downhill running and juice play a big part in her life
Reflecting diversity is not something the fashion and beauty industry have traditionally excelled at, but in recent years, brands and advertisers have increasingly used models from a wider variety of ethnicities, ages and sizes.
There's still much room for improvement but New Zealand appears to be doing better than other countries, says Katherine Lowe, a model booker at Clyne Model Management.
"I think it can seem a little token," she says, "but anything is better than nothing. We definitely get more requests for different sizes and not just your stereotypical model. People are looking for other things."
Her job is not only to scout new faces (and personalities) but to help develop models' skills to put them forward for jobs for editorial, runway and TV commercials. For instance, after signing Izzi Zigan when she waited on Katherine in a Mission Bay cafe, the model has since gone on to become a Viva cover star and frequent muse in our pages.
But there's an even bigger component to Katherine's job that she says people often overlook: she's a pseudo-big sister to many of the models, primarily teenage girls, who wind up on Clyne's books.
"It's a hard industry, extremely competitive, and a lot of people don't look out for them. So I feel a huge responsibility to be realistic and kind. They start so young, and they're expected to do a full day of work and navigate all these adult expectations. 'Why did she forget her nude bra?' Because she's 16!"
Katherine's pragmatism isn't surprising. Anyone who followed her blog Katherine is Awesome — or the more recent Rally with Radio New Zealand journalist Leilani Momoisea — will know she can be painfully honest and self-deprecating, whether she's talking about clothes or her personal life.
What started as an outlet for her love of fashion was what led the former graphic designer to work behind the fashion industry scenes. She was spotting talent and alerting agents — or photographing the stylish and cool for the blog — long before she worked at Clyne. She's also big on social media, particularly Instagram, where she has 11,600 followers.
"It can be quite rewarding looking after new faces, helping them get what they want and watching them grow."
Like her models, Katherine keeps healthy and active. One of her favourite workouts, besides hot Pilates at Sweat Yoga, yin yoga at Studio Red and the outdoor group training regime, Fitness All Together, is to walk up Mt Eden and run back down. All of which leads to washing several loads of "very sweaty" workout gear, and frequent hair-washing. (She's scared of using the clothes dryer, as she's never quite sure when it's finished, or how gentle it will be with her clothes.) Having moved back home temporarily while she house-hunts in Auckland, she's enjoying the creature comforts of the house she grew up in.
She has her eye on an apartment in Ponsonby but for now is staying in Mt Eden with her Mum in a three-bedroom, three-bathroom townhouse. Built 30 years ago and later renovated, it does make the property search, with its endless open homes and less than salubrious offerings, more frustrating.
"Every time I hear murmurs of [Mum's place] being sold I lose the plot," she says. "I'm super attached." Plus, Mt Eden village is a short walk away for her to indulge her love of Italian food at Pasta & Cuore, or grab her favourite egg sandwich from Olaf's Artisan Bakery. And while she does eat out frequently, she has several gotos for cooking at home. Pasta with prawns, chilli, garlic and olive oil is a favourite, as is steak and vegetables, panfried fish with avocado and salad, soft-boiled eggs with bread and avocado.
Two years ago she tried the lowcarb, high-fat keto diet for two months and wrote about it for her blog. "I felt quite amazing," says Katherine, who has relaxed the rules but maintained her commitment to eating less sugar. Because the diet shuns processed foods, that's been another, ahem, takeaway — these days she even makes her own mayonnaise, "because it tastes so much better," breaking out her trusty hand blender.
She's never been much of a breakfast person, so a bought coffee often stands in — she agrees a coffee machine would be great for her new place, not to mention all the other things she'll need when she moves. A fridge with a dedicated door for drinks is up there on her wish-list. "I'm a massive juice drinker so I'm fascinated by those." She'd also love a steamer for her clothes. "It's the ultimate luxury because I hate to iron," she laughs. "I know that's crazy for someone who works in fashion."
This is despite not being a "really together, chic, corporate power woman". She's happiest in jeans, a t-shirt and flat shoes. "I'm pretty casual, pretty relaxed. But I do have some nice clothes and if it could save me going to the drycleaner, I'd be happy."
THE PERFECT MATCH FISHER & PAYKEL OFFER UP THEIR PRODUCT PICKS TO COMPLEMENT KATHERINE'S HEALTHY LIFESTYLE.
1. INDUCTION COOKTOP Whip up healthy dinners in flash using an induction cooktop, great for searing fish or meat, boiling water in record time, as well as simmering sauces. Induction offers unrivalled precision and power, and this 30cm model has two separate elements that can be linked together to make a larger cooking space if using a bigger pan or entertaining a crowd.
2. BUILT-IN COFFEE MAKER Designed with avid coffee lovers in mind, this compact unit boasts 13 beverage options, meaning you can make barista-style quality from the comfort of your own home. Plus, the easy-to-use design makes it a perfect kitchen accompaniment to those with busy lifestyles.

3. BUILT-IN COMBINATION STEAM OVEN It's no secret that steaming food helps retain its nutrients and flavour. This healthy alternative to traditional cooking methods cooks food in its own juices. This clever appliance combines two cooking technologies (oven and steam) to allow for a greater degree of flexibility. Steam, grill, cook or bake on fan force all in one compact unit — making it ideal for apartment living.

4. SINGLE DISHDRAWER™ DISHWASHER This single DishDrawer Dishwasher holds seven place settings and offers extra height for taller dishes, ideal for juicer attachments. The drawer design makes life easier with minimal bending when loading and unloading. It also uses half the water of a full dishwasher, and allows room for a drawer beneath, making it a great for compact apartment living.

5. COOLDRAWER™ MULTI-TEMPERATURE DRAWER The CoolDrawer™ allows you to easily switch between five different food modes at the touch of a button — choose between fridge, freezer, pantry, chill or wine modes. Easily customisable with your kitchen cabinetry or purchase a stainless steel panel, the CoolDrawer is excellent for storing cold-pressed juices or bottles of wine when entertaining friends or family come the weekend. 
Share this: