SPONSORED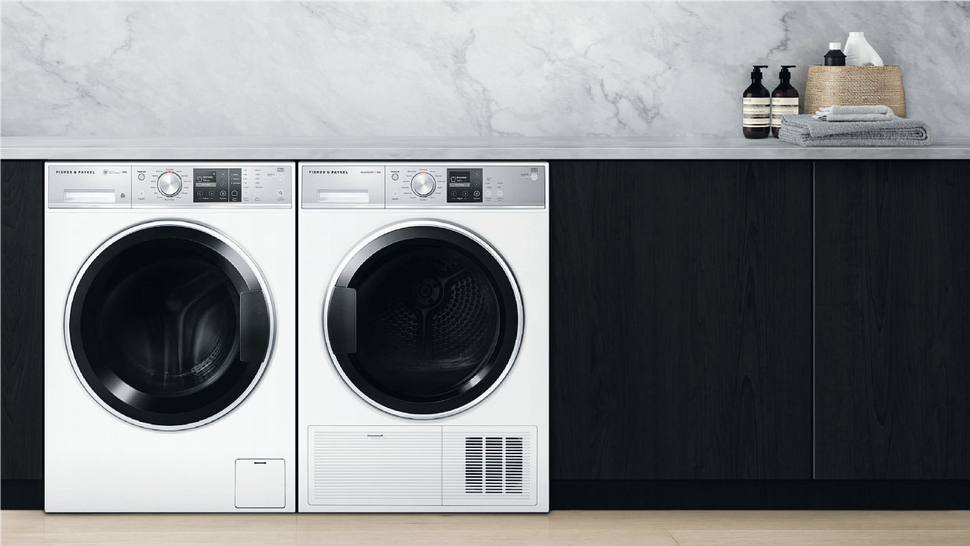 Need To Know: Why The Laundry Is One Of The Smartest Spaces In Your Home
In our Need To Know series in association with Fisher & Paykel, we discover more about brand's most innovative appliances
Thursday Aug. 1, 2019
THE SMART LAUNDRY
Over the past 75 years Fisher & Paykel have amassed a wealth of knowledge on the care of fabric and clothing in New Zealand. This has allowed them to transform what was once a laborious household task into a high-tech experience. Fisher & Paykel washers take the guess workout of laundry by optimising wash cycles. The latest Fisher & Paykel laundry appliances supply a complex and balanced combination of cleaning methods that cater to every fabric and garment type.
The latest addition to their high-tech laundry solutions is Active Intelligence™ technology which helps preserve the clothes you love with new fabric care options. The sensors in Active Intelligence™ washers determine load size and soil level before dispensing just the right amount of detergent and adjusting the cycle time for optimal fabric care. Aided by technology and design, this washer has an extensive range of cycles that can be customised to suit different requirements.
1. WEAR & CARE
Everyday as you move through the world, your clothing moves with you, experiencing the friction, pulling and stretching that contribute to wear and tear. During the wash process, mechanical action can further contribute to the wearing out of fabric by affecting the material's strength. To minimise this, it is important to select the correct wash cycle for your clothing. Fisher & Paykel is at the forefront of testing and research into the unique care requirements of everyday fabrics.
DID YOU KNOW synthetic fibres are particularly sensitive to heat and oil. Garments like running shorts and active wear pants will lose their structure when exposed to too much heat. The wash options offered by Fisher & Paykel's ActiveIntelligence™ washer can help keep synthetic fabrics in shape.

DID YOU KNOW cotton holds its shape better than synthetic fibres, but it isn't as colourfast — it often fades through the repeated friction of washing. Fisher & Paykel's ActiveIntelligence™ washer is designed to minimise that damage. Preset cycles select the best temperature and spin speed to ensure your cotton garments are not subject to over washing or over use of detergent.

DID YOU KNOW dark clothes, especially black garments, Can also easily fade and lose colour if they are not washed correctly. Fisher & Paykel's ActiveIntelligence™ technology allows you to prolong the life of your dark clothing by avoiding excessive detergent during a wash cycle. Auto-dose mode dispenses just the right amount of liquid detergent based on the size of your load.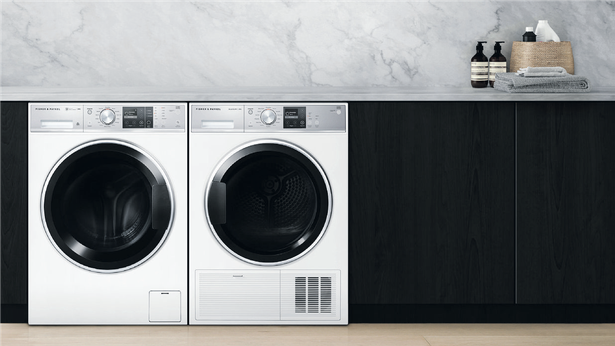 2. BIGGER & BETTER
Fisher & Paykel's new 12kg Front Loader Washing Machine with Active Intelligence™ is designed to provide the ideal wash conditions for complete fabric care. The benefit of a large capacity machine is timesaving, as a full week's laundry can be done in just a few loads. In addition to its capacity for large family loads and bulky items like a king size duvet, the12kg drum can switch to small loads. ActiveIntelligence™ technology enables the machine to assess the water level required for each wash, making it highly efficient at washing different load sizes. The wide door opening makes it easy to load and unload bulky items.
DID YOU KNOW the sensors in the ActiveIntelligence™ washers determine load size and soil level before dispensing just the right amount of detergent and adjusting the cycle time for optimal fabric care.

DID YOU KNOW the LCD display on the ActiveIntelligence™ Machine makes washing simple, guiding you when needed. The 14 wash cycles include Allergy, Handwash and Super Quick, with intuitive controls giving clever washing hints to help you select the best cycle.

DID YOU KNOW when time is short you can select a quick 30 minute wash without compromising cleanliness or fabric care. Vortex Wash allows most cycles to take less than one hour to complete. It works by forcing water from the bottom of the drum, so detergent and heat reach your clothes faster, cleaning quickly and avoiding over-washing.
3. PERFECT PAIR
The 12kg ActiveIntelligence™ washer has a matching Heat Pump dryer that has been designed so the two products work together, both from a functional perspective, as well as aesthetically. Fisher & Paykel dryers have preprogrammed cycles that offer exceptional energy savings, fabric care and drying performance.

DID YOU KNOW the washer and dryer can be arranged in any configuration – side-by-side, stacked, or separated, for example on either side of a laundry sink.

DID YOU KNOW they have been designed for maximum Efficiency when side-by-side. The doors open 180 degrees, and the washer has a left-door hinge while the dryer has a right-door hinge, allowing for easy loading and efficient workflow between the two appliances.
To find out more visit Fisherpaykel.com
Share this: