SPONSORED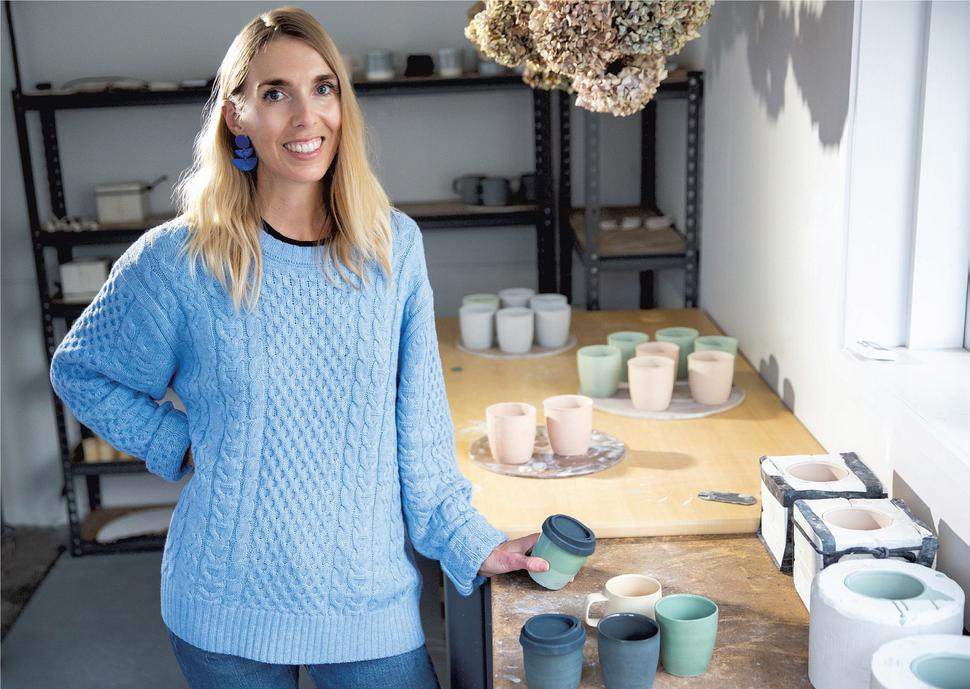 Social Good: Meet The Inspiring People Channelling Their Passion For Positive Change
In our Social Good series in association with Fisher & Paykel, we meet people making a positive impact through their passion for food, fashion and beyond
Wednesday Aug. 14, 2019
SAM DUNN 
Almost 300 million disposable coffee cups go to landfill in New Zealand each year. Ceramicist Sam Dunn is doing her bit to help.
Sam Dunn hates disposable coffee cups. "If I'm out and I want a coffee but I don't have time to stop and I don't have my travel cup with me, I just won't have a coffee. I'm quite stubborn like that."
What she calls stubbornness, others might call determination or resolve, a trait that no doubt contributed to her former career as an Olympic level sailor.
It's a long way from competing in Sydney and Athens to potting in a home studio in Auckland, Especially when you go via studying business in Valencia, but Sam has never been hung up on doing things traditionally.
Creativity was always in her blood, but for many years she passed over going to Elam Art School to chase her sailing dreams, "the arts kept escaping me."
Finally, after her second child headed off to school and she fell in love with ceramics at a pottery class at Auckland Studio Potters, she realised "I had to start."
While working for an environmental charity in Parnell, she noticed that the café across the road, Red Rabbit, was using only disposable coffee cups. She offered to make some ceramic ones for them, and scored her first commission.
"So then I was like, 'Right, I've got a career!'" she says with a laugh. "I don't think at that stage I even had my own kiln." Regardless, Sam Dunn Ceramics was born.
Sam's work is a blend of earthy and refined–using fine porcelain mixed with stain glazes sourced from craft pottery supplier Decopot in Palmerston North, she creates minimal, single-colour coffee cups, bowls and travel cups, with subtle detailing in the play of textures.
"I like the play of the matte and the shiny, and how the lighter colour gives you a two-tone effect," she says.
"When you hold the matte cups in your hands and they warm up from the coffee, it's like holding a stone in your hands." A soft, charcoal-coloured silicone lid completes the palette.
Sam admits to being a "complete coffee snob", sometimes to the extent of taking her own cups to cafes even when she's planning to sit in for her coffee.
"I just absolutely love coffee — that whole treat in the morning," she says. "The taste is definitely better from a ceramic cup than a plastic one."
Her own travel cups often catch the attention of Baristas more used to plastic reusable cups — "almost every cafe I go into to get a takeaway coffee asks where I got the cup", Sam says — as do her elegant earrings, which she hand-crafts from fine porcelain and gold, for a second business, Sam Label, set up with her friend Amelia Faleafa.
"Amelia has worked for years in the fashion industry, so she's most excited about the earrings, while the cups are my passion project," Sam admits.
"I just loved the idea of making travel cups. I've always been environmentally conscious. But I also think it's good for people to just sit down, and slow down. It's not that easy in life to have those quick, joyful moments. If you're going to do it, you might as well have a really good coffee out of a really lovely cup."– Melinda Williams
CARING FOR CERAMIC TRAVEL CUPS
Fine porcelain might look delicate but it's actually very hard once fired. Some simple attention to care will keep your cups in perfect condition for years.
1. Running them through the dishwasher is fine. "I actually recommend putting my cups in the dishwasher — it's the best way to clean them," says Sam." The lighter colours can pick up the odd stain but a run through the dishwasher will take that right away." Fisher & Paykel's DishDrawer™ dishwashers offer a range of cycles, including Delicate which is ideal for ceramics with painted glazes that might wear with heavy washing, and the Sanitise mode on selected models will kill 99.9 per cent of bacteria — great if you've accidentally left your used travel cup in the car for a week.
2. When you're putting your ceramics through the dishwasher, make sure you stack them correctly to avoid chips. Fisher & Paykel's dishwashers have flexible racking enabling you to customise the space based on what you're washing — ensuring they come out sparkling clean and chip-free.
3. The lids for Sam's cups are made from food-grade silicone, which despite its plastic-like feel, is a material derived from quartz. It's non-leaching, long-lasting and resistant to high and low temperatures — so it can be washed in the dishwasher on any cycle from eco to heavy-duty.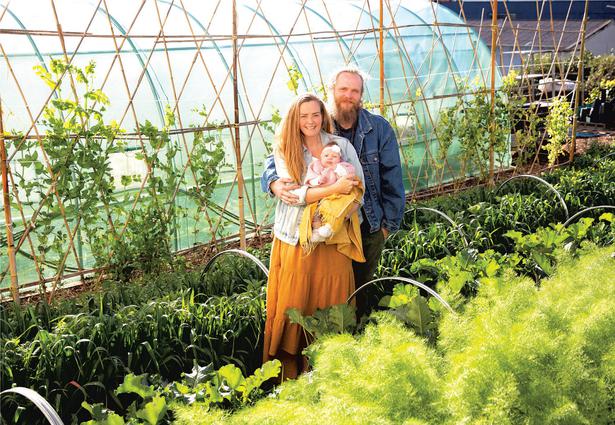 AREK MANN
Organic market gardener Arek Mann sees production of healthy, nutrient-filled food as essential to our health, environment and well-functioning community.

The Garden for the People produce stands at the weekly La Cigale French Market in Parnell are often too crowded to move through quickly.
Shoppers drift through the rows of tables piled with fresh organic and spray-free produce, sometimes seeming dazed by the variety of the offering.
For anyone used to seeing one type of plastic-bagged kale at the supermarket, it can be overwhelming to be faced with five or six varieties of different colours and textures to choose from, alongside types of spinach, leafy Chinese vegetables, collard greens, boxes of free flow rocket and cress, bundles of herbs and multiple heads of lettuce with remnants of the dirt they were pulled from clinging to their roots.
Depending on the time of year, alongside traditional fare like apples, pears, citrus, potatoes and bananas, there are unusual treasures to be found — medicinal mushrooms, celeriac, Maori potatoes, dragonfruit, fresh turmeric, yams, multi-coloured carrots, guavas, heirloom tomatoes and much more.
Organic gardener and produce merchant Arek Mann runs the main produce stands at the La Cigale Market with his wife Mareah and a small, super-friendly team.
Born in California and raised spending summers at his grandfather's organic farm in Idaho, Arek travelled the States setting up permaculture gardens and spent three years living in the jungle in Costa Rica before coming to New Zealand, meeting his wife and settling here.
He's passionate about organic and spray-free growing, and works relentlessly to encourage local growers to produce more. "I remember as a kid, when I started going out to my grandpa's orchard, it was like I'd never had an apple before. All I'd ever eaten was store apples. Afterwards, I couldn't go back. It was just tasteless."
It's not just the better taste that's important inorganics — he cites university studies that show nutrient levels in organic produce being anywhere from 10 to 1000 times higher than in conventional produce. "A lot of the time, organic produce has nutrients and minerals that don't even exist in conventional foods," he says.
He's seen the difference in his own customers. "You look at the impact that all these chemicals and poisons are having not just on the environment, but on us — the cancer rates, the disease rates. I didn't really realise how much food was medicine until I saw shoppers come in with all sorts of health conditions to buy organic food to eat and juice, and saw the difference it makes."
Arek describes his approach to eating as 'vibratarian'. "I made that up. I got so sick of all the dividing questions, not just 'Are you a vegan', but political position, religion, all that. I'm all about the vibes. If it's got good vibes, then I'm into it."
He sees organic growing as being about more than keeping the natural eco-system healthy — it's about keeping the social ecosystem healthy too, by supporting small local growers instead of industrial food giants. "The universe is naturally in abundance and we create the problems of scarcity through greed," he says. "If we work together, we can solve the problems."
Right now, he's working on expanding his offer at the market into a seven-day operation that offers everything his customers need in their weekly lives under one roof, from cleaning products and kitchen and bathroom supplies to fresh produce and fresh BYO container scoopable sauces and dips.
"We're searching for the most conscious companies in the country to create a one-stop shop with all organic and plastic free lifestyle needs, at a price that's affordable."
KEEPING ORGANIC PRODUCE FRESH
Organic produce usually costs more than conventional produce (although not always!) and doesn't contain preservatives, so if you're making the investment, it's important to store it well to keep it as fresh as the day you bought it, and retain nutrients and flavour.
1. Fisher & Paykel's refrigerator range includes ActiveSmart™ technology to help keep your food fresher for longer. The clever technology learns how you use your fridge and adjusts the temperature, air flow and humidity which helps to retain freshness.
2. Fisher & Paykel's Quad Door refrigerator also has a Variable Temperature Zone that allows you to personalise your storage needs. You can easily convert the Variable TemperatureZone between Fridge, Chill, Freezer or Soft-Freeze modes to suit different food types or special occasions.
3. How you store your fresh produce is important for its longevity too. Apples, for instance, emit high levels of ethylene that can wilt broccoli, spinach and lettuce. It's important to keep apples separate to these types of vegetables. The Humidity Control System in Fisher & Paykel's refrigerators keeps fruit and vegetables in the right microclimate to keep the mat optimal freshness.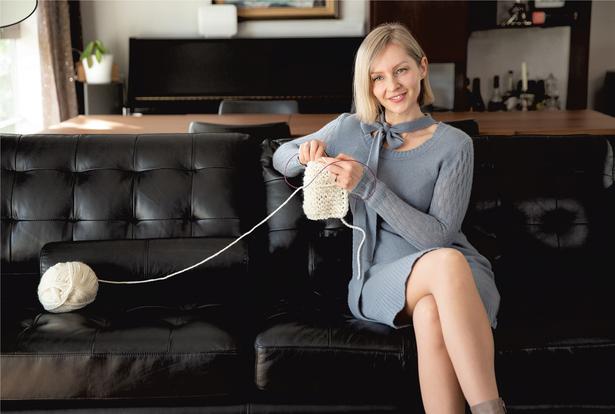 KATE MISCHLER 
Sustainable knitwear designer Kate Mischler weaves a kind of magic using natural fibres.
When Kate Mischler of sustainable limited edition knitwear label Elka Wild visited her homeland of Russia last winter, her own knits made up a big part of her packing. In -20 degree temperatures that even a down jacket couldn't fend off, layered knits were what made the cold tolerable.
That's because the wool she uses is uniquely warm for its weight. Possum merino is a blend of hollow down fibre from the brushtail possum and ultra-fine New Zealand merino wool, with a touch of silk.
The blend is 30 per cent warmer and even softer than cashmere, usually the most prized of yarns.
"Being a hand-knitter, when you invest so much time — sometimes 100, 200 hours into a single garment — you go for the most premium fibre that you can find, so the end product speaks for itself," says Kate. 
"For that reason, I was in love with cashmere for many years. But after I was in New Zealand for a little while, I discovered possum wool, and that was the end of cashmere for me. I never looked back. Merino is amazing on its own, but when you add it to possum, it becomes something else."
As someone who makes sustainability central to her business, Kate appreciated that possum fibre uses a resource that is other wise wasted. Brushtail possum, a species introduced to New Zealand in 1837, is the biggest threat to New Zealand's native bush and wildlife. Every night, the species destroys thousands of tonnes of forest, stripping food sources for native birds, and consuming and attacking endangered native birds, eggs, weta and land snails.
"It's a major New Zealand conservation problem. We can't get rid of them fast enough and the population is still growing exponentially," says Kate. "These fibres shouldn't be a wasted resource. You can discard them in to landfill, or you can make them into something beautiful and warm and loved."
When we speak, Kate is wearing a gorgeous pale grey and white cardigan-coat of her own design.
She jokes that she's "allergic to white" and expects to spill something on herself within minutes, but fortunately washability is another reason she loves possum merino. Unlike cashmere, which "pills as soon as you look at it", the fibre doesn't pill, and is resilient enough to be washed in a machine.
"Some merino, you can throw it in the washing machine, and even in the dryer," says Kate. More importantly — and even better for the environment — is that possum merino doesn't require frequent washing, reducing water and detergent use.
"I think we are all guilty of over-washing things, and especially when it comes to natural fibres, you just don't have to do that," she says. "Possum merino doesn't absorb odours. I can go through a whole winter without washing, just airing outside on a nice day."
As a bonus, that infrequent washing helps clothes last much longer. "I still wear pieces that I made myself when I lived in Russia, more than 20 years ago," Kate says. "Elka is what you call slow fashion. We don't come up with pieces that will be discarded after one season." — Melinda Williams
KEEPING WOOL BEAUTIFUL
A natural fibre, wool is warm, breathable and doesn't release polluting plastic microfibres into the water system. Here's how to keep your investment pieces in top shape.
1. Wash less often. Designer Stella McCartney recently told The Observer that clothes "shouldn't be washed unless you have to" and that Savile Row tailors often just let dirt dry out, then brush it off. After airing, you can refresh
a wool garment by hanging it in the bathroom while you shower, or giving it a light press with a steam iron. If you do have to wash, use a gentle wash or specialist wool cycle, like the Woolmark-endorsed one on selected Fisher &
Paykel machines.
2. Take it easy on detergent. Detergent overuse creates water pollution, can leave residue on clothes and can even reduce the friction that helps get clothes clean. Fisher & Paykel's new 12kg front load washer with ActiveIntelligence™ technology detects not only the load size, but also the soil level and then dispenses the precise amount of detergent to wash perfectly.
3. Although it's long been gospel to keep wool out of the dryer, Fisher & Paykel Heat Pump Condensing dryers come with a drying rack and a no-tumble wool setting that allows you to safely dry woollens.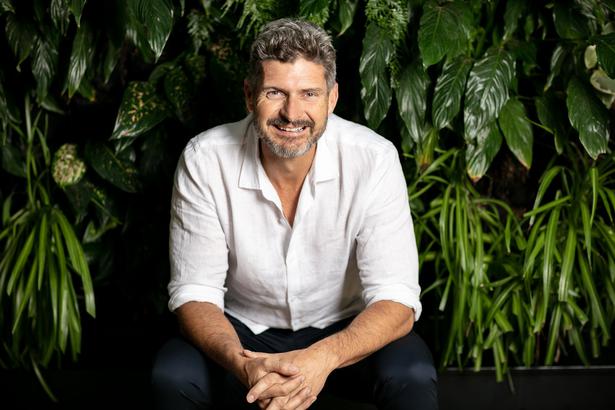 BEN WARREN
Getting the right nutrients into your body every day is the key to high energy, disease prevention and even mental health, says nutritionist Ben Warren. 

If you like to squeeze every hour you can out of your day, getting up before sunrise for your morning routine or exercise, and staying up late to catch up with friends or a new series on Netflix, nutritionist Ben Warren has a caution for you.
"These days, we tend to burn the candle at both ends because we want to enjoy our lives and be active. But our metabolic pathways need nutrients to run, and the harder you push your metabolic pathways, the more nutrients they need to run properly," he says.
That — among other factors — means that nutrient deficiencies are almost ubiquitous today, even in people dedicated to living a healthy lifestyle. Although low-level deficiencies usually don't have immediate symptoms, over time they can increase the risk of chronic disease, sap energy, affect hormone production and even contribute to poor mental health.
Originally aiming for a career as a professional golfer Ben became a nutritionist after learning that a lasting back injury was — to his astonishment — being aggravated by a dairy intolerance.
"I thought, "This is incredible. How did I not know that the food I'm eating had such an impact on how I'm feeling?" After completing a Master of Science in Holistic Nutrition at Hawthorn University, British-born Ben set up his own clinical service, BePure, in New Zealand (home to his Kiwi-born wife), and launched a range of dietary supplements.
Through his clinical career, Ben has been constantly surprised to see how widespread nutrient deficiencies are.
"Vitamin D is one that 84 percent of New Zealanders have been clinically shown to be deficient in. Iodine deficiency is another well-known one, especially now that more people are moving to natural salts. The government is looking at putting folic acid in bread to support pregnant mums, because even though during pregnancy it's recommended for women to supplement with folic acid, many people aren't doing that."
Many people are also low in selenium, iron, zinc, which is heavily used by the body and the essential fatty acid Omega 3, says Ben. "Modern-day farming is stripping the minerals out of the soil and we're not paying farmers enough to put trace minerals back into the soil. In New Zealand, our soils are deficient in selenium, iodine and a number of other trace elements."
To meet nutritional needs, Ben recommends a "food first" approach, meaning a fresh, varied whole foods diet, ideally organic to avoid chemical pesticides and herbicides. "That means meat or nuts every day for selenium, seaweed every day for the iodine, liver every day for the Vitamin D, sardines every day for the Omega 3 and so on," he says. Cooking food correctly — by steaming rather than boiling (which leaches nutrients) and cooking quickly to retain as many nutrients as possible — also helps.
"I don't believe we should eat all our food raw, although for many foods the most nutrients are contained in the raw state," says Ben. "But some nutrients, like lycopene that you find in tomatoes and the beta-carotene in carrots, become more available to our bodies when you cook them."
Cooking quickly, at lower temperatures, and with minimum water wastage also helps with nutrient preservation. Vitamins B and C are water-soluble, and vitamins, A, D, E and K are fat-soluble, meaning that if you boil or poach foods and pour off the water, or run off juices from grilled meats you're losing valuable nutrients.
Retaining cooking liquids, and saving juices from meats helps reduce the loss. If getting all the nutrients required to run a busy lifestyle through diet alone sounds like a hard ask, that's because it is, says Ben, who grows much of his own family's food on his 15-acre farm.
"I tried to get everything through diet for a couple of years, actually, but once I became trained in nutrition I realised it really isn't possible." Ben recommends first identifying nutrient deficiencies through testing, treating them with an intensive short course to restore levels, and then maintain levels with a daily high-quality multivitamin.
"Julia Rucklidge at the University of Canterbury is doing really interesting work treating mental health conditions with multivitamins. She says that if everyone just took a high-quality multi-vitamin, it would make a big difference to our country's overall mental health."
COOKING FOR NUTRIENT RETENTION
To retain nutrient levels in foods, Ben says it's important to get the food into your body as quickly as possible after harvesting. Cooking it the right way also makes a difference.
1. Steam cooking helps retain nutrients, particularly in vegetables, because it keeps in moisture, and means shorter cooking times, which prevents nutrient degradation. Fisher & Paykel's Built-In Combination Steam Oven helps seal in flavour, texture and colour through maintaining optimum moisture levels during cooking.
2. Steaming is also particularly suitable for delicate proteins like salmon. Frying or grilling can increase pro-inflammatory Omega 6 acids, which counteract the effectiveness of the good Omega 3 fatty acids found in salmon and other oily fish.
3. If you're on the sourdough buzz, Fisher & Paykel's Combination Steam Oven can help you bake the perfect fermented loaf high in probiotics. A blast of steam heat at the start of baking bread helps give a higher rise and retain a moist crumb. Switching to conventional mode afterwards caramelises the sugars that steam dissolves on the surface, creating a crisp, glossy crust with rich flavour.
4. If time pressure means you like to batch-cook, freeze and reheat food later, a steam oven is ideal; using steam during the reheating process keeps moisture — and therefore flavour — levels at their peak.
Share this: