How Flamingo Fashion Went From Kitsch to Cool
The kitschy pink flamingo is having a serious fashion moment. But will it last?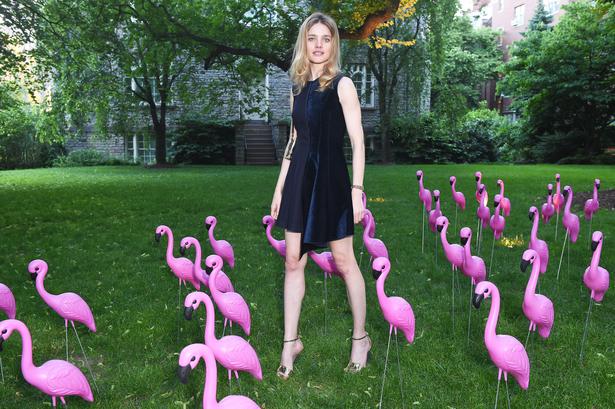 Tuesday Aug. 1, 2017
Fashion is fickle. What's in is soon out and, then, miraculously, back in again. There's no better proof of that than the flamingo: Once a tacky lawn ornament, it's been resurrected as the design element of the moment.
In just over two years, flamingos have soared from the catwalks of Milan to the wardrobes and walls of urban hipsters to the aisles of Nordstrom, Ikea, Crate & Barrel, Target and Britain's John Lewis department stores. Flamingos now adorn everything from US$1495 ($1990) Givenchy dresses to US$40 shower curtains. Google search interest for ''flamingo'' hit an all-time high in May.
''Flamingos are the kale of style right now,'' says Vicki Psarias, founder of the British lifestyle blog Honest Mum.
The flamingo's journey from kitsch to cool illustrates how consumer trends emerge. Flamingos nestled in the happy middle of a Venn diagram of three hot trends: they're pink, they're tropical and they happen to be birds. Once there, they quickly grew, with help from a steady diet of celebrity Instagram posts, Pinterest pages and style blogs.
''The ability of social networks to launch, broadcast and instantly reinforce the credibility of a trend has accelerated the old process of trend development by an almost incalculable factor,'' says Ryan Mathews, a consultant and futurist. ''The path is the same, but the ride is a whole lot faster and bumpier.''
The flamingo's ride began way back in 1957, when a young graphic artist with the fitting name of Donald Featherstone created a plastic pink flamingo for Union Products, which Sears offered in its catalogue for US$2.76 a pair. Suburbanites snatched them up as lawn ornaments, and they soon became ''widely reviled as the dregs of bad taste,'' as a New York Times story put it when Union Products closed in 2006.
The notoriety caught the attention of avant-garde director John Waters, whose 1972 breakout film Pink Flamingos boasted the tagline ''An exercise in poor taste". Flamingos were briefly a mascot of gay culture but largely petered out, with few mourning when Union Products closed its plastics factory.

Then, in June 2014, a rebirth-thanks to American fashion designer Marc Jacobs, who put flamingos all over a Spring 2015 collection that included a black satin embroidered flamingo bomber jacket. Other labels, such as Bottega Veneta and Gucci, followed suit, and when Prada unveiled a flamingo-themed fragrance in 2015, a spark was ignited.
Fashionistas flocked to the bird — ''flamingo'' derives from the Spanish word for ''flame-coloured'.' Celebrities then applied rocket fuel: At Taylor Swift's 2015 Fourth of July party, the pop star and her Instagram-friendly pals, like model Gigi Hadid, frolicked on inflatable flamingos.
Retailers, desperate for a sure thing amid lacklustre sales, jumped on the trend that same year. Target decided to feature flamingos in its new Pillowfort brand sheets, towels and other accessories for kids' bedrooms. The items did so well that the retailer quickly loaded up the bargain bins at the front of the store with flamingo napkins, string-up lights and water carafes. Target now offers more than 100 flamingo products.
WATCH: The Trailer for Pink Flamingos
''We didn't know how big it could be,'' says Julie Guggemos, Target's senior vice president for product design and development. ''Then, as the trend accelerated, we wanted to react faster.''
Over in Britain, John Lewis stocked some flamingo pool inflatables in April 2016 and was overwhelmed, selling out in eight weeks, according to buyer Lisa Rutherford.
Inspired, John Lewis went full flamingo this year: gift wrap, beach towels, lights, wallpaper, novelty glasses, notebooks, pencil cases, napkins, aprons and ties. And, of course, plastic garden ornaments (now two for US$26). Flamingo product sales in Lisa's department have more than doubled, and inflatable sales are up 700 per cent. The only product launch that's done as well in recent memory is Star Wars merchandise.
''The amount of products it lends itself to is surprising,'' Lisa says.
And it's not just cheap trinkets: Nordstrom offers flamingo silk scarves for $170, while Kate Spade does a large tote bag for $379. Crate & Barrel's funky CB2 offshoot features flamingos in its new collaboration with British designer Matthew Williamson. And good luck finding that Givenchy flamingo dress — it's sold out at Nordstrom.
But as Ryan Mathews, the futurist, notes: ''Trends can be dismantled at the same speed they are created.'' Target's Julie Guggemos says they've peaked.
She senses they are already being replaced by the humble cactus, now trending on the web. Cactus boxers, anyone?
— Bloomberg
Share this:
More At Home / Trends & Shopping