Creating Beautiful Interiors with Flora'n'Fauna
This business transforms offices, homes and special events into green havens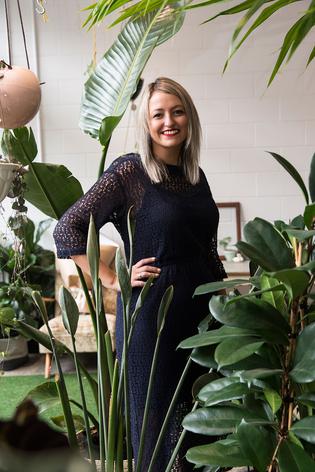 Gemma Yeoman is a natural nurturer. She began her career as a primary school teacher, helping children blossom. Following the birth of her own daughter, Ivy, four years ago Gemma chose to nurture her other passion — creating healthy environments through plants.
She immersed herself in the botanical world, studying and experimenting with the best plants to work indoors. This, along with her love for creating beautiful interiors and collecting unique vessels to house the plants, combined to become Flora'n'Fauna — a business which sees her styling offices, homes, houses for sale, weddings and special events with the power of plants.
Research shows that indoor plants work to purify the air and make for a better environment but it is the feel-good ambience they bring to an interior that Gemma loves best. "Plants bring a true sense of well-being and I love the whole journey of working with clients to create that."
She shares that the best way to care for a plant is to keep it simple and avoid overwatering, keeping in mind that a plant's needs may differ over the seasons. Changes to the leaves act as indicators of this, for example fading and brown spots signal that the plant is getting too much direct sunlight. "It's about finding the right plants for the right environment, in relationship to the temperature and light of the space."
One of Flora'n'Fauna's first assignments was a giant living wall at last year's New Zealand Fashion Week. A pop-up store in Herne Bay followed and created further demand for Gemma's green fingers. She has now opened a light and airy studio workshop in Newton's Cross St, where she works with clients and creates her range of carefully planted vessels that are ready to buy off the shelf.
"I currently love cluster planting, grouping different plants within the same pot to layer shades and textures, contrasting upright linear leaves with trailing varieties such as chain of hearts."

• To find out more visit floraandfauna.nz
Share this: