Top Tips for Beautiful Flowers at Home
Florist Millie Austin of La Femme Fleur shares her suggestions for making a floral statement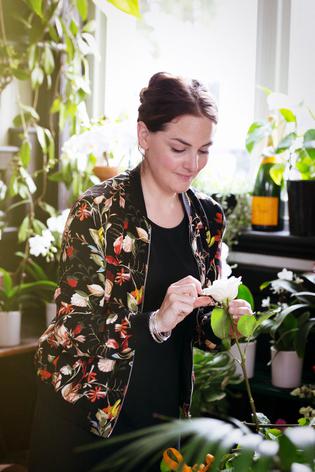 Florist Millie Austin, of La Femme Fleur, is the creative force behind the Veuve Clicquot Rosé Garden at the Land Rover New Zealand Polo Open on Sunday, which will be recreated on the deck at Ostro next week for a three-week polo-inspired pop-up. The clever florist will also host three floral masterclasses on the Seafarers rooftop where guests will design their own Veuve Clicquot Rosé Garden-inspired bouquet to take home, as well as a vase. Tickets to the event, the first of which is on February 22, include a glass of champagne and themed canapes. Here she shares her tips for having beautiful flowers at home. 
READ: What to Wear to the Polo
Buy New Zealand-grown
Local flowers are the best place to start. We have amazing growers all over the country. The flowers will last longer because they are fresh, having not travelled long distances, and you are supporting local business.
Prepare your flowers
Strip the the flowers of their leaves. This keeps the water clean. Remove any damaged guard petals from your roses. Cut their stems on an angle to create the greatest surface area available to the water.
Spiral your arrangements
Place one stem on top of the other at an angle in your palm, gently rotating as you build the arrangement. The spiral creates a balanced bouquet and beneath the water the circular stems form a twirling green negative space in the vase.
Work in odd numbers
By using an odd number of stems for each variety it prevents perfect symmetry and means your eyes will move across the arrangement taking in all its details.
Create texture
Use foliage and berries to add texture to your flowers. At this time of year I love the pop of colour from hypericum berries.
Use the right vase for your arrangement
Your bouquet should be taller by one third than the vase to create visual balance.
READ: How to Be the Best Dressed at the Polo
Find your style
My signature approach to arrangement is lush and compact, I love roses and peonies hugging hydrangea. But I also like a more wild look, with stems of willow and giant protea. But the best of all is my mum's whimsical arrangement of flowers picked straight from the garden.
Be careful with colour, but don't be afraid
Start with whites and greens because it is hard to go wrong (pale green chi roses, framed with hydrangea foliage is my simple and elegant go to). But don't be afraid of colour especially in summer when beautiful and bright antique hydrangea and dahlias are around. But do avoid garish colour clashes.
An industry secret - go foraging
Shhh, don't tell anyone, but New Zealand's parks and roadsides are blessed with beautiful flowers and foliage. Don't be afraid to take your secateurs down the road and steal some wild hydrangea, or to pick some juvenile eucalyptus from the local gum tree. And if you are lucky enough to live in the South Island, keep your eye out for some stunning roadside peonies over early summer.
Look after your flowers
To make sure your flowers last longer, change the vase water every two to three days, and recut the stems another centimetre shorter to create a fresh surface for absorption. A special tip for hydrangea season, water their heads with a spray, or by patting water from your hand onto their blooms - they're a thirsty flower and drink through their petals.
• Join Millie at Seafarers Member Lounge, Level 5, 52 Tyler St, Britomart on February 22, March 1 and March 8, from 6.30pm. Tickets at iTicket.co.nz. The Veuve Clicquot Rose Garden will be on the deck at Ostro from February 22 to March 12.
Share this: