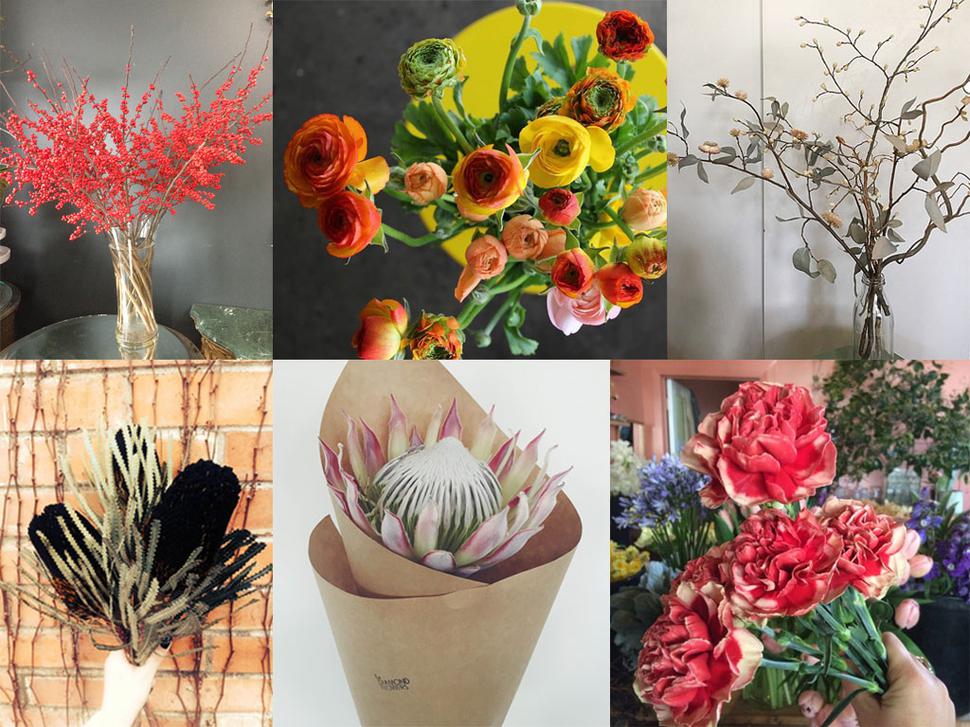 Flowers that Won't Die in a Week
Seven Auckland florists reveal which bouquets last the longest in a vase
Tuesday June 30, 2015
ILEX RED BERRIES
Alma Chan, Cartier For Flowers
"The Ilex red berries are in full season right now and can last three to four weeks in a vase. They are dramatic and cheerful and look great when displayed either singly or en masse in a vase or other vessel. Like all cut flowers, to help them have a longer vase life, change their water and cut a little off the stems every three to four days. Perfect for mid-winter Christmas. Prices range from $10-$20 each, depending on bunch size and market price."

RANUNCULUS AND EUCALYPTUS
Eden Hessel, The Botanist
"Ranunculus are available from May to September. This delicate-looking but hardy flower with multiple layers of lacy-leafed crepe-like petals and long straight stems supporting there charming heads will give you two weeks of delight. A little like a peony, the more they open the petals illume and become more beautiful. Always sure to bloom with about five to six different colours and costing anywhere between $1-$3 a stem.
"Eucalyptus has silver-like leaves and comes in a few different varieties, this is the tree flora of our neighbouring country Australia and is also known as gum tree. It has an incredible appealing scent which is used as an oil for many different benefits. With lush branches that can easily fill any vase it also looks great on its own. After lasting two to three weeks, eucalyptus dries beautifully. You will find these trees everywhere but if you don't have a ladder handy you can purchase it for about $10-$15 a bunch."

DRIED FLOWERS
Antonia de Vere, MarkAntonia
"I use dried flowers because of their longevity, beauty and sustainability. Dried flowers last a long time if looked after well; placed out of harm's way and out of the sun they can last for years or close to forever. Dried flowers become like paper and are delicate. As they dry and change you can use them differently and have the possibility to be more creative.
The dried floral arrangements I create are perfect for the home or any space that needs a softer touch but without the cost of replacing the arrangement every week or so. This also makes dried arrangements great for retail and office spaces and creates a more natural, beautified environment. Flowers which are papery and slightly dry often tend to be the best flowers to use, such as statice or hydrangeas, but the fun part of drying flowers is experimenting and trying your luck. I dry or press all of my flowers that are left over from fresh floral jobs so that my environmental impact is lessened and by using everything I'm pushed to be more creative and come up with new ideas."

BANKSIA
Stephanie Morelli, Love & Mr Lewis
"The main reason I'm nuts about the dyed banksia — and anyone that has had them in their home will agree — is obviously how long they last, anywhere up to six months and sometimes even longer. They are imported from Australia and are in the family of the proteas. They have a cool celery, sour apple smell to them when they are fresh and, although the smell and the greenery dies after a couple of months, the colour and head of the flower stays on. If dried arrangements are your thing, it can be left out of water and dried perfectly.
Add dried hydrangeas and eucalyptus and you have a forever bunch. The overall colour range is huge. When buying banksias for your home, choose the colour carefully as it's an investment piece. If you are entertaining or just want to spark up your existing banksias, add interesting greenery and flowers to change the arrangement. Other long-lasting greenery and flowers we love using at Love & Mr Lewis are eucalyptus, paranomus reflexus, kale flowers and nearly all proteas."

KING PROTEA
Lucy Houghton, Lu Diamond Flowers
"These unique flowers come in various shapes and sizes, ranging from creamy white tones, electric pink through to burgundy. They don't have much of a scent but make up for this by being long-lasting cut flowers. They are a native South African flower that grows beautifully in our New Zealand climate and can last up to a month if you keep your vase clean with fresh water.
Proteas are thirsty flowers so they need regular water top-ups. Remove their leaves as they can often darken well before the flower starts to fade. You will see these fuzzy beauties popping up between March and November. My favourite of the protea family is the king protea, these are perfect just as a single stem or arranged in a bunch of three stems. About $5- $7 a stem."

CARNATION
Sophie Wolanski, Muck
"While this flower may have a bad rap, there are some incredible varieties that can look great for up to three weeks, if not more! I love the unexpected colours of the dianthus (Latin name for carnation) and in particular the French scented variety, chabaud la France; with its frilly double blooms and its clove scent, it really can stand up to a garden rose. There is a very limited selection of unique carnations in the Auckland market so talk to your florist and see what's available.
Just because it's not in their display, doesn't mean it doesn't exist. Also, if you're tentative about using a carnation, find some different foliage to pair it with (I like to put mine with privet berry). This will help to make it a bit more unconventional. Foliage often lasts a lot longer than any flower, so if you make a nice base of foliage you can switch the flowers out as they get to the end of their lives.
For carnation flower care, like with any vase arrangement, always make sure the vase is really clean, that there is no foliage below the water line and change the water as often as possible — all of these steps will restrict bacteria growth in the water and help to make your flowers last longer. Price per stem can vary but it's about 90c-$1 and they are available year round."
ERICA
Rosie Holt, Rose Tinted Flowers
"It's from the Heather family and you can buy lovely long, fluffy stems in soft pinks, purples and white. It's technically more of a foliage so it looks great on it's own in a tall vase or in a beautiful bouquet with other dreamy blooms. It's a really hardy plant and lasts a couple of weeks if you trim the stems every few days. You can get a bunch for about $8-$10 so it's really reasonable.
Share this: