Why Colour Is Key To This Award-Winning Freemans Bay Apartment
Hare Interiors find the perfect balance of colours and hues for this luxurious apartment, taking away a gold pin at the Best Design Awards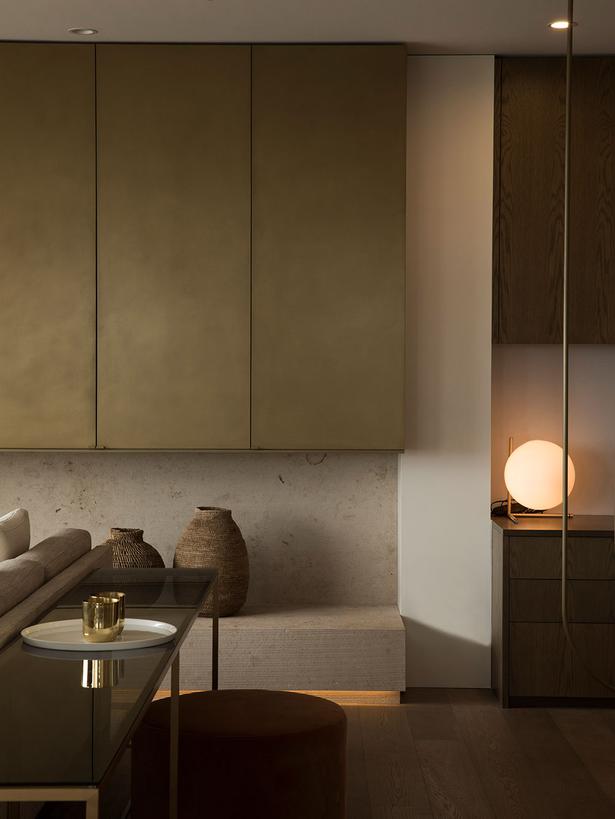 Monday Oct. 1, 2018
Warm neutrals are a timeless and elegant classic when it comes to interior colour palettes, but they can be devilishly hard to get right. Without the judicious application of deeper shades and accent colours, you can run the risk of your space looking boringly beige, but if you overdo the accents, you lose the restful, refined understatement of the colour scheme.
Fortunately, Lauren Hare, director of Hare Interiors, has the keen eye to find the perfect balance, and in the case of this Freemans Bay apartment project, it's won her practice a Gold Pin in the Residential Spatial category of this year's Best Design Awards.
"Yes, it can be hard to get right," agrees Lauren. "What we did was build up the neutral layers by running them through with toffees and chocolates and some jewel accents, while bringing in some organic and neutral colours and textures."
READ: A Hong Kong Design Firm With Bright Ideas for Apartment Living
Described by the category judges as "sublime; incredible detailing with a beautifully curated balance of materials and bespoke details", the two-bedroom apartment was created on top of a base-build put in by developers who converted an office block on Hereford St into a 108-apartment building overlooking Hopetoun Bridge with views out to the harbour.
"We did our best to leave what was structurally there, and then added features on top of it," says Lauren. "We ended up re-spec-ing the floors and carpets, and we kept the existing bathroom tiles, which were in a neutral colour, so that became sort of a starting point for the palette."
Although the clients — a couple, one of whom worked from home and wanted an office that was both accessible and defined from the rest of the space — didn't give the team a strict brief, they had a love of glamorous mid-century design that contributed to the style of the space. "We just sort of chatted to them and they loved what we were about," says Lauren.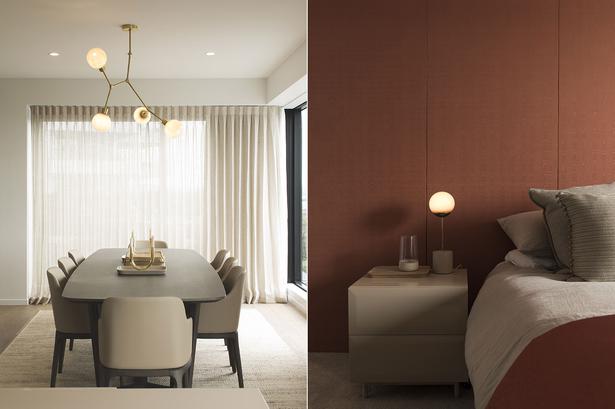 One of those key elements was a spectacular slab of onyx, sourced from Italian Stone, which was used as a centrepiece breakfast bar/leaner in the living space. "I'd seen it and had it on hold because they only had one or two slabs left, and it was just right as a stand-out piece for the apartment.
We drew some of the colour palette from those beautiful caramel and toffee tones, and it actually has a subtle blush veining. It's backlit to give it varying degrees of glow at night and through the day."
The main kitchen benchtops and splashback were rendered in a matte, off-white material called Neolith, which could be installed horizontally and vertically to create a seamless finish that Lauren describes as "virtually indestructible".
The kitchen cabinetry in a stained washed walnut that the practice developed to match with the floors, was extended across to the cabinetry in the adjoining office space and desk.
READ: The Latest Kitchen Material Trends To Inspire Your Dream Renovation
To create a sense of differentiation between the office and living area, Lauren designed a looped brass screen with a distinctive mid-century aesthetic that acted as both a sculptural feature and a room divider. Custom-made by a metal fabricator (Powersurge), it gives the office a feeling of separation without closing it off completely or blocking the flow of natural light through the space.
In the living room, an integrated technology hub and fireplace were built in brass-coated Metalier cabinets and a combed limestone hearth to give a balance of high glamour and a more 'grounding' natural texture.
Many of the furniture pieces in the living room were designed by Lauren and her team to complement the clients' existing L-shaped, oatmeal-toned sofa system, including two stitched leather ottomans, glossy cabinetry in a pale sand colour, and lavish mid-century styled armchairs upholstered in a lush aged gold velvet.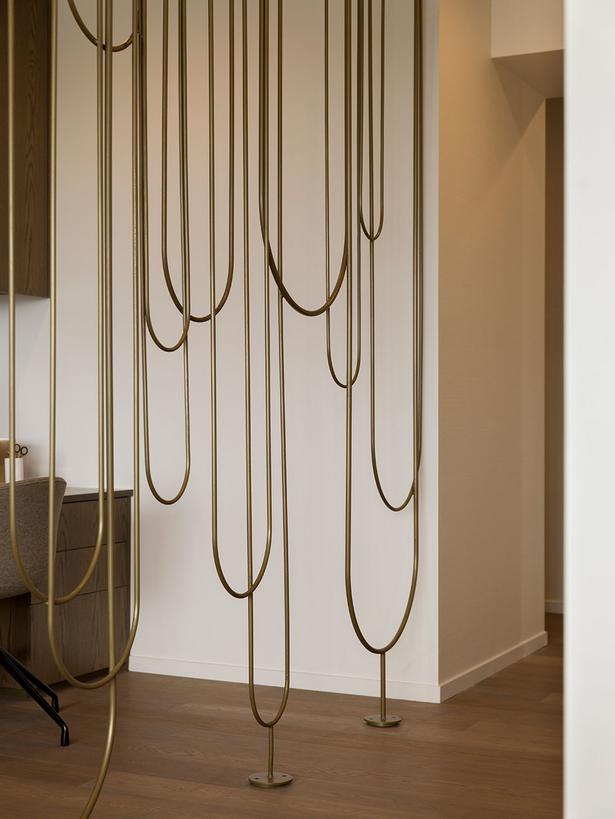 In the centre of the room, a brass-and-glass coffee table in the style of American mid-century modern designer Milo Baughman adds a square geometric element that both plays off and contrasts with the looped room divider feature.
Elements of the living space tie through into the bedroom, like the blush-tinted Douglas & Bec lights — a linear pendant chandelier in the living room, and a simple marble-based bedside lamp in the bedroom, and the scatter cushions that adorn both the couch and master bed.
READ: How to Create the Perfect Bedroom
A deeper colour element was introduced in the burnt orange of the bevelled silk headboard, that "gives the room a strong presence", says Lauren. "That's something we like to play with a lot, the balance between masculine and feminine with pieces that are quite strong and others that are soft and beautiful." The bedside tables were also custom-designed by Hare Interiors, pulling through the glossy sand-coloured cabinetry of the living room.
Lauren, who has been a previous Best Awards winner as well as a judge, says she was delighted to hear of the win. "The time, effort and energy that goes into the Best Awards is outstanding. They've done so much for the industry and really helped to celebrate and grow the wonderful work that's done here. That's really the best part of the awards, and we're just happy to be a part of it."
Share this:
More At Home / Architecture