Furniture Designer Tim Webber Launches New Outdoor Collection
Tim Webber and wife Brittany are putting the new range to use in their own Cockle Bay backyard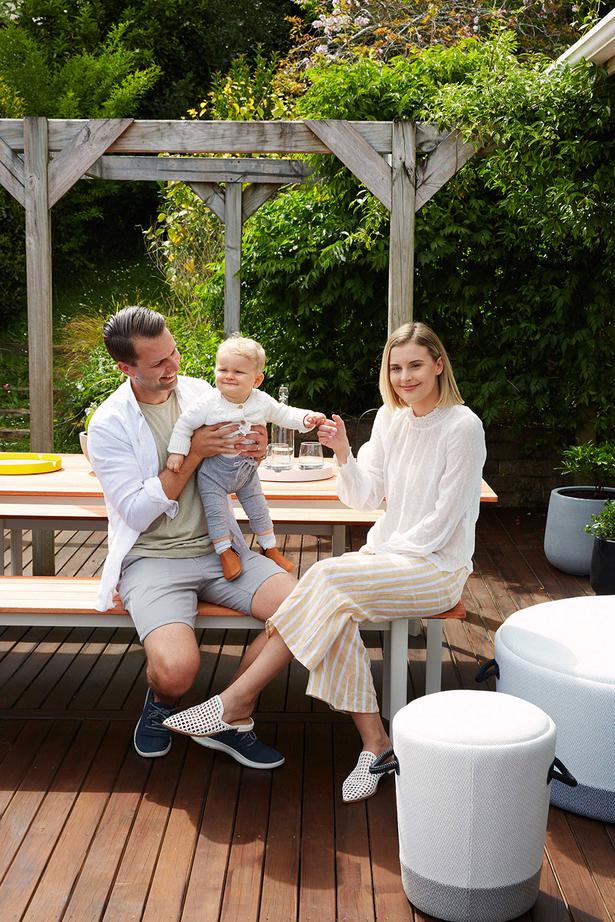 Saturday Nov. 3, 2018
Growing up in the sunny, far eastern suburbs of Auckland, furniture designer Tim Webber enjoyed the water-based, outdoor lifestyle that comes from living within a few minutes' walk of the beach. As an adult, he values that lifestyle enough to see the longer commute that comes with the area as a reasonable trade-off.
Tim launched his eponymous furniture brand in 2009, but until now hasn't designed a range of pieces specifically for outside use (although some of the pieces in the indoor range, such as the popular Duffel Stool, can be used outside as well as in).
READ: Who Won At New Zealand's Best Design Awards
But Tim says it's long been in the back of his mind. "It's something that I've always wanted to do. The New Zealand lifestyle is so much about the outdoors, especially over summertime, so I really wanted to design a range that spoke to that lifestyle."
The concept for the range — which includes a dining table, sofa, armchair, coffee table, table lamp, and will have a fire pit added in due course — has been in development for a while, says Tim. Initially the launch was planned for last year, but a rush of large-scale commercial fit-outs, which is an area where the design brand is growing, meant the timing wasn't right.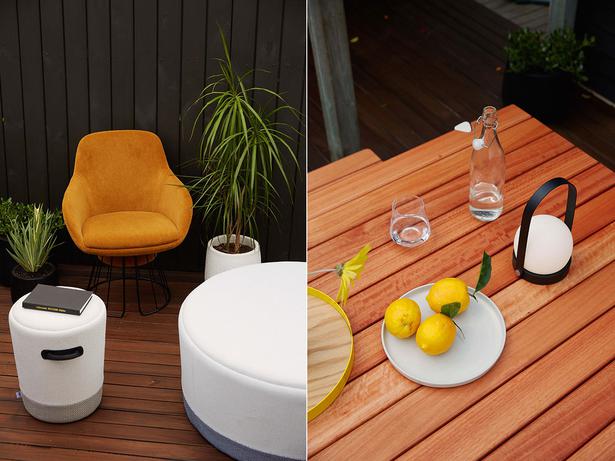 This year, though, Tim's looking forward to putting the whole range through its first real-world summer in his own Cockle Bay backyard. Along with his wife, Brittany, and 10-month-old son Archie, Tim enjoys spending weekend afternoons out in the garden when time allows, and eating on their backyard deck.
With his home's interior already populated heavily with his own designs, Tim took the concept of indoor-outdoor flow to the next level for his exterior collection, producing designs that drew influence from the softness and comfort of interior furniture, rather than the hard-wearing style typical of much outdoor furniture.
READ: This Is The Love Seat To End All Love Seats
"For example, the sofa's in a really soft, textured fabric with a chunky weave so it's really comfortable, not the boxy, hard, canvas look that you often find," he says. "We wanted to go to the other end of the spectrum and find the softest fabric that we could. The cushions are also rounded with a softer feel, and we brought some of the detailing through from our indoor range."
Steel and timber joinery gives the structure of the pieces durability, with the timber used being saligna, a locally grown eucalyptus often called New Zealand red eucalyptus or Sydney blue gum. Tim says the company is always looking for sustainable options when it comes to timber, and plans to offer more wood options for the range in the future, including a thermally modified pine from New Zealand company Abodo.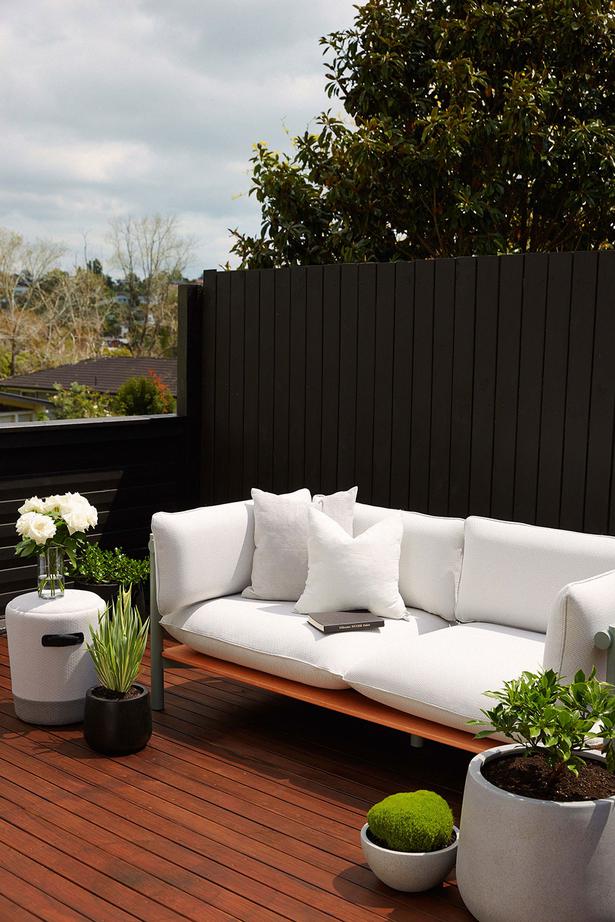 They'll also be offering a range of fabric finishes for the armchair and sofa, working with the James Dunlop range, as they have in the past.
The look for the fabrics will be clean and minimal, designed to work with the Duffel Ottoman collection, which has been recently re-released in a range of more earthy, muted colours — "a burnt red, a moss green, a soft grey and we will also do black and white. They're colours that will sit nicely against greenery."
READ: This New Book Celebrates The Carefully Curated Interiors Of Creatives
Over the summer, Tim's looking forward to dining out on his own range, as well as trying to lick the garden into shape. "When we're at home, most of our summer dinners will be outside on the deck. I like to spend the weekend in the garden — we definitely have a plan to do some more work there," he says.
"It's quite a nice backyard — it's tiered on a slope with some really established trees, including some fruit trees — but it is a bit overgrown at the moment. It would be nice to have a bit more time to spend out there maintaining it, although that can be hard when you've got a young child."
Share this:
More At Home / Architecture