Art for Sale 22/02/17
We look at some of the best artworks in our favourite galleries this month
Untitled c.1976 by Allen Maddox
$30,000
Allen Maddox (1948-2000) is remembered as being one of New Zealand's finest exponents of abstract expressionism. His work, spanning over three decades, investigates the tensions between structure and gesture, primarily utilising the motifs of grids and crosses.
Oil on muslin laid onto canvas, 1450 x 1100mm
Gow Langsford Gallery, cnr Kitchener and Wellesley Sts, City
gowlangsfordgallery.co.nz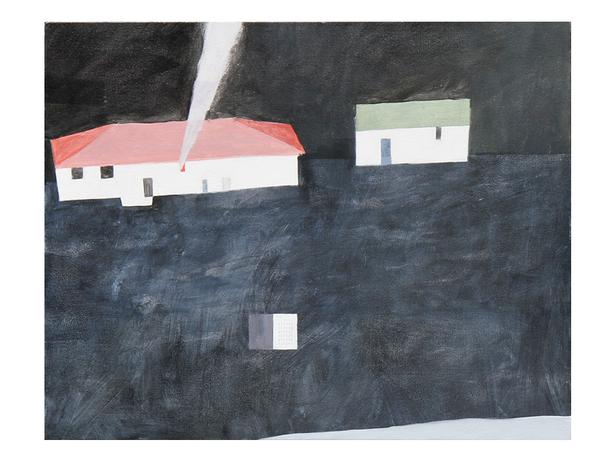 Dialogues (Night) 2017 by Alan Ibell
$2750 (from March 7)
Alan Ibell continues his investigation into the human psyche, exploring various aspects of the self and its relationship to the physical world. He is interested in painting as narrative and
uses figuration as a way to convey a poetic or abstract visual experience. His painting takes on the form of an object upon which to meditate, a space for contemplation.
Acrylic on canvas, 620mm x 780mm,
Sanderson Contemporary, Osborne Lane,
2 Kent St, Newmarket.
sanderson.co.nz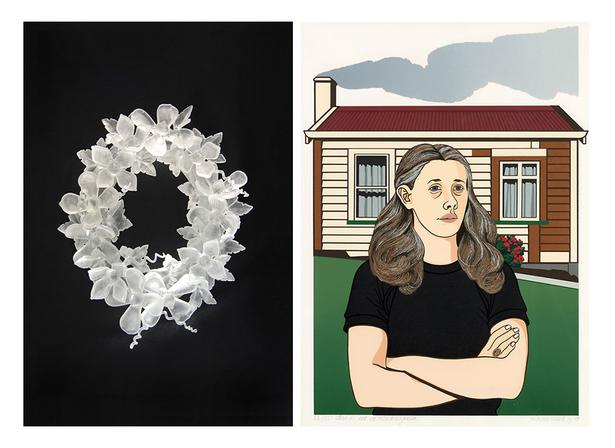 Crown of Clematis by Evelyn Dunstan
$6500
New Zealand glass artist Evelyn Dunstan's pieces showcase both the mysterious and the luminous properties of cast glass. Her inspiration is often New Zealand flowers and vines, woven into chalice forms or hanging amphora, and crowns. The glass is Venetian in its mystery and mastery but undeniably contemporary.
Cast lead crystal glass, 32 x 27 x 11cm
Orexart, 15 Putiki St, Arch Hill.
orexgallery.co.nz
This is me at Kaitangata by Robin White
$5500-$8500. Auction February 22 at 6.30pm
Originally a painter, Robin White taught herself the art of print-making out of a desire to make her art more accessible and affordable. Using her environment
as inspiration, her images portray places, people
and culture in an evocative fashion.
Silkscreen print, 34/40. Title inscribed, signed and dated 6/79, 525 x 380mm.
Art+Object, 3 Abbey St, Newton.
artandobject.co.nz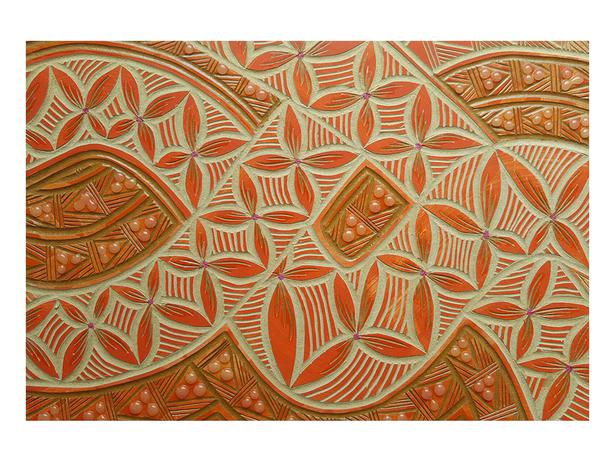 Pacific Flow by Ana Teofilo
$1250 
This work by New Zealand-born artist Ana Teofilo blends her Samoan heritage with contemporary Western art practices. Her works pair intricate painted carving with beaded pathways. 
Mixed media on board, 42 x 30cm
Warwick Henderson Gallery, 255 Broadway, Newmarket
warwickhenderson.co.nz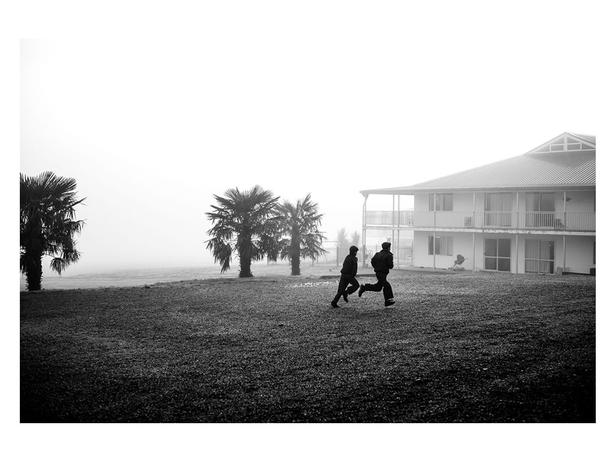 (Boys Running) Untitled 2015 by Cam McLaren
$1450
Photographer Cam McLaren spent time at the controversial closed community of Gloriavale in a remote area of the South Island called Haupiri. The resulting black
and white pictures depict the day-to-day life of the 600-strong community, including social activities, dinner time, the landscape and quiet moments of solitude.
Inkjet print on Ilford Smooth Pearl, 650 x 870mm
Black Asterix, 10 Ponsonby Rd, Ponsonby.
blackasterisk.co.nz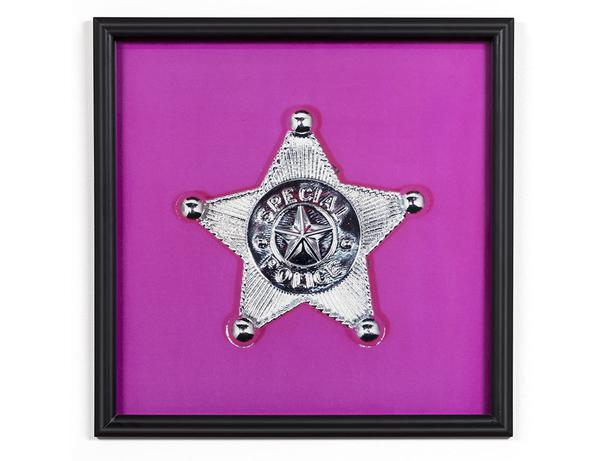 Cygnus X-1 (Special Police) 2001 by Michael Parekowhai
$3000-$4000. Auction February 28 at 6pm
Michael Parekowhai has made headlines lately for his brilliant new work on Queens Wharf, The Lighthouse, but this print dates back more than 15 years, from a series of toy silver badges photographed and cropped against a hot pink background and radically enlarged. The title of the work, Cygnus XI, is the name given to a black hole in the constellation Cygnus. "The little badge is so close, yet so far away," says Mossgreen-Webb's Kate Shapiro.
C-type print, 540mm x 535mm
Mossgreen-Webb's
23-25 Falcon St, Parnell
mossgreen-webbs.co.nz
Share this: