Favourite Things: Gallerist Melanie Roger
Gallerist Melanie Roger shares her favourite things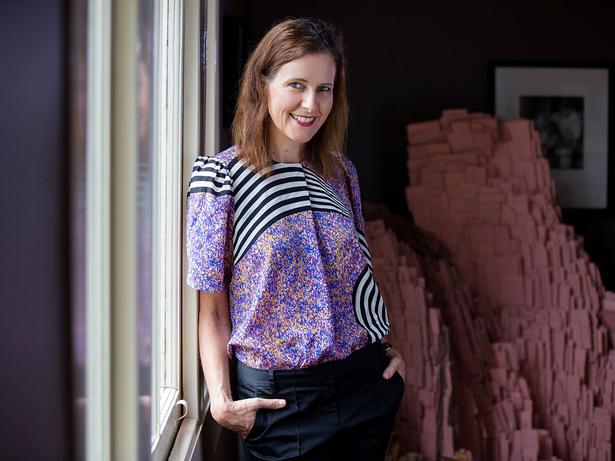 Wednesday March 29, 2017
Melanie Roger's passion for art extends well beyond the Melanie Roger Gallery, which she has owned for seven years.
Along with close collaborations with the artists — both established and emerging — she features, she also prides herself on having a creative home filled with meaningful pieces.
Making art her career was something Melanie had to fight for. "I had always loved art but wasn't encouraged to pursue it at school; from there it was [about] finding a way to make a living from my interest," Melanie says.
Her passion has taken her overseas to work in galleries — most notably the Gow Langsford in Sydney — while for four years she worked with Auckland Art Gallery and was development director for the Auckland Festival in 2009.
The home where she grew up in One Tree Hill was "always filled with books, art, interesting people and conversations. I was lucky".
"I'm a big believer in work/life balance," Melanie says of her own home and work space.
"I now live in a big home in Mt Albert with my blended family, which includes a tween, a teen and an overweight cat. Mt Albert actually feels a lot like the area I grew up in with our proximity to the mountain."
This year Melanie is welcoming a change of scenery as her gallery moves from Herne Bay to the always busy and bustling K Rd. The new gallery location makes its debut this week with a Kirstin Carlin exhibition, Through the Trees.
FAVOURITE THINGS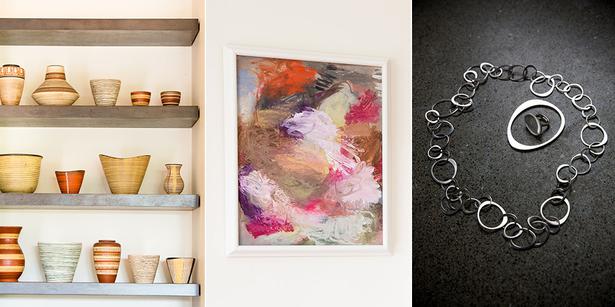 Mid-century ceramics; Art work by Robin Neate; Georg Jensen jewellery. Pictures / Babiche Martens
1. Mid-century ceramics
When my partner Murray [Crane, of Crane Brothers] and I got together we combined our collections of mid-century German ceramics, so we have quite a few now.
READ What to Buy: Thea Ceramics
2. Art work by Robin Neate
It's probably a really obvious choice given what I do. My 12-year-old daughter was asked at school about the culture of her family. This art work is by Robin Neate, whose new exhibition opened at our new gallery this week.
3. Georg Jensen jewellery
This is another present from Murray. This particular set is a design from the 1960s, I love the Scandinavian simplicity and elegance of it.
READ: What Makes Scandi Style So Successful?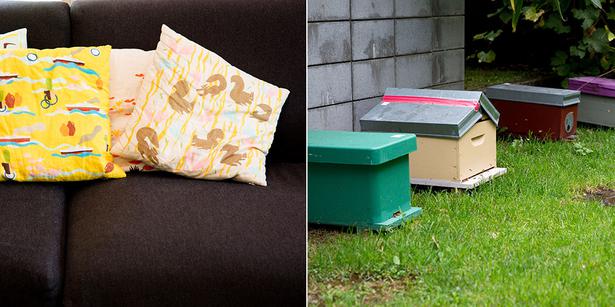 4. Erica van Zon cushions
These were designed and made by Erica van Zon to accompany her exhibition Coffee Perhaps at the Dowse Art Gallery in Wellington. The show looks at influential Wellington art dealer Helen Hitchings and how her eponymous gallery opened in 1949 to critical acclaim.
5. Our garden
A few years ago we built a raised bed vegetable garden which has been fantastic. Also, a year or so ago Murray got me beehives as a birthday present. One of my favourite things to do is to lie on the grass really close to the hives so that I can hear them and smell the honey.
Be inspired by the good things in life. Sign up now to receive emails from Viva, and twice a week you will be sent the latest news, profiles, videos, fashion shoots, competitions and more.
Share this:
More At Home / Features & Profiles