Geeling Ching Shares Her Sleep Routine
Hospitality doyenne Geeling Ching shows us inside her bedroom "haven"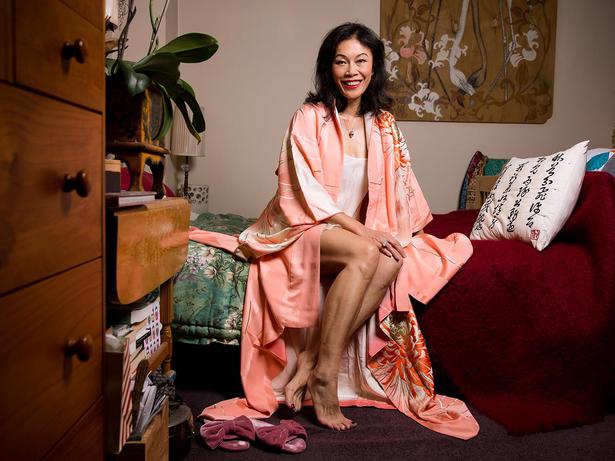 Wednesday June 28, 2017
Geeling Ching wears a beautiful peach-coloured silk kimono, picked up on a ski trip to Japan a couple of years ago. She's in the bedroom of her inner-city Auckland apartment, a place she describes as "organised chaos".
"My bedroom is a cocoon, a haven, a place to dream. No TV. At all. The goal is to get as much sleep as I can. I try to get to bed early, but years of night work are difficult to erase from your hypothalamus!
"Most importantly, if I don't have to set an alarm, I won't. It's such a luxury to just let your body do what it wants sometimes," says the hospitality doyenne who is currently the director of visitor experience for Auckland Theatre Company.
As well as being a successful restaurateur for several years, Geeling's style credentials were cemented as a former model and appearing in the 80s TV series Gloss. But it was her role as David Bowie's love interest in the 1983 music video China Girl, with her charismatic smile, black classic cheongsam collar and bob that cemented her style icon status.
These days, she's put her years of people skills to good use, making the most of quiet time off-duty - preferably with a drop of armagnac in a heavy, old fashioned cut crystal glass, "just to add to the decadence".
"I love people. Making a difference; changing someone's day for the better. I think people are fascinating. The psychology of their responses, the way they behave in social situations, what's cool and what isn't, the desire to belong to a 'tribe'.
The (almost) absolute power of something as simple as a smile. In the end we all have the same basic needs - food, drink, warmth, shelter, love. It's not rocket science. Thank goodness."
How many years have you been working in the hospitality industry for?
Darling that's like asking a woman how old she is; let's put it this way – when I started in the industry quiche was considered foreign and no one had even heard of a cappuccino.
Your job is high pressure and you manage several personalities. How do you manage to stay level-headed in these situations?
If something goes wrong I just try to breathe, stay focused and remember that "this too shall pass". And the pressure is what makes it fun!
What do you do to relax and unwind after a long day?
PJs, a glass of wine, a couple of rounds of Jeopardy. I cook dinner if I have time.
What are you working on at the moment?
Two projects close to my heart: planning for the ASB Waterfront Theatre's first New Zealand International Film Festival season. And opening the new modern Chinese restaurant at Sky City, Huami – so exciting! I'm so lucky to be able to do both.
Share this:
More At Home / Features & Profiles