Favourite Things: Girl Undiscovered's Charlotte Devereux
The entrepreneur and co-founder of new skincare range Girl Undiscovered shares a few of the items she loves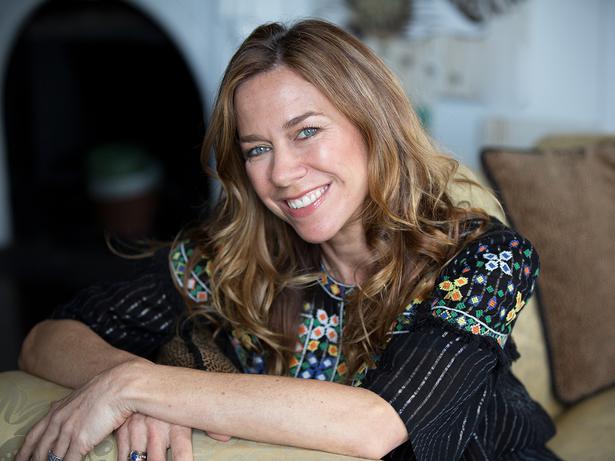 Friday Oct. 6, 2017
Charlotte Devereux starts her day with a headstand — "for an instant face lift and endorphin rush" — followed by a 10-minute meditation for focus.
All the better to juggle her busy married life with an 8-year-old, two teenagers and an energetic dog. Plus a fast-growing skincare business, set up with partners two years ago after she sold the successful EGG Maternity wear company she began with her mother Colyn Devereux Kay.
The drive to innovate is something Charlotte puts down to her "hugely privileged" background in growing up with entrepreneurial parents and grandparents. "Creating is in my blood," she says.
"I am in my happiest place when working hard to find unique and often unexplored natural beauty solutions." This has involved sourcing ingredients, including thanaka from family suppliers in Myanmar, a country whose current ethnic violence she describes as "hugely heartbreaking".
Transitioning from one business to another has been a bittersweet journey. Colyn, the first woman to chair the Chamber of Commerce, had become sick with Alzheimer's.
READ: How to Get (and Keep) Healthy Skin
No longer able to work with her mother, EGG wasn't the same, but the time designing for pregnancy had given Charlotte "a sense of the magical way the body changes," sparking an interest in wellbeing.
From there, Charlotte said it was a natural progression to look at ways to keep the skin healthy, body nurtured and mind supported through exercise, diet and wellbeing.
This ultimately led her to Girl Undiscovered and also reconnected her to her childhood, when Colyn began Les Floralies, drying potpourri ingredients at home.
"I am now blessed to be in the wonderful position of being able to care for my darling mother, as well as create beautiful skincare, which helps me to remember my inner girl, the curious and creative one that I continue to want to be — always learning, or as I like to put it 'a student of the universe'
"I embrace the power of possibility of finding new ways to help prevent Alzheimer's and depression, as well as delving back in time to ancient rituals for everything that I do."
READ: 5 People Share What's Making Them Smile Right Now
Along with her sense of discovery and eclectic tastes, Charlotte is a self-described sentimentalist. "I love to know the history and the story behind my treasures," she says. "I even name them, as many become like people and come to life."
MY FAVOURITE THINGS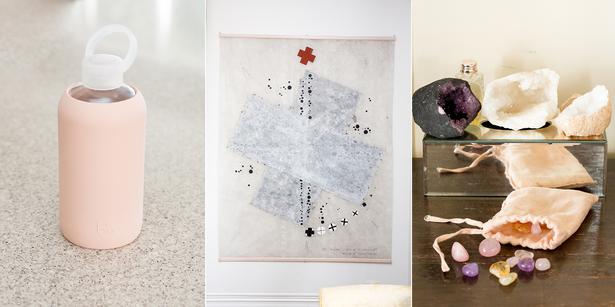 BKR water bottle; Julia Morison art work; Crystals. Pictures / Babiche Martens
1. BKR water bottle
I picked this up in New York where we were exhibiting at the Indie Beauty Expo and BKR were there too, so I was spoilt for choice on colours. The one-litre capacity has definitely encouraged me to get my full daily intake of H2O. As I am so clumsy, the silicone sleeve has proved to be my saviour, plus it looks pretty on my desk.
2. Julia Morison art work
I have watched in full admiration the evolution of New Zealand artist Julia Morison. I am constantly mesmerised by this piece, Olivia's Garden (1992, ink and acrylic), which was inspired by her time living in France. It looks stunning when reversed or floated and every time I look at it I see something new — sometimes something geographic like a bird's eye view of a design for a garden or sometimes something completely abstract. The layers fascinate me.
3. Crystals
I keep a little collection of crystals beside my bed. I have never slept better! Just looking at these beautiful stones calms me and they are wonderful for the mini crystal face massage I do nightly. I also have three geodes (hollow rocks with sparkling crystals) and my children each have a piece of the same crystal next to their beds. We call them our love-connection stones. I've always loved crystals and believed in their healing powers, which is why we've used them in two of our Girl Undiscovered products: our cleansing water and our DIY Facial.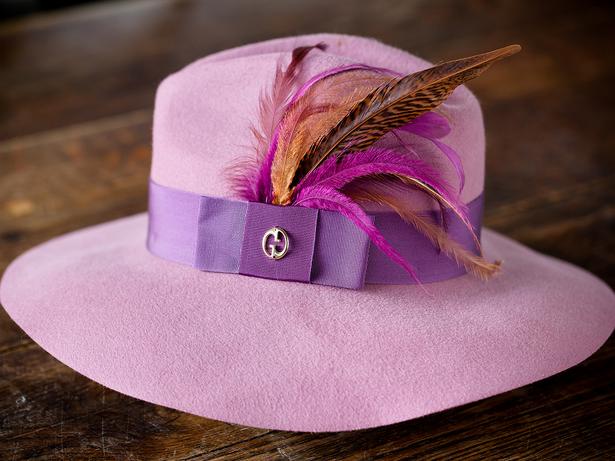 4. Gucci hat
A completely fun and frivolous hat that I absolutely adore — I call her Sabine. I picked her up in a Gucci sale on a crazy weekend in Sydney. I have only worn it a few times and often kick myself for not buying it in black, but I was drawn to the lilac colour and feather plume. I love looking at her in my changing room: like a beautiful object, she always brings a smile to my face. Friends often pop her on when we play dress-ups too!
READ: Where to Recycle Your Clothes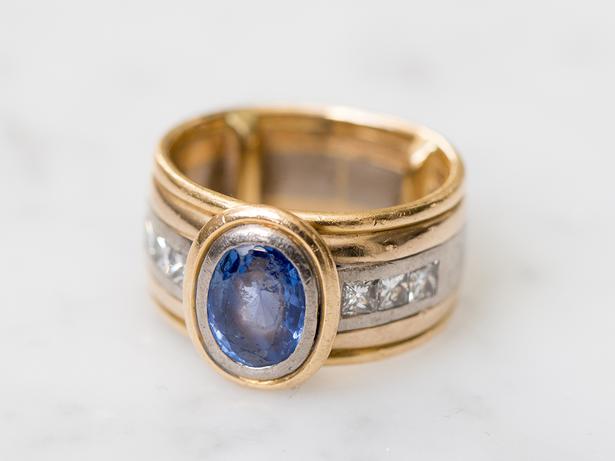 5. Sapphire ring
This very precious piece of jewellery belongs to my mother, Colyn. It is her wedding ring, which she designed in collaboration with my stepfather and Jewellers Workshop. She and my stepfather were married in the ruins of a temple to Cleopatra at Knidos, in Turkey — it was magical. Sadly, my mother can no longer wear the ring as her hands have become crippled from Alzheimer's disease. The beautiful blue sapphire stone reminds me of her beautiful sparkly blue eyes and I hold it dear to my heart.
• Visit Girlundiscovered.co.nz
Share this:
More At Home / Features & Profiles