Hand-woven world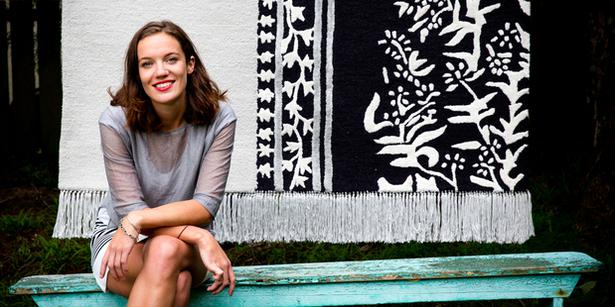 Thursday May 1, 2014
Handmade in Panipat, India, each rug designed by Olivia Smith for her new label Nodi takes two months to craft, with each artisan involved specialising in a different aspect of the weaving process.
"I am adamant that textiles and rugs should be made by hand as I believe [that] imperfection is where their beauty lies," she says, explaining how she is inspired by the texture and tactility of textiles as well as the beauty of travel and nature.
Born in Wellington, Smith studied textile design at the Institute of European Design in Milan, and afterward worked with textile house Zucchi, bespoke atelier Lis Carpenter Milano and trend agency Uragano Studio. Milan was also where she first worked with traditional Indian designs, during an internship focussed on block-printed textiles.
"I loved the tradition of the methods that they use in India and found the flat-printed fabrics and traditional technique used to make them beautiful, but too flat and not textured enough, so began looking at rugs and the knots and loops that go into them and the texture that creates."
After working in Sydney on the launch of Fendi Casa and Kenzo Maison into the Australian market, she moved to India for six months to research and trial weaving, dying and knotting techniques, and soak up inspiration. Her first collection is based on an intricate door spotted in a palace in Jaipur, the bold reds, oranges and blues will transport you there in an instant.
• Available from Tessuti ornodirugs.com.
Share this: