SPONSORED
Harnessing The Power Of Scent To Energise Your Home
How three refreshing and enlivening candles by Glade can elevate your domestic spaces
Sunday Sept. 27, 2020
Scent plays a powerful role in how we experience the environment around us – creating emotive responses, channelling evocative memories, and impacting our energy levels throughout the day.
There is nowhere that we have more control over scent than in the home, nor anywhere that it is so important, and a strategically chosen and expertly formulated scent can enhance and elevate your abode.
Each different room in the house has a unique atmosphere and distinct purpose. Scents should be chosen accordingly in order to make the most out of each space and enjoy them to their fullest.
Infused with essential oils, Glade® candles fill a room with their aroma quickly, and have a long-lasting scent that ensures enduring ambiance. With scents designed by Glade's master perfumer, each candle features carefully layered fragrance notes that will enhance your home.
Fresh and Fragrant Kitchen
A place of bounty, nourishment and life, the kitchen is the heart of the home and integral to family and self-care. Often the first and last shared space we visit in a day, it's important that the room has a restorative quality.
Elevating your kitchen space calls for freshness – whether it's a bowl of ripe fruit or just-picked flowers from the garden – and a curated approach to scent can have just as much of an impact.
To complement the uplifting elements of the kitchen, Glade's Vanilla Passion Fruit And Hawaiian Breeze Candle is a refreshing fragrance that combines two evocative scent stories.
Inspired by the lush, fertile nature of tropics, it features fruity notes of passionfruit, mango, peach and pineapple, alongside a fragrant bouquet of florals like frangipani, and soothingly warm notes of musk, beechwood and amber.
Harnessing the transportive power of scent to foster a sense of renewal, Vanilla Passion Fruit And Hawaiian Breeze Candle can add to an environment that is both calming and invigorating at the same time. The tropical references in the fragrance form a sense of relaxation, while the vibrant, fruity notes call to mind the freshness and vitality of the natural world.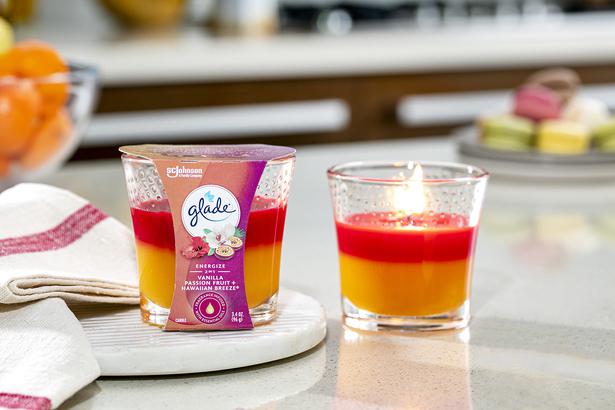 Transportive Vitality In The Bathroom
The room where we wash away the day that's been or get ready for one that's about to start, it's integral that the bathroom is a relaxing and cleansing space – a place where we can calm our body and soothe our mind, while waking up our senses for the day.
This can all be achieved through the power of scent. Glade's Volcanic Coconut candle is an evocative fragrance for the bathroom regardless of the time of day.
A superbly balanced scent that utilises essential oils, this mesmerising candle features fruity notes of pineapple and peach, refreshing sea minerals and coconut water, and the comfortingly warm scents of musk and lily of the valley.
The oceanic nature of this candle harnesses the tremendously diverse context of the sea – refreshing, dynamic and calm all at once – a serene addition to your routine in the morning and at night. Tropical notes channel the inspiring power of memory to transport you, even if just for the duration of a shower, while the warm, woody notes have an invigorating effect, ideal when beautifying or pampering.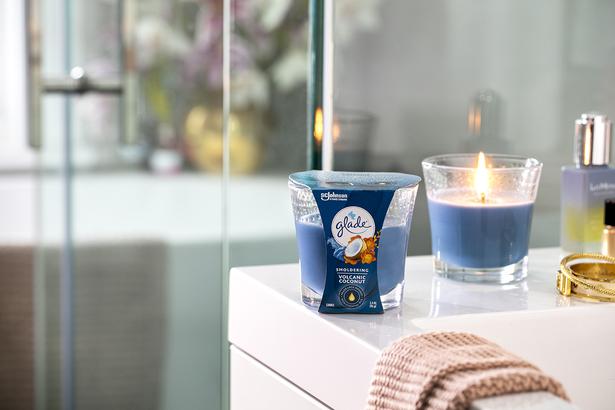 Scents, Sleep and Seduction
Whether rest or romance is on the cards, the boudoir is an intimate space, and integral to maintaining your energy balance and wellbeing as part of daily life.
Fragrance can play a pivotal role in supporting a positive mood in this key room, and creating calming rituals within a soothing environment is a thoughtful way to finish your day.
An elegant and tender scent, Sheer Vanilla Embrace by Glade was formulated with the bedroom in mind. Inherently romantic, it features the sweetness of vanilla and florals like orchid and lily of the valley, while tamarind and sandalwood notes create a soft, comfortingly warm layer to the fragrance.
The low-light of candles helps support relaxation – dimming the lights before bed creates a healthy circadian rhythm (integral to good sleep patterns) and soothes the mind after a busy day.
Meanwhile, the ambiance of candlelight has long been a tool of seduction. Our senses play a key role in romantic encounters, and the evocative nature of scent is one of the most underestimated.
Supporting and balancing our energy levels is an integral role of the home, and by utilising the power of scent we can achieve a relaxing and revitalising environment. Key spaces like the kitchen, bathroom and bedroom are the perfect arena for Glade's most popular candles – with fragrances that can energise, sooth, and sustain balance for you and your family.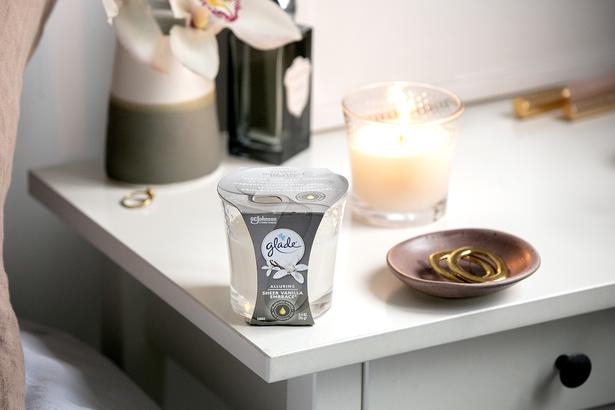 Explore the wide, wonderful range of Glade candles now, available at all leading supermarkets; discover more on Glade.com.
Share this: