How to Create the Perfect Bedroom
Ginny Fisher decorates her own new space and discusses the latest trends with interior designer Katie Lockhart
Tuesday June 27, 2017
Pink, the colour of hope, empathy and, according to colour psychology, calmness. But also a tone associated with girlishness, bubble gum and bad lipgloss. It's a colour I've always struggled with, the shade of pink pivotal to finding it pleasing or repellent.
Then I discovered blush, nude, barely-there pink. Whatever you like to call it, it's a heavenly shade that works as a neutral. It likes sidling up to dove grey, deep green and taupe, even black looks softer beside it.
When I discovered my new bedroom walls were painted in Potpourri from Resene, it guided the entire look for the bedroom. If you're struggling for bedroom inspiration, colour can provide a helpful launching point. Deep green walls, for example, would inspire me to play around with a brass bed frame for 50s glamour, whereas duck-egg blue may lend itself to a chalky palette and pale wood accents.
Instead of introducing a strong contrasting colour, that might have made sense had the walls been dark, I chose to keep the feeling light with a more neutral palette, to play on the subtle tonal interplay between lighter complementary colours.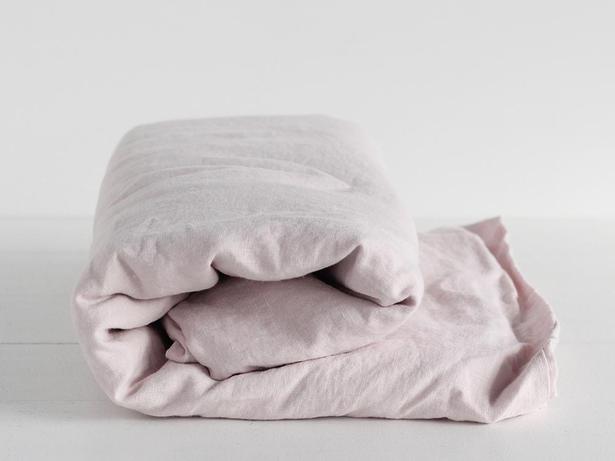 A linen duvet cover by Jamie Kay in Barely Pink, from Father Rabbit, mimics the wall colour and lends a natural textural feeling, and linen sheets in dove grey by West Elm provide subtle contrast.
READ: Tips for Decorating Your Home On a Budget
Throws from French Country Collections, including a grey frosted tipped Mongolian fur and a cream plaid pom pom wool blanket add cosiness and texture. For additional textile layering, a deep green velvet bolster pillow by Citta is luxurious and provides a deeper coloured focal point for the bed.
Lighting should be subtle, warm and directional, to allow for night-time reading, not night-time scrutiny. Dimmers are essential, as are either a decent wattage reading light or wall sconce.
Other bedroom accessories that can transform a sleeping space include greenery, candles and floral arrangements. For a natural look, a few branches of greenery in a simple vase is all that's required, I've always loved the shape and smell of eucalypts or, if you want a more long-living addition, consider a low-maintenance pot plant on a stand — succulents are ideal for lazy green thumbs.
As for bedroom art, if you opt for an interesting headboard, forget the space above the bed. There are so many creative options for headboards these days. An oversized canvas painted in an ombre pattern works beautifully, as does a cheap bedhead repainted or recovered in textured mud cloth.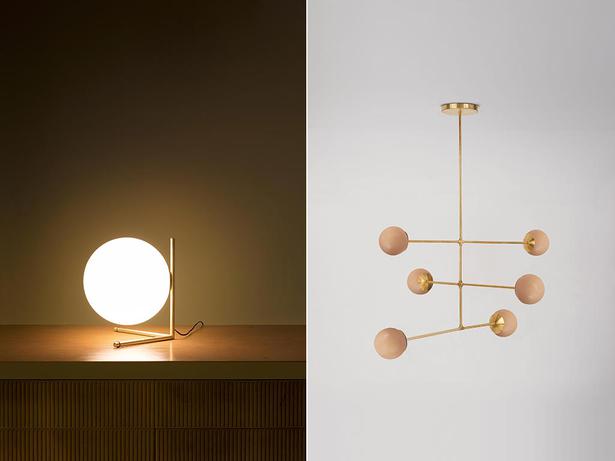 If you do decide to place art above the bed, go for smaller pieces in a repetitive theme or textile art, no one needs a painting crashing on their heads in the middle of the night, it happened to me and I thought I'd been clobbered over the head by an intruder.
For a lighter, less lethal alternative, I found a modern feather wall hanging in a striking black hue in California. It would be simple to create your own with leather, driftwood and found feathers from the beach.
Having been plagued all my life by the need to dump my belongings on the floor, my sloppiness has been curtailed by the simple ladder, mine a natural driftwood variety from Indie Home Collective. Throw towels, troubles, scarves, hats and hoops over it. My bedroom floor is finally a clear space.
LIGHTLY IN THE BEDROOM
Diffused soft light is a good choice. Interior designer Katie Lockhart says, "light has to work hard in a bedroom". She recommends thinking about installing cabinetry light in a dressing room, decent reading lights and ambient light to create a restful space.
As for bedside lights, a wall-mounted sconce is a sensible solution when you are stretched for space. Katie loves Anne Jacobsen's AJ Wall Lamp. We also like Mooi's Moooi perch wall light from ECC.
Or if there is space for a bedside light, the Flos IC T2 Low Table Lamp, also from ECC, lends modernist glamour. Or for vintage chic, a retro bedside light by My Exhibition provides an eclectic look.And for the main lighting feature, if your bedroom is large enough and has a high stud, Douglas and Bec's stunning Line Pendant in blush takes the boudoir to next level grandeur.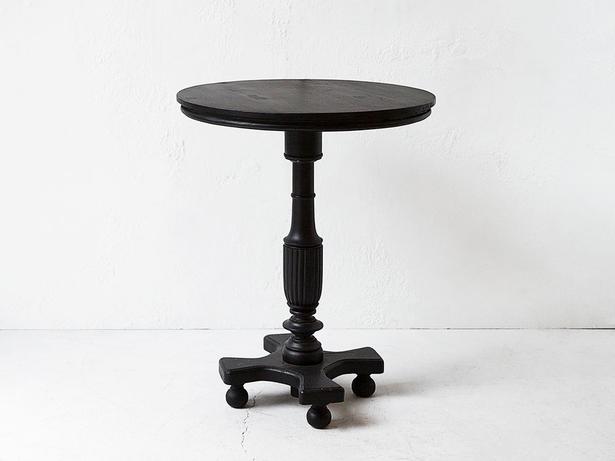 RESTFUL FURNITURE
A bedhead can provide design inspiration for the entire bedroom. For a beachy feel, Citta's rattan Gable bedhead in whitewash adds a layer of subtle texture. And for a more retro look, a wicker bedhead from Shut the Front Door, or Ezibuy, brings relaxed casual cool.
For the modernist, Douglas and Bec's simple curved wooden bedhead is clean and classy. Katie recommends opting for a colour tone darker than your wall colour if you choose an upholstered bedhead.
Side tables take many shapes and forms, for a more organic look, Indie Home Collective's Indonesian Round Side Table is chic and pared black, and French Country Collection's bronze Drum Table adds a touch of glitz. Or for the true glamour puss, Douglas and Bec's Dressing table is the ultimate in bedroom luxe.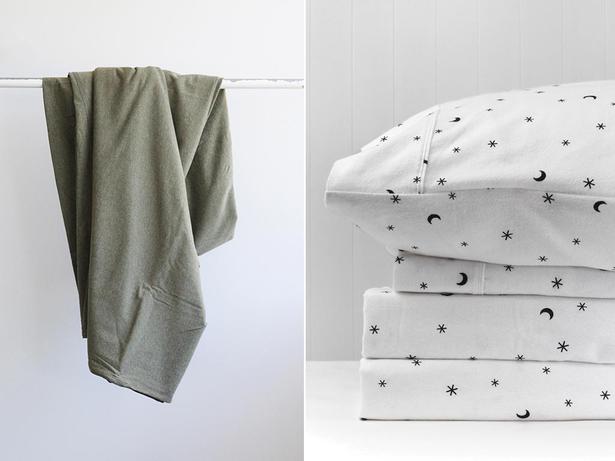 BED LINEN
Crinkly linen remains popular, non ironers rejoice! Katie likes scouring markets in Italy for vintage linen or searching online for Italian brand Societe. Closer to home, we love the range at Father Rabbit, Jamie Kay's range is pre-washed, soft and has anti-allergenic properties.
Other locally available linen includes the French brand, Bedouin Society at Indie Home Collective, that comes in array of dusky, washed out hues.
White monogrammed linen is a timeless classic and Katie recommends this crisp more formal option if you prefer white linen. We found a set of gorgeous linen embroidered sheets and pillow slips from My Exhibition that will give your bed instant vintage appeal.
READ: Angela Wickstead's Luxury Bed Linen
For the deep of winter, nothing beats soft cotton flannelette. Wallace Cotton's Starry Night flannel linen sheets are super soft and cosy and their timeless star and moon print looks as good in a kids bedroom as it would in the master suite.
For a safari-looking alternative try the Dehei range, made from organic cotton with no chemicals, the colour range is simple and striking. We like the natural, organic appeal of their khaki colour or, for a neutral, try the oatmeal.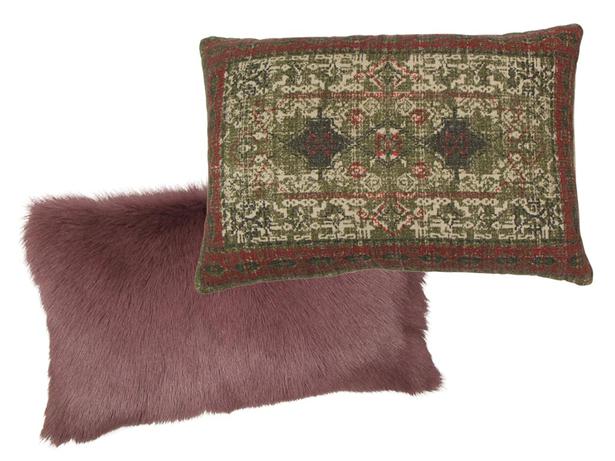 ARTISTIC EDITIONS
Katie believes a bedroom should be a private haven and therefore prefers more personal art for the sleeping space. Maybe family photos or art by your children, objects with special meaning or textural rugs can also add an arty flavour.
Pillows and throws can add additional pattern and texture. We love French Country Collection's range of velvet and Persian pillows, and Citta's linen throws lend natural appeal. Other ideas for bedroom walls include mounted hat collections, vintage portraits and wall hangings.
COLOUR
Restful, warm colours are Katie's picks for the year. She loves soft smoky salmons, warms greys and greens. Her bespoke range, Everyday Needs Colour, was developed in collaboration with paint company, Drikolor. This season, her bedroom pick is hessian, a smoky soft salmon.
Share this: