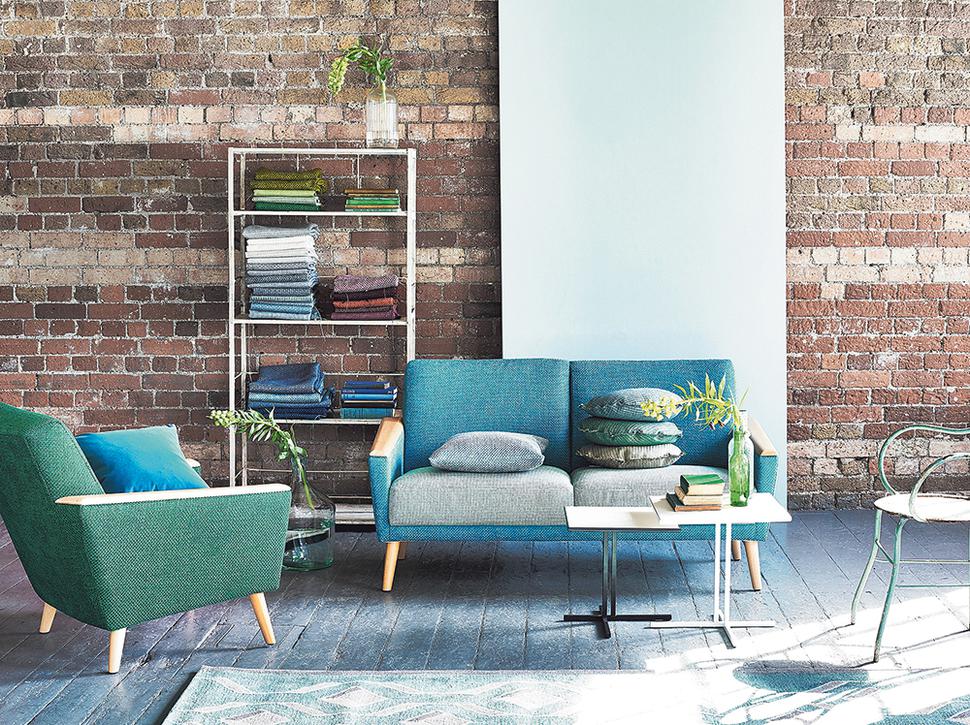 How To Make Flamboyant Furnishing Fabrics Work In Your Home
A colour expert dishes their top tips on how to enjoy bright shades in your living space
Saturday Sept. 1, 2018
It's become a cliche of New Zealand fashion discussions to acknowledge the perpetual taste for wearing black (with occasional ventures into more lively territory of greys, blues, greens and earth tones). But when it comes to interiors, we often skew the other way — towards whites and neutrals, with vibrant splashes of colour.
That's because New Zealand's typically strong light has a habit of washing out interiors in the large-windowed houses that we prefer, says Claire Drake from Icon Textiles, which represents a variety of international furnishing and wall-covering brands.
READ: How To Arrange & Style A Vase Of Romantic Wildflowers
Adding colour helps homes look warmer and more personable, although people are still more cautious about going bold on their walls and carpets, preferring to add colour through soft furnishings and curtains.
With more than three decades of interiors experience under her belt, Claire is well-practised in using colour in a way that creates a balanced and vibrant effect, rather than a chaotic clash, which is the main fear that stops some people from making bolder colour choices.
When considering a palette for a room, she recommends a counter-intuitive starting point of looking outside, rather than inside the space you're considering.
"The first thing people should do is take a good look at their environment," she says. "If you have a beautiful view you may wish to 'bring the view indoors', so that can determine your key colours. If you are in the middle of the city looking at a concrete wall, then you can filter the light with shutters or linen sheers and use all the colour inside."
One of the mistakes that people make when using colourful furnishing fabrics is being too timid with the background colour scheme when they splash out with a bold colour on the furniture. "One of my favourite things to do is use a strong colour on the main sofa in the room if it's not part of a pair, or alternatively on a feature chair," says Claire.
READ: Simple Ideas For Living With Less Waste
"Then you can brighten everything up further with a delicious selection of plain and patterned accents — cushions and throws are great, and if you are lucky you change them with the seasons. However, as a general rule, when using strong colour, don't go for very pale walls as the contrast is too great. Use mid-tones or even very strong colours to add atmosphere."
This can give personality to a large room, which might otherwise feel empty, and create a jewel-box effect in a smaller space. Although fabrics for sofas and chairs need to be hard-wearing enough to withstand years of use, while soft enough to be comfortable, practicality doesn't have to mean boring, says Claire.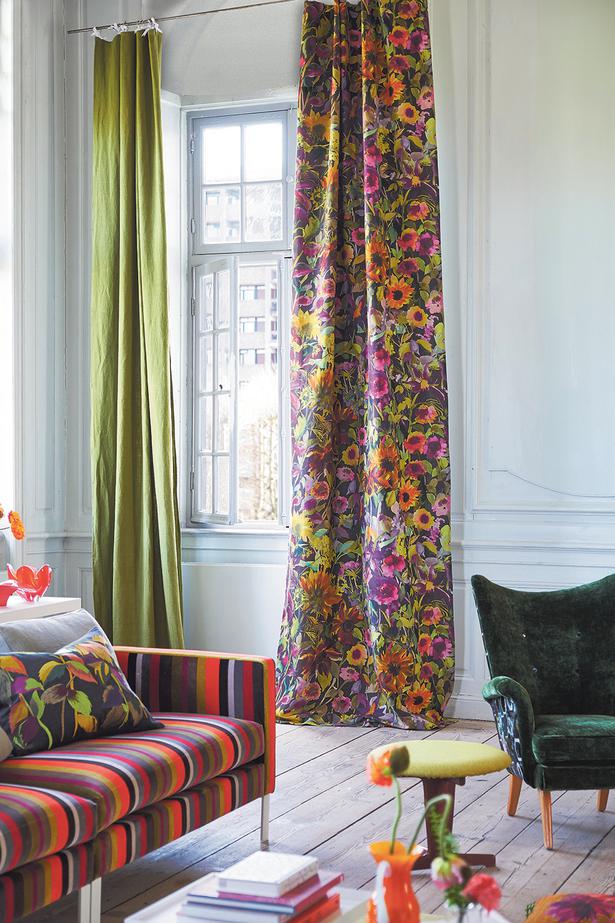 "Even if you go for a practical family-room neutral, make sure it is a colour that tones well with your flooring and preferred wall colours and curtains. If the colours don't tone, the room can end up looking very drab."
Once you've established your base palette, she suggests you dress the room with colourful accents, "like interesting cushions (not in predictable pairs), plenty of books, paintings hung in close groups and fresh-cut flowers. Mix in patterns and textures to give layers and interest.
Think about what you want to feel when you enter any living room — it should be welcoming, relaxing, interesting. You need to feel that you can sit down and enjoy talking with friends, rather than perching on precisely arranged sofas or chairs."
Mixing patterns and colours successfully requires patience and a few practice runs (achieved with swatches and samples), but the important thing is to be true to yourself and what you feel comfortable with. "Some people love strong colour and pattern around them, while others seek peace when they come home," says Claire. "All can be interesting. Don't be afraid to seek some professional interior design advice. Ask around and choose someone whose style you like, and who will work within your budget. You will not be disappointed if you choose well."
READ: Beautiful Ceramics To Add Charm to Your Home
Surprisingly, the advice of an interiors expert may be even more essential when working with a natural or neutral palette.
"A room skilfully furnished in a simple natural palette with a variety of different textures can be very chic, but it usually needs very good quality accessories, paintings and occasional furniture to achieve the right balance," advises Claire. "Most of us do not have all these things, so clever mixing and matching with surprise pops of colour can often achieve a much better result for everyday living."
Claire has noticed an increased prevalence of "tawny" colours in international design collections — "beautiful limey greens with ochres, magentas and soft lilacs, accented with charcoal, and linen naturals. The New Zealand landscape is full of yellow-greens, and these colours suit our light and our landscape beautifully."
Whatever the colour and pattern of the fabric you're considering, Claire cautions against one common misconception. "The biggest mistake made is choosing a polyester over a natural fibre because they think the natural fibre may fade. In this day of high-quality dyes, fading does not usually happen quickly, and when it does it gives an aged patina, which adds to the warmth of a room."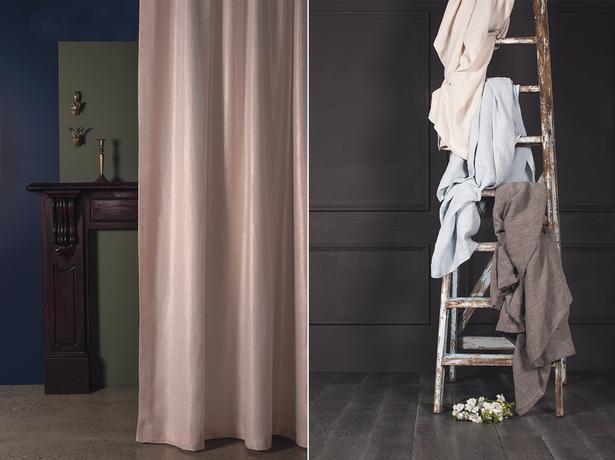 A LIGHTER TOUCH
The soft textures of linen and hemp fabrics bring a natural lightness to windows and furnishings.
Flax is a native of the New Zealand landscape, but unfortunately for the local textile industry, it's not a true flax that can be woven into a fine fabric, like its European namesake. Most of the linens sourced by Dean Watt, owner of linen and hemp furnishing fabric company Hemptech, come from Belgium.
READ: Inside Josh Emett's Dream Kitchen
"One of our fabrics goes through about five or six different processes to achieve its finish," he says. "It's woven, washed, and processed again to give it that lustre." The manufacturing set-ups to achieve such a finish aren't available in this part of the world, he says, and nor are those required to produce fabrics at the wide widths that work best for linen curtains.
"When you're using a heavier fabric for curtains, it's easy to sew the seams so that you can't see them. But with plainer, lighter fabric like linen, the seams stand out. Many of our linens now come in a 3m width, which makes them more elegant and flowing."
Linen is renowned as one of the most environmentally friendly fabrics, with substantially less water required to grow it compared with cotton, and a longer natural fibre, which gives it increased strength and durability, as well as being hypo-allergenic.
READ: Why Your Bathroom Should Be Just As Relaxing As Your Lounge
Dean says it's becoming a more popular choice as consumers become more aware of its environmental credentials as well as its natural beauty. "Some of our customers only want 100 per cent natural, undyed, unbleached linen."
The main drawback compared with other fabrics is linen's lighter weight, which gives lower insulation value, although that light, ethereal look is what buyers usually want. Dean says that double layering curtains, particularly with a thicker secondary layer like hemp curtaining (which is not as refined as linen) is possible.
"Man-made stuff is very hard to compete with [in terms of insulation] but the hemp does help with that. It's still a natural product, so we don't sell it as thermal-rated like a plastic product would be, but it does add a layer of warmth."
Share this:
More At Home / Features & Profiles