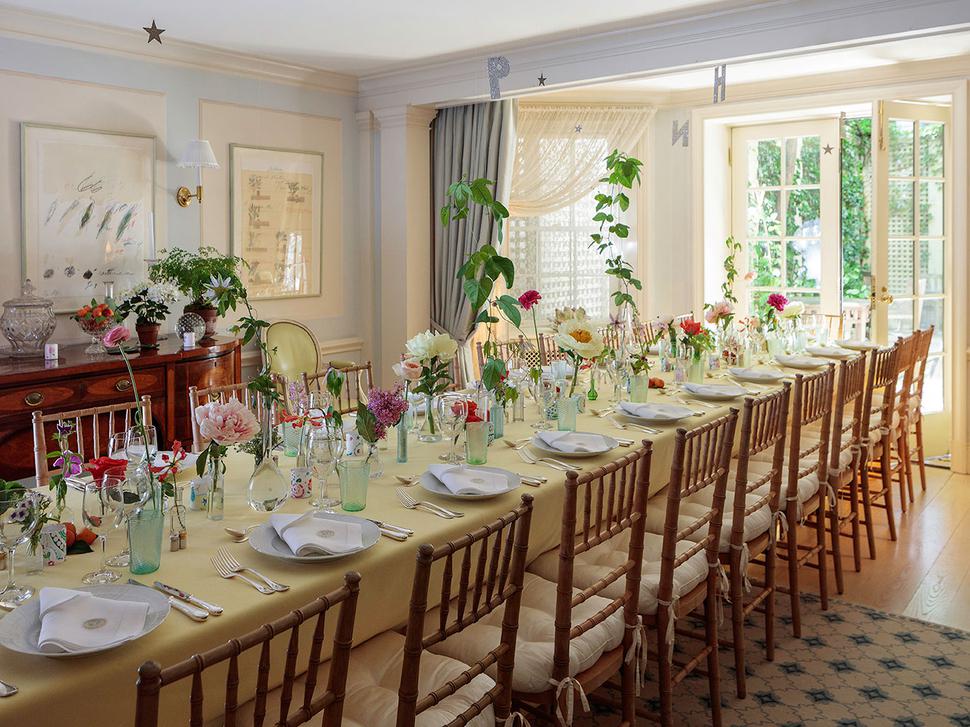 How to Throw a Memorable Dinner Party
Want to stage an unforgettable dinner party? Entertaining guru Cathy Graham shares her expert tips
Tuesday Jan. 30, 2018
If you were invited to dinner at artist and fashion illustrator Cathy Graham's Upper East Side townhouse in New York, you'd no doubt be making mental notes as to what ideas you could steal for your next dinner party.
The invitation was handmade, the place cards whimsically decorated and the tables blooming with her signature "floral landscapes" scattered throughout, single-cut blossoms in tiny vintage bottles she finds mostly on eBay.
Look closely around the table and you'll probably find treasures hidden among the blooms meant to loosen up the most serious guest: a real carrot, a puppet's head or a dollhouse-scale can of Ajax. (Cathy collects miniatures.) Her original entertaining style is explored in the recently published book Second Bloom: Cathy Graham's Art of the Table, by Alexis Clark.
READ: Mahsa Willis' Festive Entertaining Tips
Cathy, a graduate of the Rhode Island School of Design with a BFA in painting, also attended Parsons in New York, where she studied fashion illustration. For about 10 years, Cathy worked on and off with Robert Isabell, the legendary special events planner and floral designer who masterminded high-profile events such as the Metropolitan Museum Costume Institute gala and Kennedy weddings and funerals.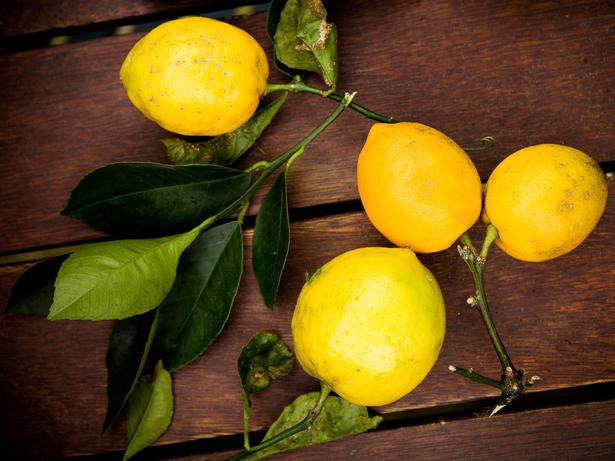 Pluck beautiful peaches, apples or nectarines or buy lemon leaves at a florist shop to scatter amongst the table. Picture / Babiche Martens

The pair met in 1987 when he organised the glamorous, 600-guest 70th birthday party for Katharine Graham, then Cathy's mother-in-law and the Washington Post Co. chairman. Assisting Robert, Cathy learned how to stage a great party.

READ: How to Transform Your Party

"He taught me that it's not just about the table; you have to consider the entire room, the colours of the walls, the lighting, the smell of the flowers, all the senses. "He had this amazing ability to create these magical environments. I started expressing myself more with flowers in a more relaxed way," she says.

Cathy delights in planning her own parties, big and small, and has used her watercolours of botanicals to decorate candle shades and wrap votive candle holders. She is currently designing paper goods, scented candles and pyjamas (in floral prints, of course).

READ: Throw a Trendy Vegetarian Dinner Party

What's something you can do quickly to make your table stand out?
Take a bowl or basket and pick out beautiful peaches, apples or nectarines. Buy some lemon leaves at a florist shop and just place those between the fruits. If you have a big bowl, put rolled-up newspapers as a first layer so you don't need as much fruit.

Place cards seem so formal. Are they okay for a casual dinner?
I think place cards are always great. I buy plain white or ecru cards. In the summer, I may paint them with little shells or flowers. Mine aren't formal at all, since my handwriting looks like I am 6 years old, and I use coloured pencils to write the names of my guests. I personally appreciate knowing where I should sit at a party and I think my guests do too.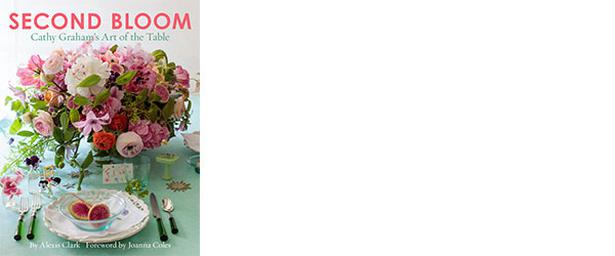 Second Bloom: Cathy Graham's Art of the Table by Alexis Clark. Published by Vendome Press.

Where do you find such a variety of bottles and vases for your floral landscapes?
I get 90 per cent of my bottles from eBay. I look for old medicine bottles or tiny perfume bottles. I love aqua or green glass. The wonderful thing about them is that you focus on that one flower. It creates a spread-out arrangement and you use fewer flowers. You like to plot out your evenings in time chunks and are a believer in a short cocktail hour — only half an hour. Why? I like timing out the evening. Half an hour or 40 minutes seems enough time for people to arrive and have a drink and talk. Then I invite them to the table, because I like to get to the meal itself. Of course, someone is often late, and sometimes the plan doesn't work.

READ: Why Wine and Cheese Pair So Well

As the host, should you always give a toast?
Before dessert, I like to give a little welcome at the table that simply says, "Thanks for coming out tonight." It's a very simple message, but it's important to do it.

What other entertaining tips do you have?
Keep your cell phone handy while you are getting ready. Sometimes people can't find your address, or they call or text to cancel when their babysitter doesn't show up. Or they may call to check the date or time. If someone cancels, it's important to remove their chair and place setting. Don't leave an empty chair at the table.

READ: Entertaining Tips for the Party Season

What did you learn about entertaining from Katharine Graham?
Nobody did it better than her. Her dining room was warm and inviting. Of course, it was a different time. For her, flowers were not the focus; it was the food and the conversation. She would often have someone do her flowers, but sometimes she would have a big soup tureen in the middle of the table with her beautiful silver and china. After the first course, she would personally direct the conversation to a topic, and she wanted to hear from everyone about it. She had amazing guests. I used to be intimidated by this and was horrified that when they came around to ask my opinion on, say, perestroika, that I would not know what to say.

What would be your list of ingredients for a good dinner party?
For me, it would be the flowers, the guests and, somewhere down the line, the food. For me, the ambience, lots of candles and getting people together is what it's all about. There is something cosy about entertaining at home. I always tell people don't be afraid. It's fun.

— The Washington Post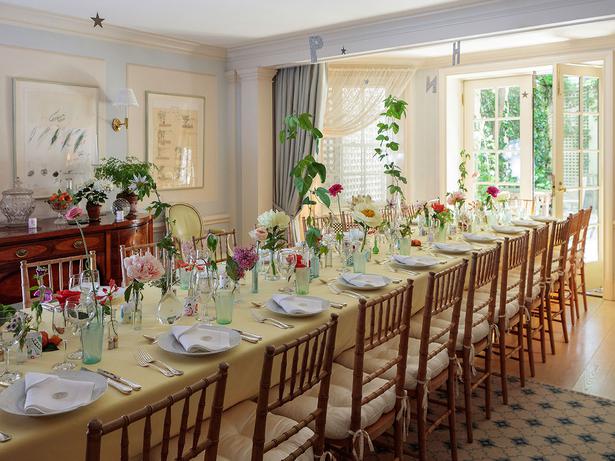 Share this:
More At Home / Features & Profiles