Inside Interior Designer Alice Sharp's Home
Interior designer Alice Sharp is opening up her own home for charity. She tells Ginny Fisher why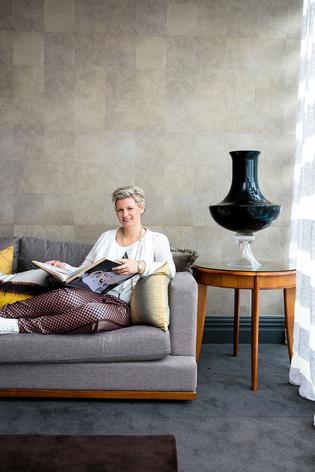 It's hard to resist running your fingers over the walls at interior designer Alice Sharp's house. Down in her den, there's a cowhide-like tiled wallpaper in a warm dun; its textural quality brings a cosiness to a room that might otherwise feel cold, due to the glassy view over the pool. On closer inspection the "skin" is actually textured vinyl. Upstairs in the kitchen, what looks like cream plaster moulding panels, right out of Marie Antoinette's palace is, again, wallpaper; this time it's foam-backed to create a three-dimensional look that's deceptive, intriguing and spotless.
Up the stairwell, what appears to be a natural linen wallpaper is once again, textured vinyl. And in the girls' room, a pink paper printed with crystal motifs is feminine and delicate. But the piece de resistance hangs in the lower level stairwell, a floor to ceiling, whimsical bird paper that looks hand-painted.
All these wonderful wallpapers were made by the French interior design house, Elitis, so predictably this newly built Remuera home has been dubbed the Wallpaper house, and it will be open for viewing as part of the annual St Cuthbert's house tour — a look into nine private and stylish homes in the Eastern suburbs.
But why on Earth would any home owner want 1000 people stickybeaking through their homes, while they vacate for the day?
For a charitable cause, of course. The tour raises funds for the school's annual scholarship, allowing one budding student who might not otherwise have been able to afford the school's annual fee, a chance to be educated at St Cuthbert's, a private school for girls that ranks among the best in the country for academic achievement.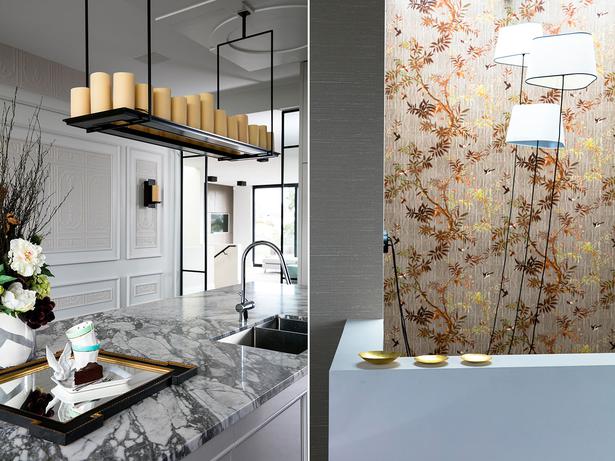 "The people who share their homes are moved by the cause," explains Alice and though not all of the homes on the tour are families with girls at St Cuthbert's, all have a connection to the school.
Alice, who runs her own business, Linea Design, happens to be an old girl, and has taken on the task of styling the homes on this upcoming November tour. And like her own home, every dwelling has a defining stylistic element. Although each home on the tour will be a surprise, she's willing to offer a few snippets on what to expect.
"One house has an eclectic collection of coloured glass, which is as vibrant as the personality of the homeowner; another is an ultra-modern cliff top residence with moody art and rich velvet drapery, and there's an old-fashioned palatial Remuera mansion with park-like grounds and a collection of vintage wooden pull toys."
Her own home is a collaboration with her husband, who owns a cabinet-making business. It took the couple three years to build the cedar-clad and pre-cast shuttered concrete home, which has a modernist exterior and a glamorous interior. Alice has been hands-on with the interior details, from bespoke cabinetry and furniture to designing motifs that are repeated throughout the house.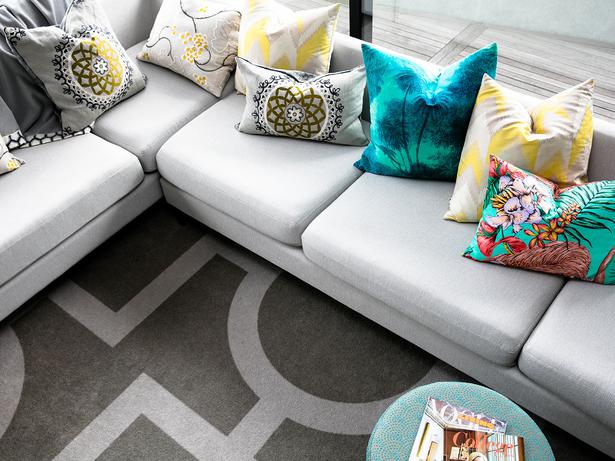 "I found this design of a circle and a square on some stationery and decided to repeat it throughout the house." The pattern appears in ceiling panels in the kitchen, a custom floor rug in the living room, the front door and in the box hedging design in the front garden.
Being in the design world gives Alice inside information on new products in the pipeline. She's really excited about a new benchtop material that will be imported by European Ceramics.
"Porcelain is virtually indestructible," she says.
Not surprisingly, with a cabinet-maker in the house, there's custom cabinetry throughout. In the kitchen, Alice chose a deep brown two-pot lacquer finish in high gloss on one side of the kitchen, in contrast with an off-white gloss for the cabinets on the central island. "You don't have to follow the one colour scheme in kitchen cabinetry, contrasting colours can be striking."
In the living room, the audiovisual cabinet was designed by Alice in a geometric veneer pattern.
"My husband is my harshest critic," she laughs. Often they work on designs together.
The kitchen table looks like an ECC piece, but was in fact an old oak table inherited from her husband's parents. "We sanded it back and lacquered it in black, the glass top will prevent the top being damaged. Now they've seen it, they want it back!"
Quirky detailing like a fruit bowl worked into a front door handle brings surprise to the home, as does the jellyfish light arrangement floating over the stairwell. The shades, with striking red cords, were sourced from local interior store Ambiance and grouped together to create a stunning sculptural installation.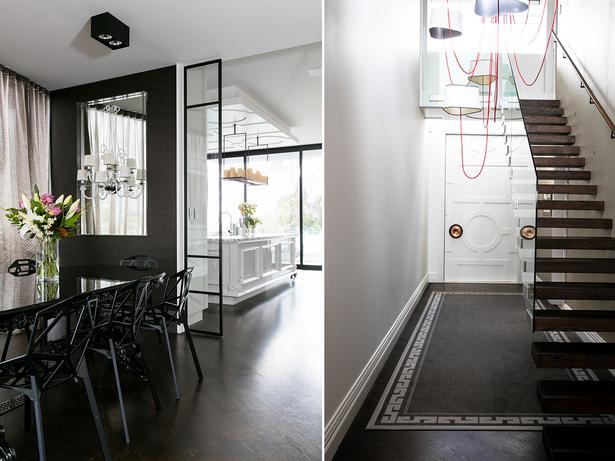 Another interesting light choice is a chandelier sconce Alice found in an ECC sale. She mounted the sconce in a Perspex framed mirror box, so when it's turned on, it has an impressive doubling effect — like a full 360-degree chandelier.
Alice is an Elam fine arts graduate and her striking collages appear in both children's rooms. She'll often make use of exquisite wallpaper samples and fabric swatches for her quirky assemblages.
Although the home is new, Alice and her partner have lived at this address for many years.
"We lived in an old Cape Cod-style house on the road front property for 15 years before buying the vacant section behind us."
The home was riddled with borer, so they decided to knock it down and build across both sites. After extensive earthworks, the new site is tiered on three levels, and so is the home.
With summer coming, Alice is looking forward to using their 12 pool, situated on the lower level, under the cantilever of the house. Alice says they chose their pool to complement their home, rather than looking to trends for inspiration. "To connect your pool to the home, try linking the decking or tiles to a material used on the home's exterior, this way the pool will feel like an extension of the house. Don't forget about outdoor lighting, it will allow you to use the pool long past swimming hours."
Lastly Alice advises giving yourself plenty of time when planning your pool.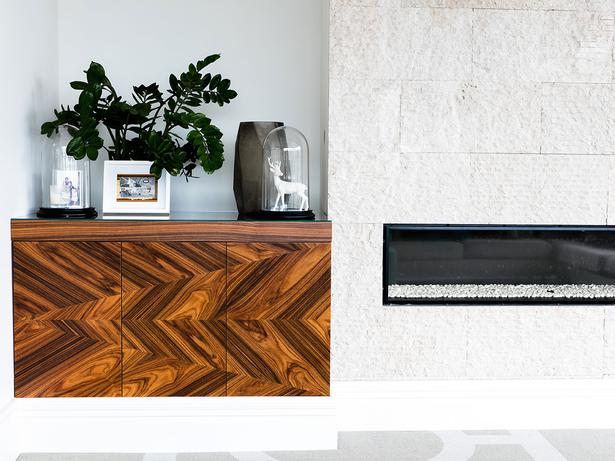 "Scale it out, then check to see how much sun it gets at different times of the day. Think about privacy and where screening might be needed or whether trees shedding foliage might require you to build a cover from the outset.
Last but not least, get a detailed breakdown of costs from the construction contractor, so you don't get any nasty surprises."

Alice's interior advice
• Invest in quality pieces, especially sofas — they can be recovered for years to come.
• Reinvent artworks by giving them a new mat and frame.
• Find fabric you like and create custom pillows and throws.
• Don't worry about using different whites on walls.
• Custom-spray an old chair for a new look.
• Look for fashionable or seasonal colours and translate these into cushions or throws.
Share this: