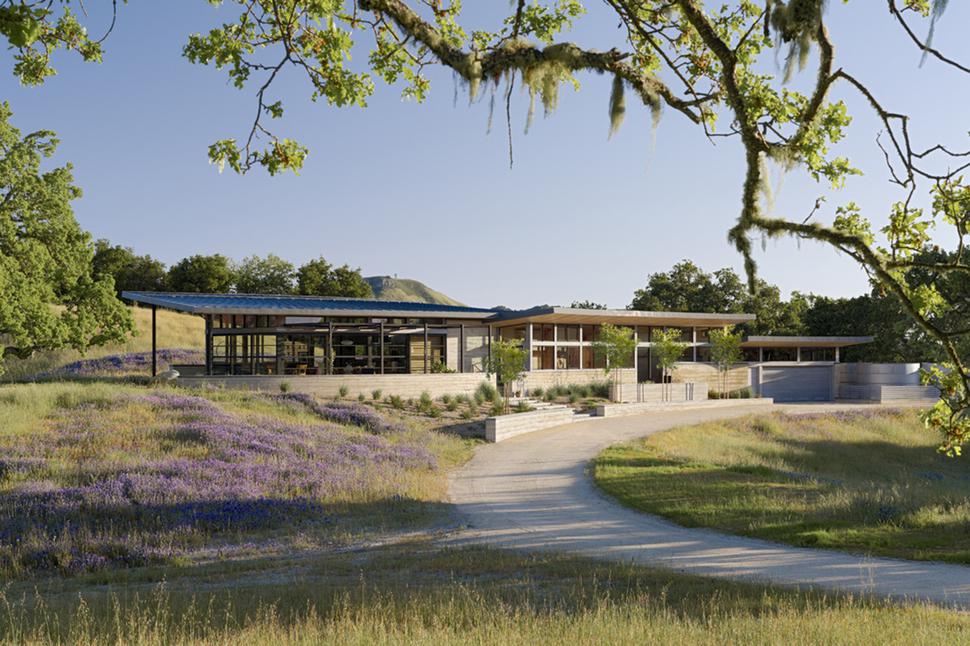 Step Inside The Modern Ranch House Of 'Malcolm & Marie'
Set against rolling hills and a sea of wildflowers, this mid-century-style gem hasn't gone unnoticed in Netflix's new Zendaya-studded drama
Sunday Feb. 7, 2021
The Santa Lucia Preserve reads like the perfect pastoral cocktail.
Rolling meadows undulating with wildflowers and a gentle breeze disappear into the horizon, as if shaped by the principal memories of a far-flung fairy tale.
Located on this 20,000-acre property, near Carmel's Pacific Coast, the Caterpillar House — which takes its name from its cylindrical-shaped plan — has been expertly stirred into this Californian Xanadu.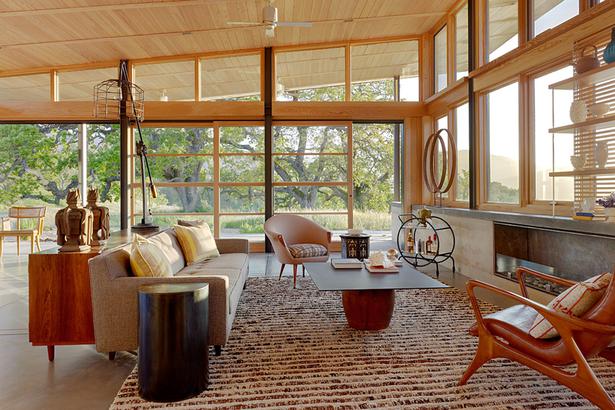 It has been built not merely on but of the land, placed below the crest of a hill rather than on top of it, and moulded by massive walls made out of the excess soil that was produced as the site was excavated.
READ: The Modernist Legacy Of Titirangi's Iconic Brake House
Positioned this way, the home moves from west to east, sprawling its way towards a boxy dell with a small environmental footprint thanks to these thermal mass walls, which help regulate temperatures from day to night, a passive heating and cooling system, and solar panels that allow the home to create its own energy requirements.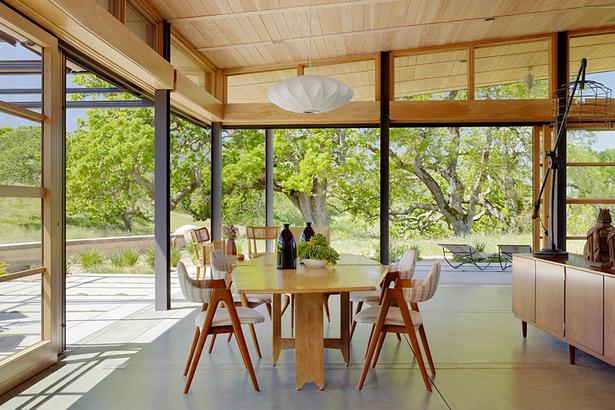 For a client whose previous abode was crafted by American architect Cliff May, an expert of mid-century modern design and a progenitor of post-World War II ranch homes in the state, the design is as much a reflection of personal tastes as it is an extension of its wild location.
"The house remains true to the early ranch ideals of informal California living with its horizontal roofs with large overhangs, open plan, and emphasis on outdoor living," says Jonathan Feldman, whose San Francisco-based studio, Feldman Architecture, oversaw the project.
"Our curved walls, along with the steel structure and modern window walls, allowed us to take a ranch house and turn it into something more contemporary."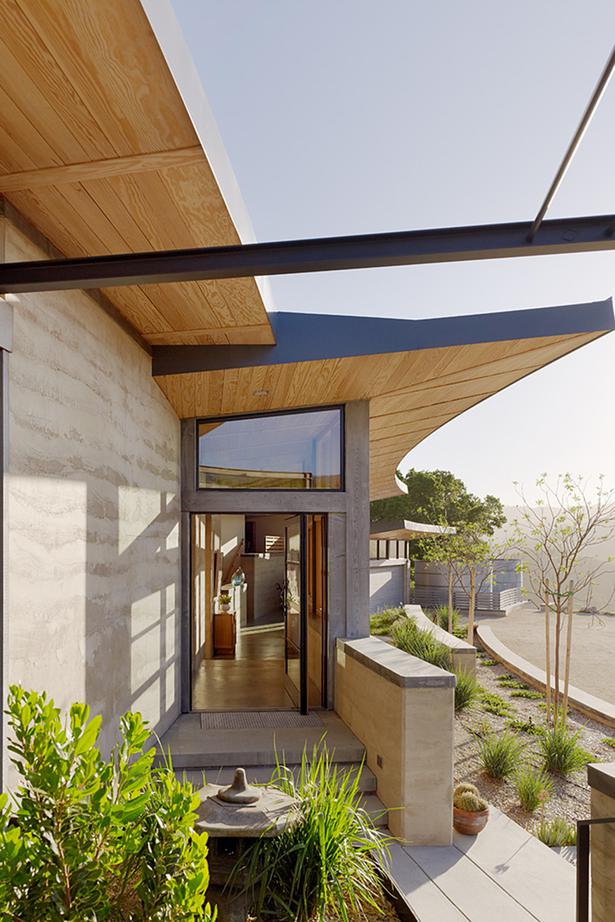 Like any good mid-century-inspired home, the interior looks practically dipped in a honey glow. Light woods dress almost every visible surface; chic wares and devilishly smart furnishings simply pepper the areas in between, filling the space sparingly without ever crossing into the austere.
"We wanted to keep the materials natural, warm and textured to counter-balance all the glass walls," says Jonathan, adding that the combination of concrete floors, douglas fir and white oak tie into the surrounding meadows and large oak trees, which anchor the property.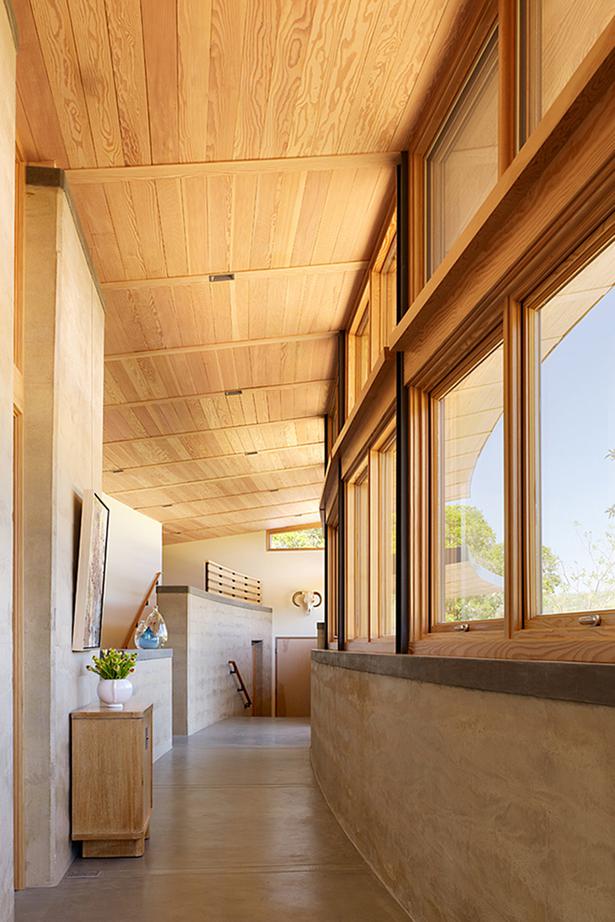 The hallway. Photo / Joe Fletcher

All of this is seamlessly stitched together, crafting an internal flow that pools at the central kitchen before making its way outdoors.

READ: A New Zealand Couple's Award-Winning Melbourne Home Is A Design Masterpiece

"The floors are flush with the outside patios so that when the glass walls slide open the perimeter of the house disappears," explains Jonathan of this movement.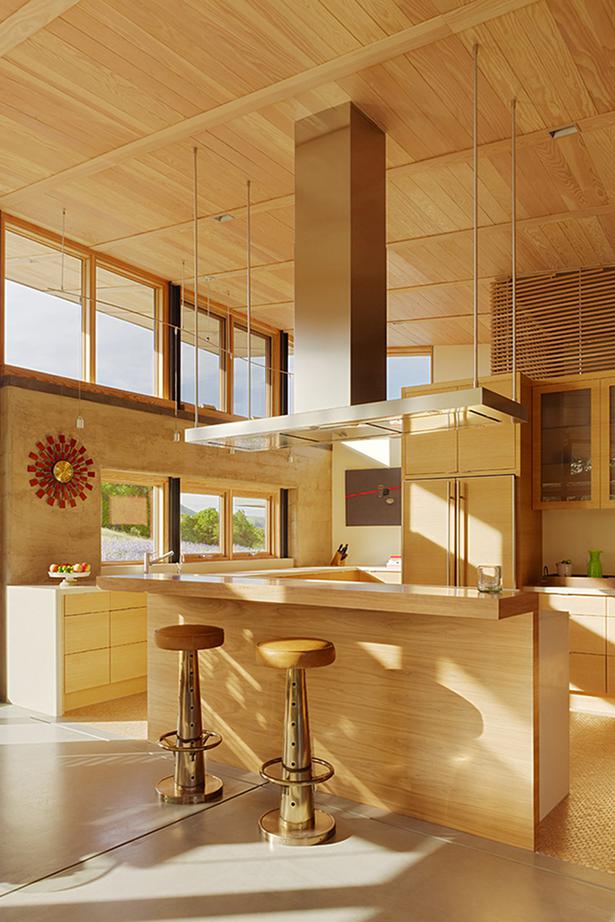 In its splendid isolation, a solitude promised well into the future (only 10 percent of the 20,000 acres is up for construction, the rest is devoted to land conservation), Caterpillar House has riven the bucolic setting with a fabulous intensity and a soft footprint.
For a modern home that takes its cues from a bygone era, its attraction may be these varying degrees — of strength, of sinous curves and clean, simple lines  — worn astutely, even enchantingly, with pride.
Share this: