Interior motives: Cassandra Ellis' creative journey
London-based New Zealander Cassandra Ellis describes the emotions that drive her personality-focused style of design.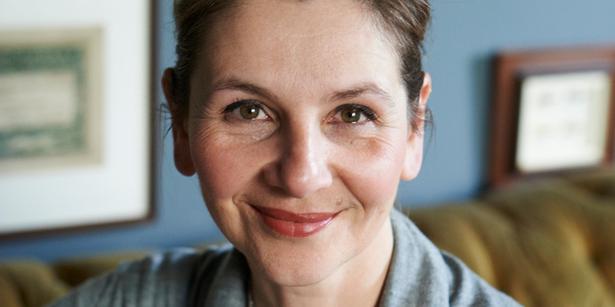 Thursday Dec. 19, 2013
New Zealander Cassandra Ellis has carved out a successful career in London based on her love for contemporary crafts and design. From her studio she works on private commissions and projects for interior design, runs workshops, and teaches at Charleston House in East Sussex.
Her work has featured in publications such as Elle Decoration, House & Garden and the Guardian, and she is the author of several books. Her latest, Cloth ($59.99, published by Kyle Books and distributed here by New Holland) is full of inspirational ideas for the home based on natural materials like linen, wool, cotton and leather, antique textiles and silk saris.
From creating a linen headboard to making a felt pouffe, from tie-dyed curtains to a wool covered stool, the projects are contemporary and stylish. Cassandra shares her creative journey with Viva.

Your journey so far?
I was born in Papakura, South Auckland. It was the city my great-grandfather emigrated to in the 1870s so it has a long history for our family - the Papakura hospital, schools and cemetery have looked after many of our clan from start to finish.
It was a fairly simple place to live, which is no bad thing, but by 17 I was ready to move to town. I studied business and media and went into marketing after graduating. I naively hoped that marketing was about the why and who, not the what. My grand illusions of working within the ideals of Thoreau and Maslow were shattered once I was in charge of printing brochures and organising parties.
My first job was with TVNZ which was great, but after a couple of years I realised that there had to be more - more of what I wasn't quite sure, but more of something. So I packed my rucksack, took my $800 and booked a one-way ticket to London.
Once I arrived I realised the only person I knew in London (although I didn't really) was Brent Harman, who had been the chief executive of TVNZ when I worked there. He was running a TV company in London so I just rang him and said I needed a job - the courage of a 22-year-old.
I got one, which was very lucky as I was down to my last £50. I spent a very happy eight years in London - buying a house, acquiring a horse and travelling to great places. Then a boyfriend died and my mum was diagnosed with cancer. I became a bit stuck.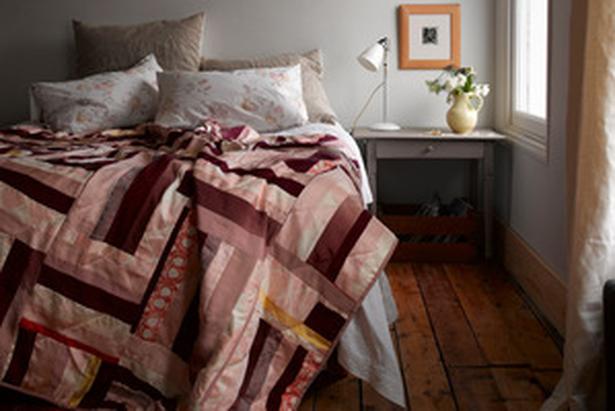 I just sold everything and moved back to New Zealand. I stayed in Auckland for seven years and within that time my mum got better, one sister died and my other sister had my wonderful twin nieces, so it was right to be there then. I wish I could say New Zealand is the right place for me, but it isn't.
So I moved back to the UK and my husband and I live in southeast London with dogs, and his children part-time. I'm happy here. I'm content standing in front of a Barbara Hepworth sculpture as much as I am roaming the East Sussex Downs.
I like the diversity of people and places and the opportunity to be anyone you want without judgment. I do miss beaches with sand and the unique smell of the New Zealand bush and coast.

Talk us through your design philosophy.
We basically need somewhere to shelter and within that somewhere to eat, sleep and sit. These things shouldn't be complicated, but they have become so because of people's "need" to buy and to replicate a look that they have been sold.
I do workshops in the UK and am continually surprised that people feel they need permission to decorate their home in a personal manner and to use the space they have in a way that suits them. I think that home is a very simple place - but a very personal one and we should embrace that.

How does living in Britain affect your approach to design?
Every day I can learn something new and that is so integral to who I am. I live within 15 minutes of the Tate Modern and Tate Britain. A quick bus ride and I can see a Paul Klee exhibition or watch a modern installation - that's amazing. The buildings are incredibly diverse - ancient next to super-modern, so contrast is always stimulating.
The landscape is as diverse and you have quick access to Europe and Northern Africa. We recently came back from a quick trip to Amsterdam, which was so inspiring. The galleries hold talks and lectures.
In the past year I have listened to Terence Conran, Cath Kidston, Alice Rawsthorn, Paul Smith and Tricia Guild to name a few. Food culture is huge - and you can eat very well for not very much these days. And there is music.
You can hear opera on the street and exceptional jazz in the crypt of a church. In saying that, I did see Dave Dobbyn and Don McGlashan last week and cried the whole way through.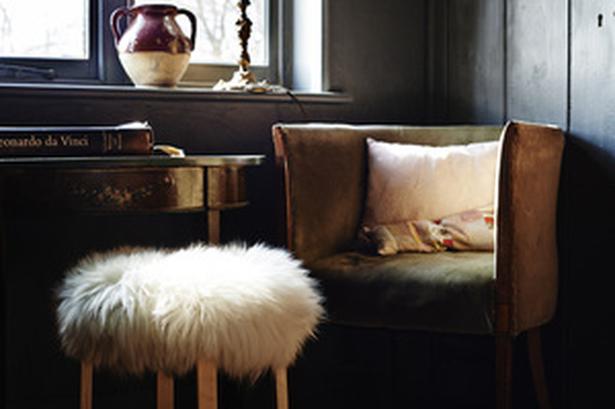 Describe your own home and the areas you particularly love, and why they work so well?
To be honest, where we live now is not our ideal home. We decided to endure some short-term pain to finally end up with a home we can rest within. So it is what is within that is important at this stage. We have many books and some beautiful art
All the pieces of furniture are "keepers" and will move with us - I think that this is important, but a mistake people often make. Don't buy for now, do without and then buy for a long time. Filler furniture never makes you happy and it just ends up in a skip, which really is unnecessary. In saying that, it is a beautiful house and a happy home.

Who do you live with?
I live with Ed and our two dogs, Lily and Mr Darcy. Ed works as a creative director in verbal identity - which is exciting work. He also looks after me well - which is even more exciting. Lily travelled from New Zealand with us and Mr D is the young gun.
Ed's children live with us at weekends and his son, Oscar, is moving in with us next summer so he can complete his schooling in London.

What and who inspire you right now?
I've been studying the art of the St Ives group for the book I'm working on now, and that has been a joy. As a tribe, they were simplistic and optimistic - although I'm sure some of them were deeply narcissistic too.
Paring back is an important idea to me now. Although I embrace my Mac and iPhone, I use them as enablers only. "Noise" in our lives is ever increasing, but I'm seeing fantastic counter-culture to this.
Dan Pearson - the gardener - has had an exhibition on his work recently and it was truly inspiring. greenfuse.danpearsonstudio.com.
Last summer I spent a lot of time in public gardens as research for a project. It was a great British summer and seeing the growth - in both senses - of wild gardens was exciting. The refurbishment of the Tate Britain has also inspired me - a dynamic re-hang of the art as well as creating exciting new spaces to linger in.
Many designers are using the idea of handcrafted in a streamlined, easy way, rather than a vintage, messy, crafty way - I applaud this move on. I really think "the-bits-of-shit" in our lives have to go. It makes us stressed - nobody needs three TVs or four dinner sets.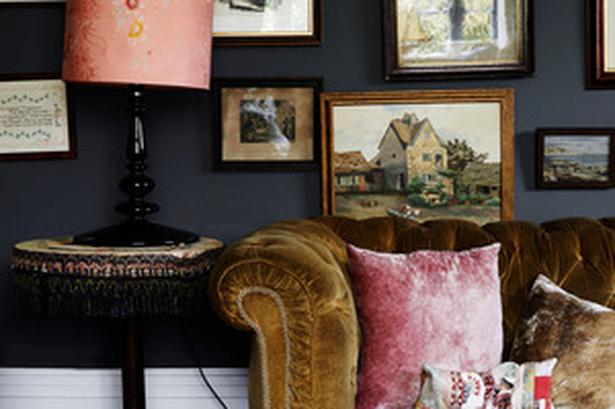 Explain the process when you start working with a new client or project?
It goes back to my being nosy. I want to know the why and the who. The what is almost irrelevant at the beginning. I always prepare a detailed questionnaire, which I work through with clients.
I want to know how they live and what they want out of life, not that they want to use this paint colour because they saw it in a magazine. That colour may not work for them or their home. People are often worried about how their house looks, rather than how it feels and I try to encourage them to think about the latter.
If I'm working on a book project I apply the same process and gather a moodboard of artists, colours and places to give me an overall sense. This helps the photographer, book designer and publisher understand what's in my head and what I'm going to produce.

What do you predict will be the biggest interior trends in 2014?
I hope that the past five years have taught us a great lesson. Stuff or the pursuit of it isn't as important as we thought. Our first reaction to the recession was to stop spending altogether, then came make do and mend where a rise of craft classes and shops taught us skills and sold us kits - some useful, some not.
The point of making was to create useful things for little cost - this was somehow lost. Then we thought about up-cycling, lo-fying and recycling. Nostalgia and vintage made us feel comfortable; and improving, not moving home was the thing to do - even if it cost you more.
Meanwhile, technology has ramped ahead and everyone has an opinion on this design and that design - more and more people are telling you what's cool, what's good and what you and your home should look like. There is more information to digest and ironically, more things to buy.
As we move ahead, I think we just need to simplify and focus on actually what is important - you, your family, your home and your choices. It should be about how to evolve and move forward, rather than the exploring and experimenting as we have done.
Other people's opinions won't matter unless they are experts - note the decline of blogger influence. Anything contemporary will see a huge resurgence in interest, as opposed to the passion for all things vintage we have seen in recent years. It's time to look forward.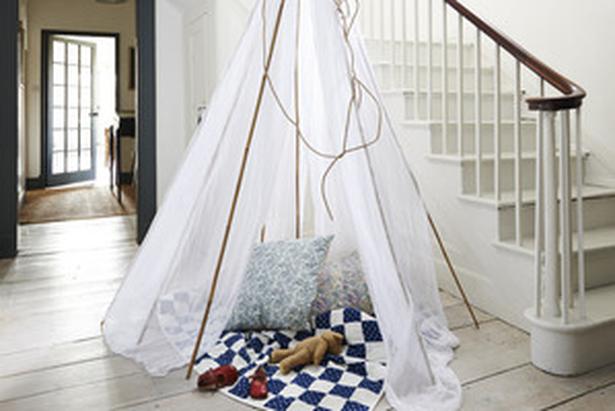 What are your favourite colours, textures, and materials at the moment?
Thinking about paring back and nature, I'm drawn to light, almost non-colours as well as Mother Nature's natural sheens - the way a shell is both shiny and matte together feels right. I'll always be passionate about wood and I'm enjoying working with different British woods - ash, walnut and elm.
I like to see the hand of the maker, so I'm more inclined to use a plain Irish linen than a brightly printed cotton. I will always try to use an artisan to make anything new and then balance this with old and handmade.
Old doesn't have to be antique - it can just be old. Light and reflection are really important to me as I live in the middle of the city, as is a garden. I've always had a black, white and grey palette personally, but it's time for the black to go - I need a bit more optimism.

Tell us about the community projects you are involved in?
I work with Habitat for Humanity to improve the design spec of the homes they provide for those who need them. The key to this is not spending any more budget than usual, which is challenging but really rewarding. We've just finished two flats for women who have endured a terrible life we can't even imagine.

The perfect home should ...
Fill you up.
Share this: