Interiors: Home is where the art is
Leanne and Brian Culy draw inspiration for their many creative projects from their sprawling villa in Hawkes Bay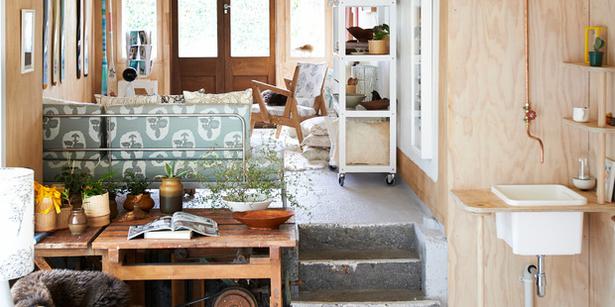 Thursday Jan. 31, 2013
It's coming up to eight years since Leanne and Brian Culy and their two daughters moved into Balquhidder House, a "great big old rambling villa" in the Napier hills, complete with swimming pool, tennis court and more rooms than they knew what to do with.
The house sprawls elegantly across the hilltop, all cool white washboards and intricate woodwork, kept company by mature trees and plenty of visitors, and gallantly guarded by the Culy's three feisty fox terriers.
It has given is generous space to the couple's blossoming businesses and creative endeavours - Brian being absorbed in photography and film projects as well as the joint venture that is Homebase (more on that soon), and Leanne having shifted from graphic design to painting (beautiful, detailed wooden oars are her signature) then adding an admirable number of successful side projects in printing, textiles and interiors.
"We've just filled the house up with our life of work really," says Leanne.
Hard work and that penchant for interiors has seen the house transformed to suit the busy family inside with spaces set aside both for painting and photography, a workroom for Homebase, rooms simply for living in, a customised kitchen and a garage in the garden newly converted into a breezy little showroom to exhibit both the couple's own work and flights of fancy.
"It was in really good condition actually," Leanne says of the house, built in 1861 for a Captain MacGregor of the 65th Regiment, who named it in honour of his ancestral home in Scotland. "But it totally needed redecorating. It was full of opulent gold and fruity wallpaper friezes, so we just slapped a coat of white paint on everything, and dyed the carpet, which was pale blue ..."
One of the most significant recent Balquhidder makeovers was in the hub of the home - the kitchen.
"Brian and I collaborate a lot," says Leanne, "and he and I did a Whittaker's chocolate cookbook recently [the mouth-watering A Passion For Chocolate] and we've done lots of food shoots - we love shooting food - so we kept photography in mind when we renovated it. You can shoot from all angles and move right round the kitchen."
And despite many beautifully put-together rooms to choose from, Leanne is quick to profess her favourite in the large house is her kitchen. "It's the one we spend so much time in ..."
She's also head over heels with "a $70, 70-year-old Atlas oven that cooks like a demon".
Though guests to the Balquhidder kitchen may be eager to sample some of the decadent treats from the Whittaker's book, breakfast is her favourite meal to prepare - eggs of all kinds in particular.
"I always go out of my way to make each breakfast special."
When I ask if both partners are cooks, she's equally quick to put me straight - "No! One's a cooker and one's an eater! I'm more the chef and he's more the admirer and the photographer."
The luxury of so much space also means Leanne can indulge her love of interiors, treating particular rooms almost like test spaces or galleries.
"It's such a big house, it just swallows stuff up, so what I do is, I have favourite rooms, and a lot of my favourite things go into those rooms. I do change things around though, so each room gets its day.
"I'm a bit of a chameleon, I don't have one fixed style. I love modernist, I love antique, I love modern, I love new - so I'm not too fixed on one style, but my inspiration probably comes from nature and feeling like if I design something for somebody I want it to have a long life. Something you can live with for a long time and feel more and more comfortable with.
"I do use a lot of white as a background, but I love colour and I do love putting it into rooms. At the moment I've got a bit of a fixation with yellow, green and gold, mustard, and actually I still love pale duck-egg dirty blue - not too pretty but veering into the greys ... But I find I want to move on from a colour after a few years.
"I just love interiors that are really simple, that have natural materials, timeless, easy on the eye ... I know they're terribly in vogue at the moment but I do love sheepskins and goatskins. I love really natural pottery, even op-shop pottery that has been homemade and passed on, not particularly valuable even. I'm kind of into wood at the moment, I've got some beautiful wooden set squares that are Brian's dad's, he made them, and I love hanging those up. And I'm nuts about lots of little indoor plants, lots of lovely draping plants and pot plants."
It's this passion for interiors and design that has overflowed into the establishment of Culy's core business, Homebase. Largely an online enterprise but now flanked by a new at-home showroom (particularly great, says Leanne, as "it means people can come and visit us without being barked at by three little dogs") Homebase is a considered edit of art, design and homeware stamped with the couple's relaxed-chic taste, all run from inside their family home.
A significant portion of the Homebase portfolio is product created and designed by the couple - with prints and photos by Brian and textiles, pottery and painted work by Leanne - supplemented by a beautifully complementary selection of local objects d'art.
"I'm selling Kim Morgan's pottery in the shop," says Leanne. "He did a beautiful collection for restaurants, which was just very plain and earthy. And I absolutely love my wooden birds [by Peter Edmonds]. I've reluctantly put them in the shop but I saved a couple I couldn't part with."
Another very special offering from Homebase is a textile print designed by one of New Zealand's best known and beloved contemporary artists, Dick Frizzell.
"We have a very old relationship with Dick," Leanne says, "which came about from when Brian brought four of his paintings from his 'naive landscape' period of the late 80s and then had pleasure of meeting him through [artist and musician] Fane Flaws when we lived in Karaka Bay in Wellington - we hit it off and always kept in touch. And he then moved to Hawkes Bay just before us ..."
Frizzell's Woodgrain print "was designed a long time back, four or five years ago, but it went into an archive and he wasn't doing anything with it, so I'm giving it a new life".
"Dick is amazing to work with," says Leanne. "Really so open and enthusiastic about everything and open to anything, very professional, a friend as well, an amazing designer, artist ... I love the Woodgrain, I think it's fantastic."
Understatedly graphic, chic and original with just a touch of a retro feel, it sits perfectly alongside Leanne's own printed textiles which, starting totally from scratch, over the course of the last five or so years, she has mastered to wonderful effect.
"I went into it knowing nothing about it, nothing about the printing, nothing about fabric, but I do that a lot! I'm very patient. It has been fantastic actually and I'm probably at the stage now when I've got a real handle on it."
With so much going on, Leanne admits it has been way too long since the couple have had time to take a real break.
She recognises though that being able to live and work from somewhere as special as Balquhidder is a lifestyle that many would envy. "It's such a beautiful place to live in, and you can stop and take a little break. It does feel here like you're living in a holiday place - we're busy, really really busy, but at least we're doing the things we love doing, and we can stop and dive into the swimming pool."
Share this: