It takes two...
A design duo with a love of quality craftsmanship join forces to create world-class interiors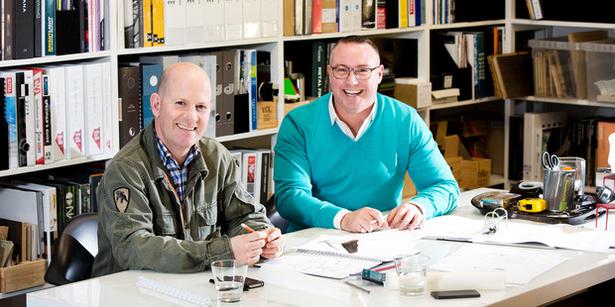 Friday Sept. 27, 2013
A love for elegant interiors and fine craftsmanship has seen two creatives join forces, despite living at opposite ends of the country. British furniture designer Ed Cruikshank lives in Arrowtown, having moved to New Zealand in 2002. He'd trained in industrial design and traditional cabinet-making in Britain and had worked with Viscount David Linley for nine years as a senior designer. Meanwhile, in Auckland's Freemans Bay, Jason Bonham is the creative force behind Bonhams Interiors. We chat to the pair about their partnership.

What inspired the collaboration?
Ed: I am approached regularly by customers looking for my input on their interiors as well as for my furniture. When I met Jason and saw his work, I realised joining forces would enable us to create world-class interiors together. Jason doesn't follow fashion and has the rare confidence to keep things simple, combined with a great eye for detail.
Jason: We have an appreciation for each other's work and creative talents.
I particularly like the synergy between our respective businesses and our use of natural materials, fine craftsmanship and perception of intricate detail. I love the fact the furniture Ed designs and creates are tomorrow's antiques.
Ed: We now offer an integrated design service that can take customers through from initial concepts to a completely finished interior.
Our joint abilities, experience and international design networks enable us to cover everything from space planning and the detailed design of kitchens and bathrooms right through to exquisitely detailed bespoke furniture and fine art.
Jason: We focus on all aspects of interior design and, in industry speak, we are not "cushion pushers" - meaning that we design everything from cabinetry, bathrooms, kitchens, lighting and plumbing, through to overall finishes.

Is there a favourite project you're working on now?
Ed: I am constantly inspired by the projects I am working on. Current favourites are a super-yacht interior, a specialist hi-fi project in Europe and the development of my new pieces that are crossing the boundary into the art world.
Jason: I've been working on a large project for nearly two years and it's just starting to come together with fit-out. These clients have trusted my vision and design, and enabled me to create something very special and unique.
It's been a long project with many small details that had to be accounted for, but the result is a truly beautiful space with many special finishes. 

What design values do you place the most importance on?
Ed: Authenticity, craftsmanship and fitness for purpose.
Jason: Functionality, simplicity and perfection.

Are trends relevant to your work?
Ed: I am not interested in trends in terms of fashionable trends. Recurring trends that span generations are a different story.
Jason: I try not to follow trends as they are fast to appear and even faster to disappear. I approach design from a clean, simple and contemporary direction. 

What or who inspires you?
Ed: The strongest [inspirations] for me are architecture, nature, craftsmanship and art, and mindful people. I love the furniture of Jacques-Emile Ruhlmann and Andre Arbus. I also get much of my inspiration for materials, structures and finishes from architects, industrial designers and craftspeople.
Jason: We are constantly looking at design sites like Coolhunter, Dezeen, Designboom, Architonic and Notcot for up-to-date designs and inspiration for both interior and architectural design. I also love Hauser magazine.
I appreciate a variety of designers, architects and industrial designers. My favourites would be Stephen Harris, Thad Hays, Christophe Remy, Kate Hume, Christian Liagre to name but a very small few.

What's a special piece or space in your own home?
Ed: My favourite piece of furniture at home is a lovely leather armchair that belonged to my wife's grandfather in England. It typifies the longevity of good design and craftsmanship.
Jason: I love my Eames lounger in my media room with great big built-in bookcases filled with books and objects collected over the years. I have the Apple TV all set up with a big screen too, as I like to relax and watch the odd movie. 

Are there any new materials or technologies you are using in your work?
Ed: I am known mostly for highly crafted timber pieces, yet I also work equally in metal now. I am currently mixing the skills of traditional craftspeople with highly technical, precision engineers to create super-accurate structures that retain a unique character and patina. I also like to blend materials as seen in the "Blued steel and Walnut 1821" table.
Jason: We have so many suppliers who are always showing us new products and technology. The important thing is to embrace these and incorporate them into the design. It is a part of our work that we love, and we love our reps - they are a lifeline some days. Just because the look and feel of the work is timeless does not mean it can't be innovative.
Share this: