Valentine's Day: Jessica Britten and Warren Durling, Home-Makers
As Valentine's Day approaches, Jessica Britten and Warren Durling share their love story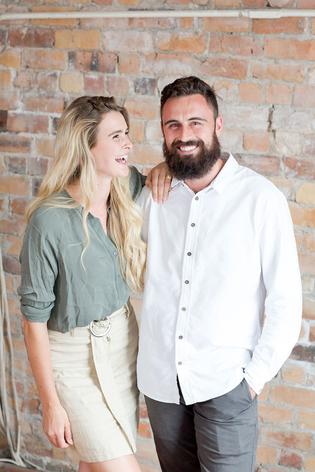 Big life changes are the test of any relationship but Jessica, who works freelance in PR, marketing and project management, and Warren, a financial controller (for tradetested.co.nz and goodnest.co.nz), have already survived their fair share. In five years, they've travelled together, become an aunty and uncle, lost Warren's mum to cancer, switched careers, started businesses, got engaged and bought the Railway Lodge heritage hall in Ponsonby which they're living in while renovating (and documenting their journey on hallweneed.com).
Jess: He was intriguing and handsome. Once we got talking I was even more drawn to him. Warren has this way of challenging the status quo and asking questions which make you think in a different way. I felt invigorated by our conversations, and still do.
Warren: I was attracted to Jess' sense of humour and positive attitude to life. Once we got to know each other better, it was her intellect. We spend many evenings discussing ideas and testing each other's viewpoints. Usually with red wine and backgammon.
READ: Meet the Kiwi Couple Starring in the Lush Valentine's Campaign
Jess: I cried my eyes out all the way to London wondering if I had made a terrible decision leaving this amazing guy behind. But I knew I needed to go for myself. We clocked up a serious number of hours on Skype and after almost a year, he flew over and we travelled together for six weeks. As soon as he flew home I knew I wanted to follow suit. Warren is the most interesting man I know. He is incredibly open-minded and articulate. He is driven, generous, smart and makes me laugh every day. He has so many qualities that I admire and make me excited about our future together.
Warren: Jess has an incredibly kind heart and she constantly challenges me on my way of thinking. She is also lethally quick with puns. I really felt her love and support for me, my two brothers and father when my mum passed away. For what was an incredibly hard time, it was made slightly easier and even now, she helps the four stoic Durling boys through our loss.
Jess: Warren proposing is easily one of the best memories of my life. When he got down on one knee in the most remote, beautiful setting imaginable on Great Barrier Island I couldn't even string two words together I was so happy and surprised. He proposed with his mum's ring which made the engagement extra special.
Warren: We are lucky that we either agree with each other or we're not too fazed. Jess is also a great communicator, so any negative feelings are brought to the surface before they can build up pressure and cause any sort of argument.
Jess: The hall is such an amazing project for us both. It's a dream opportunity and we're so lucky to have it. We have completely different strengths and passions. Warren is very logical and analytical and I'm more creative and visual, so after a while we found a groove where all of our skills and time could be maximised. Our budget is small, so we try to do as much of the work we can ourselves.
Warren: We now have no free time, and the hall is incredibly cold in winter ... but we have to use our brains to think of ways to make this unique space work, while protecting the heritage and not drowning in debt. Working on problems together is immensely rewarding.
Share this:
More At Home / Features & Profiles