Design Guru Jonathan Adler's Inspirations
Jonathan Adler, the king of covetable homewares, has a manifesto for irreverent luxury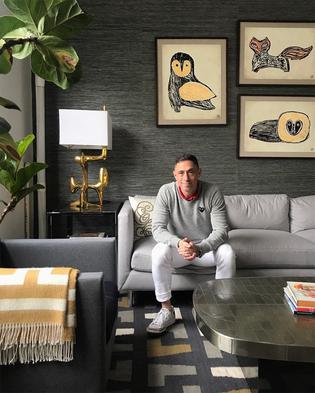 American potter and designer Jonathan Adler has helped define contemporary cool for modern interiors. His quirky and collectible pieces are found in fashionable homes and hotels across the globe.
The 50-year-old is one half of a New York power couple with Simon Doonan, now creative ambassador-at-large for Barney's department stores. Keen travellers, the pair love beachside escapes when not working, including Capri, Palm Beach and Santorini.
These colourful resort destinations have inspired Jonathan's playful designs, including his latest collaboration with Clinique. This is a line of brushes and limited-edition makeup items for lips, eyes and cheeks, featuring packaging with a signature geometric design. Lipsticks are capped with a bright acrylic dome, drawing on his futuristic Globo furniture collection which features bold spheres and cabochons.
Jonathan's ceramics, decor objects, furniture and fabrics are showcased in his Soho flagship boutique and more than 25 of his own stores, in America and the United Kingdom. He is also stocked worldwide in homeware and design stores, including in New Zealand.
Have you always had an eye for design?
For me, being a designer was never a choice — it felt inevitable and essential to my soul. I have spent most of my life thinking about how to make things better: look better, work better, feel better and be life enhancing.
How would you describe your design style?
I call my style modern American glamour. I always try to keep things fresh and new and modern. One of the lines in my manifesto is "We believe in irreverent luxury", and that captures a lot of what I'm about.
If you weren't a designer, what would you be doing instead?
If I wasn't a designer or potter I would be unemployed. I found my truth in the pottery studio and my design business. Every day I feel extraordinarily grateful for my life.
How often do you re-decorate or upgrade your personal spaces?
Oy vey! My personal spaces are ever-evolving and my poor long-suffering husband, Simon, comes home every day to find a completely new living room set up. I'm sorry Simon.
Where is the first place you start when designing a room?
The first thing I think about when designing a room is colour. I think the colour should capture the spirit of the inhabitant.
What hues are you loving right now?
Emerald and lavender.
Do you have a ''home away from home''?
My pottery studio. That's really where I work out most of my designs. I started out as a potter, I still think of myself as a potter and my studio feels like home.
What role does travel play in your designs?
I live in New York City, and New York is very urban. It can be tough, loud and cold. So in my mind I am always fantasising about vacation. I, like everybody else, want to be at the beach. So when I started working with Clinique my first thought was "let's make it feel like being at the beach".
Where is your favourite place to vacation?
Capri in Italy is perfect. It's like lemon sorbet for the soul.
Where do you draw inspiration?
Inspiration is everywhere. I try not think about it too much, but I always keep my eyes and my mind wide open.
What do interior design and makeup have in common?
Good design is like an anti-depressant. It has the power to transform your mood, like a big squishy sofa you plop into. Makeup is an anti-depressant, too. It can literally transform a woman's day.
What inspired this collection?
Jet-set glamour. I always think about iconic destinations. Places where women look like their most glamorous selves. I wanted to capture that in makeup.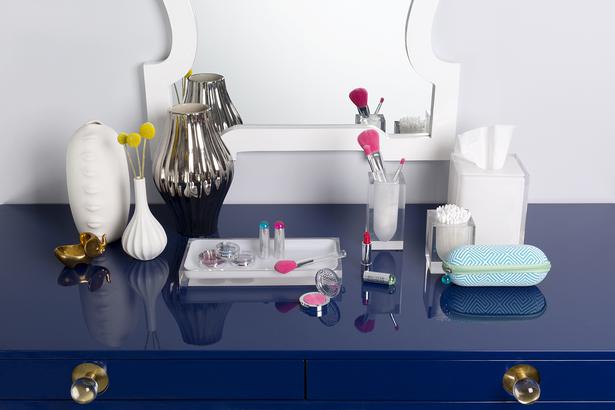 Jonathan Adler's collaboration with Clinique. Picture / Supplied

Has your aesthetic evolved since you first began your career?
It's constantly evolving, but whatever I make, I want it to make you feel even more glamorous than you already are.

What is the best advice you've ever received?
My pottery teacher in college told me I had no talent and I should give it up. It was the best advice I never took.

What is the first thing you do when you wake up?
Argue with my husband about whose turn it is to make a pot of tea.

What is the last thing you do before you go to bed?
Argue with my husband about whose turn it is to make a pot of tea in the morning.

What is your favourite place to shop?
I'm not a big shopper, actually. But if it's clothes it's Paul Smith or Comme des Garcons. If it's for home stuff, well, Jonathan Adler. What can I say?

What country have you always wanted to visit?
I could go back to Japan again and again and never get sick of it.

When do you feel most creative?
Always. It's exhausting.

What is your favourite food?
Roast chicken and apple pie.

What is your favourite restaurant?
Il Cantinori in New York. It's chic and classic.

Name one thing you can't live without?
My husband, Simon Doonan and my rescue pup FoxyLady. The rest is just stuff.

What is your carry-on must have?
An iPad.

What is the number one thing to do in Palm Beach?
It's a toss-up between the vintage shopping and the people watching. Both involve antiques.

What is the number one thing to do in Capri?
Hike!

Describe Santorini in one word.
Fresh.

What is your all-time favourite piece you've ever designed?
My Dora Maar vase. It doesn't look like it was designed, it looks like it was uncovered.

What is one thing everyone should have in their home?
A chandelier that is bigger than they think they need and more expensive than they think they can afford.

What is one thing everyone should have on their vanity?
A product that makes you feel powerful. And something from your mother.

What is the most surprising thing in your home?
A bust of Michael Jackson I bought at a yard sale that would make Jeff Koons jealous.

Share this: