Meet the Couple Who Built A Dream Lodge in Sayulita, Mexico
Katherine Heatley and Conrad Donkin share the inspiration and challenges behind creating their dream lodge in Mexico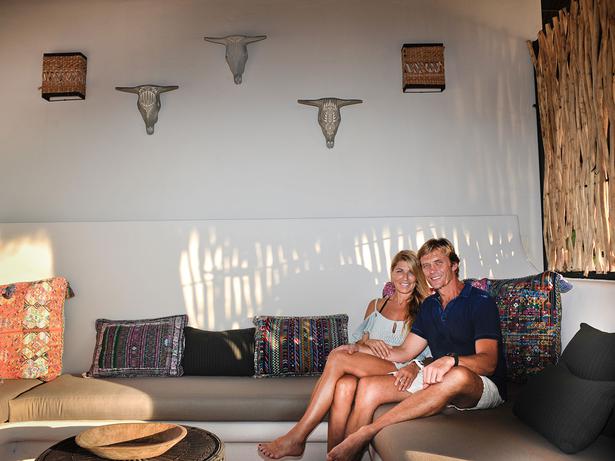 Saturday Dec. 17, 2016
Most tourists pick up a tacky trinket to remind them of the country they journeyed to, not Auckland-based Katherine Heatley, who visited Mexico for the first time in March this year, and fell so hard for the place, she purchased a villa set in the lush jungle in Sayulita on Mexico's Central Pacific Coast.
But this wasn't any old casa, it was a disaster. The sprawling property had been derelict for 10 years and was in dire need of repair.
"When we first viewed the villa, the copper guttering had been ripped off, the kitchen stripped bare and lights removed, but it had great bones," explains Katherine.
Had it not been for a surprise holiday organised by her partner Conrad Donkin they would never had made it to the small vibrant surfing town of Sayulita — the Pacific Coast equivalent of boho-cool Tulum on the Caribbean Coast. Conrad had warmed to the area after spending time there surfing over the years. "It's got such a cool vibe, the beach, the surfing, the jungle . . . We just fell in love," Katherine enthuses.
Wandering the bumpy, narrow streets of Sayulita, which is hemmed in by jungle and blessed with a beautiful surf beach, the pair noticed a letter stuck to the window of a real estate office, it was a glowing review of the real estate company written by one of the founders of Cirque de Soliel who had recently purchased a property in the village.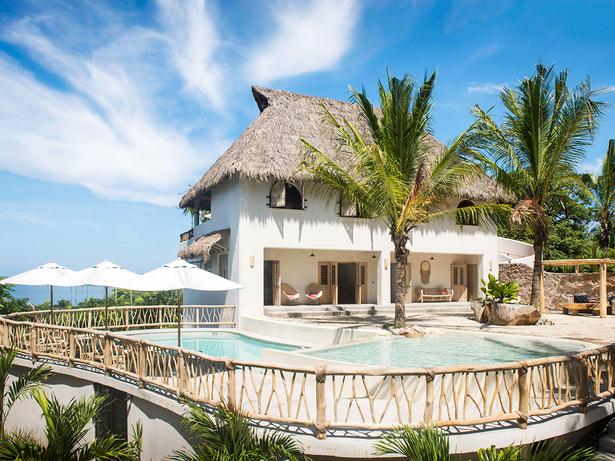 This drew the pair in and they ended up chatting to the realtor Gabriel Gallegos from Sayulita Coastal Properties. He sensed Katherine and Conrad might be "up for a challenge", so he showed them the dilapidated home, located a few minutes out of town overlooking the ocean and jungle. It had been built 10 years before by an American who had a falling out with his Mexican partner just before completion, and the gates were padlocked for good.
Back then, investors were required to have a Mexican business partner when purchasing real estate. Nowadays, an acquisition can be made with a bank trust, so purchasing the villa, which was far less expensive than an average Auckland property, was a fairly simple transaction.
The couple saw an opportunity to create a luxe estate set over .8ha that they could eventually rent out to families and wedding parties.
Both had the credentials to get the job done. Katherine, who has a background in fashion design, had experience developing properties with ex-partner Craig Heatley — one in Whistler and several in New Zealand — and had also worked on the interiors for Auckland eatery Mekong Baby. And Conrad had spent time working in the US and had picked up what Katherine describes as "construction Spanish", which would be vital in the following six-month renovation period.
"His understanding of the Mexican culture and his project management skills were invaluable," she says.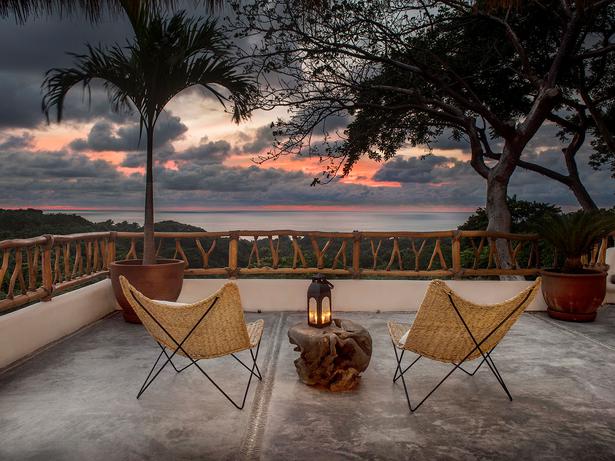 Conrad adds, "Katherine showed incredible vision from day one. She found a balance between following her own style while respecting local design. She also engaged well with local artisans and contractors who embraced her ideas."
The pair found a place to rent next door to their new home, now named Villa Valentin, and spent the majority of the next eight-month period living there while renovating.
"We started ripping it to pieces before we even settled on the deal," says Katherine.
They began by removing tiles that were damaged or weren't to their taste — although many were still in perfect condition, especially in the bathrooms, and all had been made by Mexican craftspeople.
"You could see there had been no expense spared at the time it was built," she explains.
Doors were sanded and restored, louvres were added to the windows, interiors were re-painted and the "loud red" exterior was replaced by a neutral, sandy colour.
The most expensive aspects of the renovation ended up being the electrics and plumbing. Everything had been lifted by thieves, including copper electrical wiring. Other big ticket items were the pool and landscaping, although she is thrilled with the end result — a children's shallow pool connects with a larger pool below via a cascading waterfall made from local stone. All the exterior wooden railings were made from local timbers by artisans and blend seamlessly with the surrounding jungle.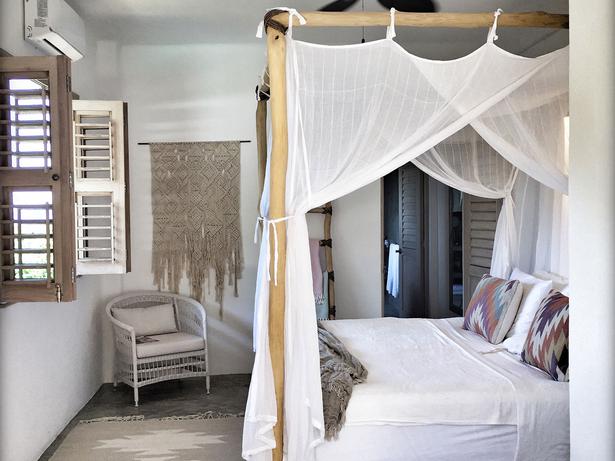 The sub-tropical climate played a role in the renovation decisions. "We weren't really prepared for how heavy the downpours are in the wet months from June to October," explains Katherine.
Heavy rain meant landscaping retaining walls had to be built higher to prevent mud cascading over them during heavy rains.
Incredibly, the renovation only took around eight months. Katherine believes the fact the couple were onsite and overseeing the project from next door saved them a lot of time.
"The fact that we were prepared to get our hands dirty brought us much respect with our workers. We hauled rocks, made endless visits to Home Depot for supplies and pitched in whenever we could. They also appreciated that we involved them in each milestone — we had a roof shout with beers and sausages (most of them had never tasted a sausage before), and when we finished the pool, we invited the pool contractors' families to a party."
The project did come with a few frustrations.
"If we went away for a day, you could guarantee something would go wrong. Often we would have a job done more than once to get it right. We had three attempts at laying the kitchen bench."
Katherine spent months having furniture made for the property, which sleeps 18, including dreamy four-poster beds crafted from local timber, outdoor reclining chairs, and beautiful organic-looking tables made by a talented carpenter the couple met through the realtor.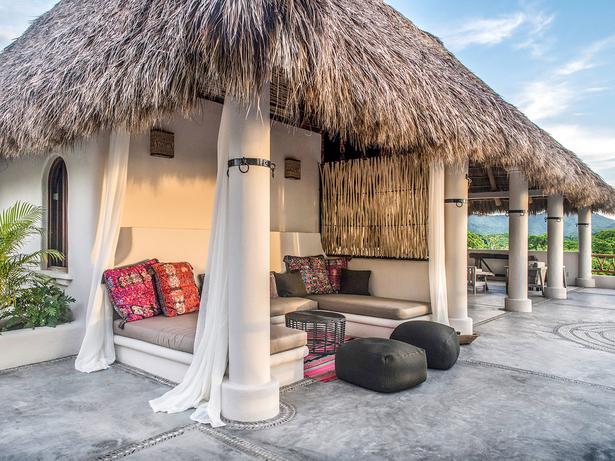 She made many trips to Tonala, (famed for its crafts) and a five-hour drive inland from Sayulita, to source furniture, including butterfly chairs, handmade tiles, and decorative items for the villa such as antique sombreros and second-hand doors. She often stumbled on treasures sold on the side of the road, like locally made-chairs.
Even jungle pests had to be considered when choosing outdoor furniture, she says. The outdoor coffee tables were made from local pepperwood or porata, a wood that has such a hot peppery taste, termites steer clear. When sanding the carpenter must wear a protective mask to protect against its burn.
While most items were sourced or made locally, she says light fittings and fabric are really hard to find in Mexico and very pricey. She ended up bringing in large pendant lights from Africa, outdoor umbrellas were imported in from Santa Barbara in the US, while cushions and throws came from New Zealand. She also imported the odd piece of furniture from the Teak Warehouse in Los Angeles.
Katherine sometimes found it difficult to convince local tradesmen to think out of the box. For example, they were resistant to laying tiles in a new way.
"In the kitchen, I wanted the tiles surrounded by a thicker border of grout. They couldn't understand why I would want to do it any differently. The same with the paint colours — I had them mix colours and layer, and they'd never done this before, but when they saw the end result, they got it."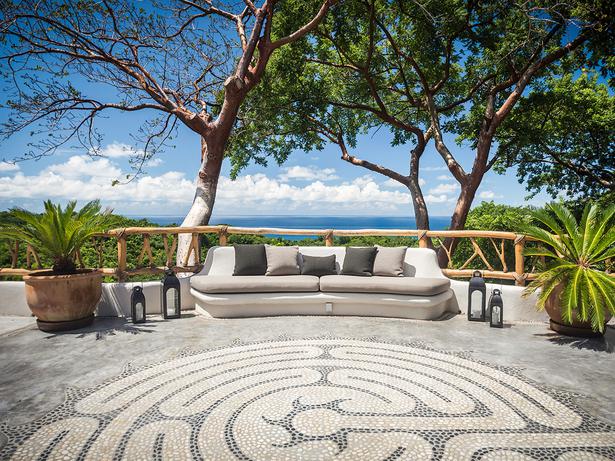 This experience has led many of the workers on the Villa Valentin project to be in hot demand.
Already the couple have seen great interest in Villa Valentin from wedding parties and family groups.
It can be hired out in its entirety for US$1800 ($2525) a night, or if you are travelling as a couple, a single casita can be rented for around US$250 a night. Not bad when you consider a room at one of the many surrounding resorts can set you back at least US$500 night.
Katherine and Conrad are thrilled with the end result. "It feels so serene," says Katherine of the luxe property which also includes a yoga studio and private chef. The glitterati will no doubt discover this gem shortly, as they've just had a New York TV crew from House Hunters film the place for their new series.
"Now we are wondering whether we'll ever get to stay there ourselves," Katherine laughs.
They might just have to make one more visit to the real estate office that started it all.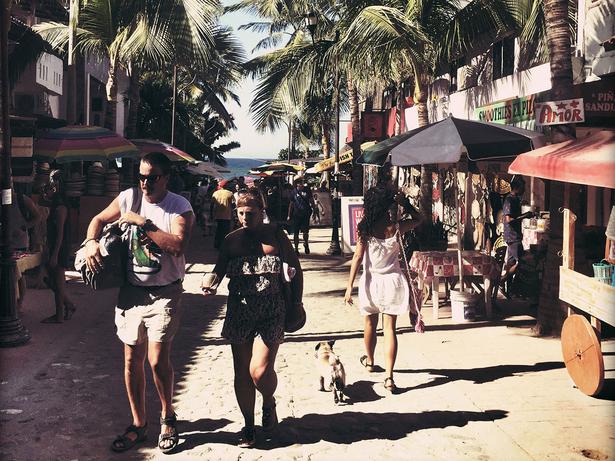 KATHERINE'S SAYULITA MUST-DOS
1. Visit craft store Evoke the Spirit for exquisite local crafts including hand-embroidered and sand-blasted animal skulls.
2. Eat at La Esperanza which offers healthy Australian food with a Mexican twist.
3. Drink at El Break, a downtown beach bar with good vibes overlooking the waves and surfers.
4. Head to Don Patos for an authentic margarita and live music till late.
5. For authentic Mexican food try Sayulita Cafe or Marys.
6. Down a delish fish taco from The Famous Real Fish Taco.
7. Take a meandering jungle walk from Villa Valentin and check out local bird life, the odd iguana and armadillo (if you are lucky).
8. Take a surf lesson from Sayulita village beach with "Surf it Out" — ask for Risa, the national long board champ.
9. Swim at a small, untouched beach around the point called Playa de Los Muertos Beach — "the beach of the dead".
Share this: