Katie Lockhart's design predictions
Katie Lockhart, Interior decorator and owner of Everyday Needs design store, shares her predictions and inspiration for the design trends for 2014.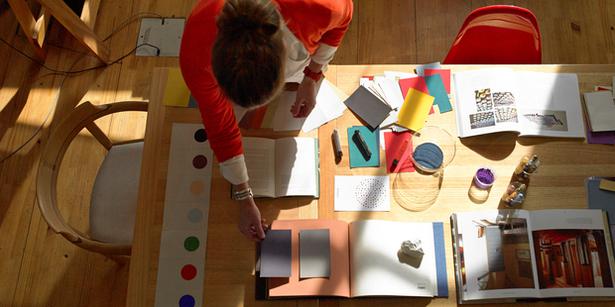 Wednesday Jan. 29, 2014
I have always thought that the following quote by Sally Sirkin Lewis (Joni Mitchell's interior designer) nicely summarises my design philosophy.
Mrs Lewis, too, dislikes the "decorated" look. "All those fashion tricks. A house isn't a series of tricks," she remarks, "it's a reflection of a person - the essence of the one who lives there. The designer is responsible for interpreting personality. I don't believe in creating monuments for myself or my ego."
Colour is always the starting point of a project for me and I spend a lot of time collecting colours that I store away as references. Most recently I took a little chip of the peeling paint from the front of Robert Frank's building in New York City. I have always loved how sun faded it is and finally plucked up the nerve to help myself.
Rachel Lacy of Drikolor has just launched a beautiful palette of paint colours that we have been using a lot in the studio. I love the integrity of the natural and mineral pigments she uses such as champagne chalk, bone black, ochre and umber.
For someone as interested in colour as I am, the depth of colour created by such raw materials makes a big difference to how I approach my work.
I love simple, beautifully crafted items for the home and we have found a few great new things for Everyday Needs that I have instantly taken home with me. The new Perigot rubbish bins from France are an expensive purchase, however, I have had so many Brabantia bins over the years that I am happy to pay for something that not only looks great but functions perfectly. The Hinoki soap dishes from Japan that, when wet, let off a gorgeous soft cedar-like fragrance are now in our bathrooms.
We are very lucky to be working on a number of residential interiors with Bijoy Jain of Studio Mumbai at the moment. I have loved the work that he and his studio produce for a very long time and to be a part of his team, working towards creating a very holistic living environment for his clients is pretty much as good as it gets for me. Bijoy's approach to the design process is one that I can completely relate to and working with him has made me look at my own practice very closely which can only be a good thing.
I expect there will be quite a bit of time spent in India this year for work but my biggest project will be the little girl that I am due to have in three weeks!
At home our next investment will be, well, my husband, Darryl, wants a brown donkey but in reality we will be building a new fence first!
The perfect home should not try to be perfect.
Share this:
More At Home / Features & Profiles